The first two rounds of the UIL playoffs are complete! The 6A Division started with a total of 128 teams with the top 32 teams from each of the four regions. Texas has some of the greatest players in the…
The first two rounds of the UIL playoffs are complete! The 6A Division started with a total of 128 teams with the top 32 teams from each of the four regions. Texas has some of the greatest players in the nation and it has already been quite a show this year with teams full of talent across the board, with plenty more tough and exciting matchups to come. Below we preview some of the top bigs that represented or are still representing their teams in the 6A Region 2 playoff bracket.
More 6A Playoff Previews:
Region 1: Guards | Wings | Bigs
Region 2: Guards | Wings Pt. 1 / Wings Pt. 2 | Bigs
Region 3: Guards Pt. 1 / Guards Pt. 2 | Wings | Bigs
Ron Holland
Ron Holland 6'9" | PF Duncanville | 2023 State #7 Nation TX – 6'8″ – PF/SF – Junior – Duncanville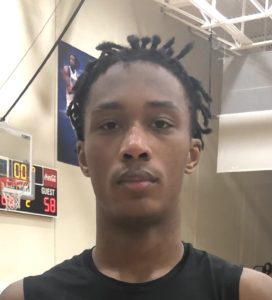 Holland, the consensus #1 player in Texas in the class of 2023 and Prep Hoops' #12 ranked player in the nation, is considered by many to be a top 3 pick in the 2024 NBA draft. In an absolutely loaded Duncanville lineup, he leads the way with an impressive 16 points, 8 rebounds, 3 assists, and 2 steals per game. He's an elite talent in every aspect of the game and he is simply on another level than almost anyone else that shares the court with him. He can shoot lights out from beyond the arc, both off the catch and off the dribble, with impeccable and intelligent off-ball movement and star-level shot creation abilities. He's incredibly athletic with great speed and he finishes plays in the paint with strength and power, dunking over anyone that may impede his path to the basket, invigorating the crowd with his fast break slams. He has an explosive first step and a strong handle to attack the paint from the perimeter and finish through traffic as good as anyone. He has fantastic rebounding abilities, as well, with an aggressive mindset to get putbacks to fall through contact and a relentless box out and pursuit of the ball to secure defensive possessions. He's a versatile and tremendous defender, with the ability to guard 1 through 5 and lock up anyone who dares to challenge him. He can easily force turnovers with his long arms and nose for the ball both through steals and blocks, and then immediately sprints the other way to spark a fastbreak. Duncanville has made it to the regional quarterfinals after their recent win over the Rockwall Heath Hawks and now face a dangerous up-and-coming DeSoto team. Holland steps up in the biggest of moments, so he is bound to put on his best performance of the playoffs as they face more challenging opponents deeper in the bracket and he is definitely someone to watch as the playoffs progress.
Cameron Barnes
Cameron Barnes 6'10" | C Duncanville | 2023 State #128 Nation TX – 6'10" – C/PF – Junior – Duncanville
Barnes, Prep Hoops' #1 ranked center and #7 overall player in Texas for the class of 2023, is a slimmer and quicker big man than most at his height, but an absolute beast in the paint and the anchor for Duncanville down low. He's a tough and athletic big that gets good positioning in the post with his movement away from the ball and then finishes with power with a strong dunk regardless of who's in his way. He also has a soft touch around the rim and has the ability to get quick floaters and hooks to go even with defenders right in his face. He has good patience under the basket, as well, throwing up convincing pump fakes and then getting the basket to go. He even has the potential to hit from range with the occasional turnaround fadeaway midrange and catch-and-shoot 3-pointer. He's a relentless rebounder on both ends of the court, skying high with his athleticism and outreaching any opposing big man, even if he has unfavorable positioning. On defense, he has extreme athleticism to emphatically block shots in the paint, absolutely demoralizing an opponent and completely smothering them to swat the air out of the ball. He is also a capable perimeter defender with his quick feet, wide stance, and impressive length, staying with guards outside the arc and occasionally even knocking the ball loose as they try and dribble around him. Paired up with Ron Holland
Ron Holland 6'9" | PF Duncanville | 2023 State #7 Nation TX as the big men for Duncanville, Barnes is the perfect complement to Holland's ball-dominant star power, doing all the little things without the ball and cleaning up down low in the paint.
Joseph Tugler – 6'8″ – C/PF – Junior – Cypress Falls
Tugler is an underrated big that is really starting to shine in his junior season. He has taken huge steps in dominating on both ends of the court this year, helping Cy Falls secure a 31-4 record and anchoring their defense in the paint, and he is continuing to get better every single day. He is a complete paint presence and does everything you want in an interior big man. He has incredible post control for such a young player, backing down defenders and overpowering them with his strength, pulling off a quick move, and then getting a clean look at the rim either right over the defender or right through them. He displays good quickness and speed, as well, getting around guys easily and taking them off the dribble to penetrate the paint and manipulate the defense. He can dunk over guys with solid athleticism and length, and he can finish through hard contact to get and-1 layups. He also has outstanding awareness and unselfishness to dump the ball to a cutting teammate as he works in the post or penetrates the paint. He is an imposing defender that can lock up the interior defense all by himself, deterring and blocking any and all shots that come near his area, with the ability to not only swat them down low, but also step outside the paint, keep up with a ball handler, and then block their shot attempt from the perimeter. He has a solid and strong body, as well, to hold his own against strong bigs that like to back down their opponents. As far as rebounding goes, Tugler is elite on both ends. He boxes out, he times his jumps well, and he has strong hands to secure the ball. He put his talent and strength on full display in the 2nd round against a tough College Park team, securing 12 rebounds and coming away with 8 blocks, and now he will face his toughest matchup yet in the regional quarterfinals, going up against Willie Williams
Willie Williams 6'6" | PF Houston Westfield | 2022 State TX and the Westfield Mustangs.
Willie Williams
Willie Williams 6'6" | PF Houston Westfield | 2022 State TX – 6'5″ – PF/SF – Senior – Westfield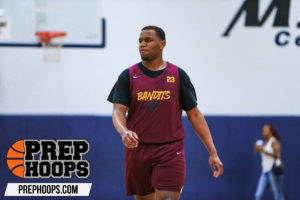 Williams may be undersized as the leading big man for the Westfield Mustangs, but it would be a mistake to take his height at face value. He is as mean and as aggressive as they come and can absolutely dominate in the paint if the opposition doesn't take him seriously. He has extremely powerful dunks and can posterize anyone at any given moment, which he has done on several occasions this year. He has the handle to bring the ball up and run the fastbreak or attack from the perimeter, bodying up his matchup as he quickly penetrates the paint and then just powers his way through a collapsed defense to get a tough layup to fall through traffic. He has solid vision and awareness, as well, moving the ball at the right times and setting up his teammates out of the post or on the perimeter. With incredibly high IQ without the ball in his hands, he finds openings in the defense with ease to cut through and quickly get the ball up for a shot just as he receives it, giving the defense little time to adjust. He has impeccable timing on his jumps to gather rebounds in bunches against even the strongest of big men, using his large body to maintain great positioning down low and then jumping high to get the ball right at the peak of his leap. He's a strong post defender, with a brick wall body to limit any kind of movement in the post and then intelligent defense to stay vertical and smother any kind of attempt down low, and with that aforementioned impeccable timing on his jumps, he can easily block shots even against opponents that are several inches taller than him. He also has quick hands to knock the ball loose from ball handlers and disrupt passing lanes and he has quick enough feet to keep up with opponents on the perimeter. Williams and Westfield have dominated their opponents in the first two rounds so far, but now come up against their toughest matchup yet, with Joseph Tugler and Cy Falls waiting for them in the regional quarterfinals.
Parker Jefferson
Parker Jefferson 6'8" | C Waxahachie | 2025 State TX – 6'10" – C/PF – Freshman – Waxahachie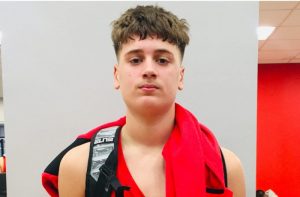 Jefferson is as exciting as any prospect in the 2025 class because of his potential with an impressive skillset and mobility at such a towering height. He essentially has all the skills of a guard, yet still has the aggression and size to punish you in the paint. He has become a formidable catch-and-shoot threat, especially from 3, with calculated off-ball movement, finding openings in the defense and positioning himself perfectly for a clear and easy pass from his teammates. He can take his man off the dribble with an incredibly smooth and tight handle, and good speed and pace with the ball, to attack the paint and use his height combined with an array of finishing moves to get the layup or dunk. When posting up a player, he has the full package at his disposal. He can back down his opponent and pull off a quick shimmy, up-and-under, or hook shot, or he can turn around and face up his defender, with a quick pullup or dribble move, along with the vision and awareness to make a strong pass to a cutting teammate. His height undoubtedly gives him the advantage on the boards at the high school level, but he seems to always find himself in the perfect positioning to secure rebounds on both ends of the court, which is sure to translate well at the next level. He also understands to keep the ball high off an offensive rebound and quickly get the putback to fall, which is impressive in its own right for such a young big man. On defense, again, his height offers up a huge advantage, but he has the timing and coordination, along with quick recovery, that truly make him a formidable interior defender, not only blocking shots, but completely smothering opponents down low, even when they seem to get ahead of him for a moment. He also has quick hands and long arms to reach and grab the ball on any passes coming across his zone. Jefferson unfortunately saw his freshman year come to an end in the first round of the playoffs in an extremely close loss against the Killeen Ellison Eagles, but he is sure to make plenty of noise moving forward now that he has had such an impressive start to his high school career, and we are sure to hear a lot more about him in the coming seasons.
Joseph Lankford – 6'5″ – PF/SF – Senior – Waxahachie
Lankford is a dual-sport athlete, starring as a tight end for the Waxahachie varsity football team, and he will be continuing his football career at the next level with the University of Northern Colorado, but he is a very talented basketball player, as well. He has a 3-and-D skillset that can slot in at the power forward position thanks to his strength and aggression. He has the ability to hit from the perimeter with an extremely quick and smooth single-motion jump shot, both off the dribble and off the catch, which he will usually get off after finding a great open look with his valuable off-ball movement. He is also very athletic and a danger in the open court on a fast break, with the ability to finish with emphatic and incredibly strong dunks. He is an extremely aggressive defender and has this relentless pursuit of the ball, attacking passing lanes to disrupt the offense and trapping opponents on double teams in the blink of an eye to completely smother them and force a turnover. He's a fantastic help defender, jumping in at just the right time as an opponent drives into the paint and knocking the ball loose as they try to gather for a layup near the basket. His strength and aggressive style of play also help secure rebounds in bunches on both ends of the court, even against taller big men. While the Indians lost in the first round in a close battle against the Ellison Eagles, 50-48, Lankford was proud of the fight his team showed all year, telling Prep Hoops, "me and all the guys on the team have faced so much adversity this year and to be in the playoffs is something no one thought we could do."
TJ Johnson TJ Johnson 6'6" | SF Belton | 2022 State TX – 6'6″ – PF/SF – Senior – Belton
Johnson, one of the top 50 players in Texas for the class of 2022, led the Belton Tigers to an impressive 29-5 record this year and a district championship. He has an incredible fight and determination in his game with a talented set of skills that make him an extremely valuable forward on any team, and he will be continuing his basketball career next season at Lipscomb University. He has a very pure jump shot with good form and mechanics, making him a dangerous catch-and-shoot threat, especially after setting a solid screen for his ball handling teammates. He has an amazing vision off the ball and sees the floor very well, finding the exact right times to make hard cuts to the basket or around the perimeter to get open. Once he does receive the ball on the way to the basket, he has the athleticism to throw down a strong dunk, even through traffic, and can come away with impressive finishes through contact. He is incredibly relentless on rebounds and fights every single time the ball is up for grabs, with the determination and resolve to secure the ball no matter the cost, diving on the floor, jumping through a crowd of people, whatever is needed. He is just as determined on the defensive end, as well. He aggressively attacks passing lanes to spark a fast break, which he has the speed and the handling ability to lead himself, and he has the quickness and will power to stay in front of even the quickest of ball handlers or the strongest of post players to do his best at tiring them out and forcing the ball away from the basket. Belton came up against an extremely hot DeSoto team this year and took a tough 4-point loss in the 1st round of the playoffs, but Johnson made note of how happy he was to compete with the group of guys the Tigers had. He mentioned that "most of us have been friends since elementary school and played together just as long, so this [was] an opportunity we have all been working really hard for."