The champions from each region have been crowned and the state tournament is up next! The 6A Division started with a total of 128 teams with the top 32 teams from each of the four regions. Texas has some of…
The champions from each region have been crowned and the state tournament is up next! The 6A Division started with a total of 128 teams with the top 32 teams from each of the four regions. Texas has some of the greatest players in the nation and it has already been quite a show this year with teams full of talent across the board, with plenty more tough and exciting matchups to come. Below we preview some of the top bigs that represented or are still representing their teams from 6A Region 3.
More 6A Playoff Previews:
Region 1: Guards | Wings | Bigs
Region 2: Guards | Wings Pt. 1 / Wings Pt. 2 | Bigs
Region 3: Guards Pt. 1 / Guards Pt. 2 | Wings | Bigs
Chris Barnett – 6'4″ – PF/SF – Junior – Fort Bend Elkins
Barnett is slightly undersized as a power forward, but he makes up for his height disadvantage down low with fantastic defensive instincts, long arms, great timing, and complete control of his body when defending shots. He is incredible coming off the weak side to help defend the paint as the opponent drives to the basket, flying in for a strong swat at the rim or getting his hands on the ball just as the ball handler gathers to go up for a layup. His defensive prowess extends beyond the paint, as well, blocking jump shots and moving his feet well to hold his own on the perimeter. He's also a solid rebounder for his height, using good fundamentals and form on the boxout, and timing his jumps well to secure boards in bunches. With so many scorers in the Fort Bend Elkins lineup, Barnett isn't utilized so much on that end, but he still offers solid off-ball movement on his cuts to the basket and is a reliable finisher when called upon.
De'Rail Wilson
De'Rail Wilson 6'7" | PF Fort Bend Elkins | 2022 TX – 6'7″ – PF/C – Senior – Fort Bend Elkins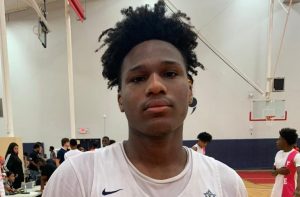 Wilson is a large body that locks down the paint for the Fort Bend Elkins Knights. He's a very effective rebounder with excellent technique when boxing out and the strength to go toe-to-toe with taller bigs, securing defensive rebounds consistently and rarely giving the opposition a second opportunity off a miss. He's a reliable post defender, giving even the strongest of opponents fits thanks to his strong base and brick wall composure, and when combined with his solid lateral movement, he can even cause issues for any player trying to get passed him on the perimeter. He may lack elite athleticism, but he has phenomenal IQ and awareness on the defensive end, keeping his long arms straight up on opponents in the paint, maintaining the verticality rule, and disrupting or blocking inside shots or when helping off the weak side. On offense, he has a soft touch around the rim and great post control, with an effective pump fake and up-and-under move, providing a strong inside presence and easy drop pass option for driving teammates in the paint. He uses his strong, wide frame to set hard screens on the perimeter and dives to the paint with good timing, making him an effective pick-and-roll option, as well. 
Hayden Windsor – 6'7″ – PF/SF – Senior – Dawson
Windsor, the defensive player of the year in district 23, is the star big man for the Dawson Eagles and gets it done on both ends of the court. He's a fantastic catch-and-shoot threat, understanding beautifully when to pop out to the 3-point line after a screen and moves around the court extremely well to find openings along the arc. He has a quick release and solid form, which when combined with his height, makes him extremely difficult to defend if the defender isn't glued to him at all times. He has an impressive handle for a 6'7″ forward and can get to the paint from the perimeter at any given moment, protecting the ball well and using his strong body to plow his way through the defense for a strong finish. He also has solid footwork, with the ability to hit spin moves and euro steps for an easy look at the rim. He has a strong IQ, as well, and understands when to take advantage of certain matchups. When smaller players are guarding him, he will back them down into the post and shows good control and creativity to find a good look at the rim. He's a double-double machine, always finding himself in good positioning to secure defensive rebounds in bunches and fighting for the boards that need the extra effort. On defense, he's an excellent help defender with sky high IQ on positioning and timing to come over from the weakside to block a shot, disrupt a pass, or get his hands on the ball as the opponent dribbles by him. He has the length and quickness to seemingly be in multiple places at once and appears to always make an impact play on that end of the court. He was having a fantastic senior season with Dawson, helping them secure a 24-6 record and getting all the way to the regional quarterfinals.
Ethan Van Horn – 6'5″ – PF/SF – Senior – Seven Lakes
Van Horn could easily slot in as a wing thanks to his perimeter prowess, but his ability to secure rebounds in bunches and hold his own in the paint allows him to play power forward and really stretch the defense. He's an incredible catch-and-shoot threat, ready to hit a big shot at any given moment and can easily get hot, hitting multiple threes in a matter of minutes. He has a great understanding of spacing and moving without the ball, positioning himself perfectly on the weakside for easy pass outs from teammates driving to the paint. His primary offensive skillset is from beyond the arc, but he can take it to the paint when needed and has a good touch down low. On defense, he is phenomenal at keeping his longs arms straight up and staying vertical to block shots and completely smother opponents attacking the rim, and he shows the kind of hustle that every coach loves to see, going after loose balls, diving on the floor, and doing everything he can to leave his mark on every defensive stance. Even at 6'5″, his rebounding is near elite, fighting for every board, maintaining good positioning and staying strong on the boxout.
Josh Akpovwa – 6'7″ – PF/C – Junior – Seven Lakes
Akpovwa is the anchor for the Seven Lakes Spartans and controls everything that comes through the paint on both ends of the court for his team, averaging 13 points, 8 rebounds, and 2.5 blocks per game this year. He has incredible post control with an impeccable touch around the rim. He has a large and strong body to back down opponents, using his strong frame extremely well to create space down low, and he has the quickness to make one or two moves and get an open look at the rim. He can finish strong with an emphatic dunk, or he can finesse his way to the hoop with a smooth finger roll or up-and-under. If he gets positioning down low, the defense almost always has to throw multiple bodies his way, and even that is not enough at times. To round out his complete post game, he is a great passer, as well. He has solid awareness and vision, and he willingly dishes the ball to cutting teammates as he lulls the defense to sleep while he controls the ball in the post. He also has great mobility and is a great rim runner, finishing fast breaks and trailing guards on his way to a crowd-pleasing finish. He has an impressive handle for a big man, as well, and can even take some defenders off the dribble from the perimeter, using his strength to muscle his way into the paint. Even when completely smothered, he shows incredible body control, spinning and contorting his body any way possible to finish the play. His defense is predicated on aggressiveness, intelligence, and pure grit and determination. He fights on every possession and has the mindset that no one can score on him. He has the instincts and quick hands to reach in and knock the ball loose for a steal, even against point guards on the perimeter, and he completely locks down the paint. He blocks nearly every shot that comes his way with great timing and patience, providing fantastic help defense when needed, and locking up his own matchup when challenged in the post.