The UIL Playoffs are right around the corner. The 6A Division will field a total of 128 teams with the top 32 teams from each of the four regions. The state of Texas is home to some of the greatest…
The UIL Playoffs are right around the corner. The 6A Division will field a total of 128 teams with the top 32 teams from each of the four regions. The state of Texas is home to some of the greatest players in the nation and it is guaranteed to be quite a show this year with teams full of talent across the board. Below we preview some of the top wings representing their teams in the 6A Region 1 playoff bracket.
More 6A Playoff Previews:
Region 1: Guards | Wings | Bigs
Region 2: Guards | Wings Pt. 1 / Wings Pt. 2 | Bigs
Region 3: Guards Pt. 1 / Guards Pt. 2 | Wings | Bigs
Rylan Griffen
Rylan Griffen 6'5" | SG Richardson | 2022 State #72 Nation TX – 6'5″ – SG/SF – Senior – Richardson
Griffen, Prep Hoops' #1 shooting guard and #6 overall player in the state of Texas in the class of 2022, is the ultimate basketball player and essentially has no weakness in his game as a wing. His generationally talented teammate, Cason Wallace
Cason Wallace 6'4" | CG Richardson | 2022 State #6 Nation TX , may be the consensus #1 player in Texas but make no mistake that Richardson would not be where they are without Rylan Griffen
Rylan Griffen 6'5" | SG Richardson | 2022 State #72 Nation TX . He is the Pippen to Cason's MJ in the best ways possible and has all the tools to be the #1 option on any team and be an elite player at the next level, and he will have every opportunity to prove that at the University of Alabama next year. His long strides and elite athleticism make him an absolute show on the fast break, and he has the most intelligent off-ball slashing in the half court, where he finds all the right seams and openings to get a clear look at the basket, and then finishes with emphatic and highlight reel dunks. He has star talent written all over him with his ability to not only score from wherever he wants on the court, with or without the ball, but also run the offense and create opportunities for everyone on the team with his point-guard like handles, extreme poise and composure, and elite vision and passing ability. His shooting is just as impressive as the rest of his game, with a wide and stable base, a long frame, and a high release point that makes him an effective catch-and-shoot threat that's nearly impossible to block. He is just as capable at hitting shots off the dribble, as well, getting smooth jumpers to fall off any move he pulls with a smooth transition from a crossover, step back, or between the legs dribble move into his high-release pullup. His offense has no weakness, and his defense is not far behind either as a perimeter defender. He has the length and athleticism to guard anyone outside the paint and he has the coordination and timing to steal the ball at a moment's notice, either off a pass or snatching it from a ball handler. His height and strength can make him an effective interior defender, but he is best utilized on the perimeter where he can wreak havoc on the oppositions best guard or wing. Richardson is considered by many to be the favorite in the UIL state championship and Griffen is a huge reason why.
Trevion Howell – 6'0″ – SG – Senior – Richardson
Howell is the ultimate 3-and-D player that is a perfect complement to Richardson's two ball-dominant stars, Cason Wallace
Cason Wallace 6'4" | CG Richardson | 2022 State #6 Nation TX and Rylan Griffen
Rylan Griffen 6'5" | SG Richardson | 2022 State #72 Nation TX . He is an absolute beast on the defensive end that can shut down any perimeter player with his strength, quickness and determination. He has been well coached, and he clearly follows through with what he learns, as he has one of the strongest and most technically sound defensive stances in Texas basketball. He stays wide and low in a strong stance with one hand up, ready to block any attempt as soon as his opponent puts up a shot, and one hand out, ready to stop the dribble or pass. He completely smothers his matchups as they look for a shot, blocking their attempt before they even get their shot off, and it's as if the ball just gravitates towards his hands as he defends his man, getting steals with ease and in bunches. He's a hawk in passing lanes, as well, anticipating the offenses next pass and then swooping in for the steal. On offense, he has the strength and composure to attack the basket and finish through contact, but he will normally look to get open on the perimeter with his relentless off-ball movement and cross-court cuts to spread the floor for Cason and Rylan. Once he catches the ball, the defense better be right on top of him, because he can be as deadly as anyone from beyond the arc. Just as his defensive stance is well trained and technically sound, his shooting form is exactly that. He has a strong base with a beautiful catch-and-release form that follows beautiful mechanics. He hits from 3-point range with great accuracy and is a vital piece for Richardson as they pursue the state championship.
Ja'Kobe Walter
Ja'Kobe Walter 6'5" | SG Mckinney | 2023 #15 Nation MO – 6'4″ – SG/SF – Junior – McKinney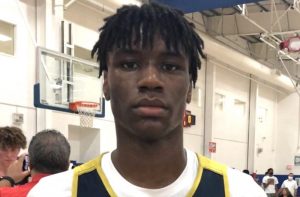 Walter, Prep Hoops' #1 shooting guard and #2 overall player in the state of Texas in the class of 2023, is one of the most well-rounded scorers in the entire state and possibly the nation. He is only a high school junior but has the strength and build of a college player and he has the confidence to take any shot on the court, regardless of the pressure he sees. His athleticism, aggression and control of the ball allow him to drive the lane, attack the paint, and finish through traffic, taking on all kinds of contact. He has an incredible pullup jump shot from all areas on the court and from incredible distances, but he is especially dangerous from the midrange, where he maintains his consistent threat to attack the basket at all times but can stop on a dime and pullup from 15 feet out for one the of the purest midrange jumpers in high school basketball. His 3-point shooting is incredibly smooth, as well, and once he gets hot from distance, there is no stopping him and his confident shooting ability from the arc, with the green light to go for 40+ points any given night. His strong frame allows him to slow it down and utilize the post, backing down weaker opponents and hitting midrange fadeaways or bullying his way to the basket. His strength and elite hand-eye coordination also give him the ability to guard almost every position on the court effectively and can be utilized in various scenarios based on the personnel he has around him, making him a unique talent that can be effective with any kind of lineup. He has led the talented squad at McKinney High School to the #3 ranking in the state, behind only Duncanville and Richardson, and has made them a viable threat for the state championship.
Thatcher McClure Thatcher McClure 6'7" | PF McKinney | 2022 State TX – 6'7″ – SF/PF – Senior – McKinney
McClure's height at 6'7″ has allowed him to play as a stretch-4 for plenty of his games with the McKinney Lions, but he has made huge strides in his senior year on improving his ball handling and mobility around the court, making him a complete and skilled do-it-all wing that is sure to have a positive impact on whichever team picks him up at the next level. He has a versatile and elite 3-level scoring ability, combining athleticism and effective shooting, but it's his incredible ability to guard nearly every position and it's all the little things he does that leave an imprint on the game and positively affect winning. From the passing to the rebounding to his off-ball movement and screen setting. He makes all the right plays and simply gets the job done, whatever is needed of him, and he embraces that role. McClure put it perfectly, telling Prep Hoops, "after playing with the insane roster we have at McKinney High, I've realized I don't have to be the one to score for us to win. I can step up if I'm needed, but I make my impact by getting my 10 rebounds and keeping my guy from the glass. I'm the clean-up guy, the glue guy, the 'x factor.' I do what's needed to win." With McClure in the lineup, that is exactly what McKinney is doing, winning. They are an incredible 29-4 this year, sitting at 3rd place in the state and ready to compete for the championship and McClure is "looking forward to [his] last ride [with his] team and making it a strong one."
Tre Johnson
Tre Johnson 6'5" | SG Link Academy | 2024 #1 Nation MO – 6'6″ – SG/SF – Sophomore – Lake Highlands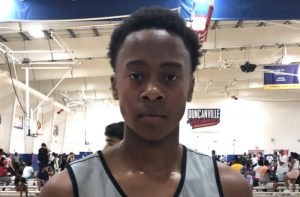 Johnson, Prep Hoops' #1 overall ranked prospect in the class of 2024 in Texas, is already an elite talent and he's only finishing up his sophomore year. He has led the Lake Highlands Wildcats to a school record, 30 wins, and several close games against top teams, including two very close losses against top ranked Richardson. He is a complete scorer with a natural feel for the game and looks as if he's been playing basketball longer than he's even been alive. He stays active and moves well without the ball and his shot is deadly from wherever he is on the court as a catch-and-shoot threat, but it's even more deadly when he has the ball in his hands. He has the mentality that no one can stop him, which is impressive in its own right at such a young age, but he backs it up every single game with his big time shot making. It doesn't matter how tight the defense is on him, he uses his quick, shifty and smooth handles to create space, and then he knocks down the improbable shot in whatever fashion works for that specific moment, with elite creativity and confidence. He has top notch speed, and he can burst out of a stationary position like a rocket, turning any possession into a fastbreak in the blink of an eye, where one moment he's in the backcourt, and the next, he's behind the entire defense sprinting towards the basket, where he can then use his extreme athleticism to finish with a strong and crowd-pleasing dunk. He'll throw it down on any given possession in the half court, as well, where his teammates just need to get the ball near the rim, and he'll finish off the alley oop every single time. He's an aggressive slasher and loves to take his man off the dribble, attacking the paint with his speed and quickness and then fighting through contact or contorting his body around defenders to get the layup or dunk to fall one way or another. His length, quick hands, and determination make him a respectable point-of-attack perimeter defender, as well. After only four losses all season, and two of them coming in close battles with the Richardson Eagles, Johnson has all the confidence in the world that Lake Highlands can make a deep run for the state championship this year. He understands he needs to set the tone for his team from the tip, telling Prep Hoops, "I [cannot come] out playing slow, because if we [get] off to a fast start, no team can really play with us, and it starts with me."
Kyle Moran – 6'1″ – SG – Senior – Lake Highlands
Moran is a quick and extremely accurate shooter with a high release point that provides a reliable off-ball catch-and-shoot threat for the primary ball handlers on the team in Quinton Perkins and Tre Johnson
Tre Johnson 6'5" | SG Link Academy | 2024 #1 Nation MO . He can also take his man off the dribble, using his body well to protect the ball in the midrange, and then execute a turnaround, fadeaway jumper to perfection. His shooting may be his greatest strength, but he is also a creative slasher that utilizes spin moves, up-and-unders, scoop layups, and more to get to the basket and get the layup to fall, even when getting hacked by the opposing team. He is a willing passer that gets the ball to his teammates the moment they're open, especially on outlet passes, where he can toss a very accurate full court dime to spark a fast break. He boxes out extremely well and is an above average rebounder for his size, fighting to keep his man out of the paint on the box out and then chasing down loose balls off a miss. He sacrifices his body in the paint on defense, as well, getting into position quickly, and taking a hard charge under the basket, regardless of who's coming at him. He's the perfect complement to guys like Tre Johnson
Tre Johnson 6'5" | SG Link Academy | 2024 #1 Nation MO and Quinton Perkins, and Lake Highlands will need him to be at his very best if they want to make it all the way in the state tournament.
B.J. Davis B.J. Davis 6'6" | SG Link Academy | 2025 MO – 6'6″ – SG/SF – Freshman – Lake Highlands
Davis, a freshman already standing at 6'6″, can do it all on the basketball court and is going to be a star for Lake Highlands for years to come. He is extremely athletic for his age and a reliable finisher on the fast break or in traffic. He's a capable ball handler that can run the fast break, create his own shot, and patiently manipulate the defense, waiting for the right opening to attack, where he can deliver accurate and timely passes to his teammates or penetrate to the basket himself and put his fantastic touch around the rim to work. He's also a great catch-and-shoot threat that can hit it from deep with consistency if left open, and he has great control in the midrange too, using his body to create space and then rising up high over his defender and using his length to get a clear look at the basket. He may be slender as a freshman, but his length and quick feet make him a tough matchup on the defensive end, with the timing to block shots on drives to the basket and on the perimeter. He's an active defender on the perimeter, as well, that smothers his matchup, gets his hands on the ball, and aggressively fights for the steal. He also has great anticipation when defending the pass, swooping in to grab the ball midair, which will almost always result in a fast break going the other way thanks to his heads-up awareness to move the ball up the court quickly.
Brooks Bahr
Brooks Bahr 6'5" | CG Keller | 2024 State #230 Nation TX – 6'4″ – SF – Sophomore – Keller
Bahr, even as a sophomore, is the leading scorer for the Keller Indians at 14 points per game and can score from anywhere on the court. He has very good shooting mechanics and technique, making him an extremely efficient and accurate deep threat that must be guarded at all times, with or without the ball. He stays active without the ball and makes the necessary cuts to get open, releasing the shot very quickly soon after he receives it. He is also effective at hitting midrange shots off curl cuts or off a one or two dribble move to create space. He has a respectable and creative post game for his age with a very soft touch around the basket, where if he's challenged by someone his size or smaller down low, he will more than likely get the basket to fall. While a lot of his damage comes from his movement off the ball, he is very effective at creating his own shot too, and his patient and composed dribble drives to the paint draw defenders in and then he has the awareness and unselfishness to deliver strong passes to the open man on the perimeter. On defense he has great hand-eye coordination to knock the ball loose as an opponent attacks the paint, swatting the ball at just the right moment without fouling. Bahr is excited to go to battle in these playoffs one last time with the seniors on the team, including his older brother, Blake Bahr Blake Bahr 6'2" | PG Keller | 2022 State TX , and he is ready to leave his mark in the games coming up, "playing to [his] strengths and scoring the ball on all 3 levels."