The first round of the UIL playoffs is complete and the 2nd round kicks off this Friday. The 6A Division started with a total of 128 teams with the top 32 teams from each of the four regions. Texas is…
The first round of the UIL playoffs is complete and the 2nd round kicks off this Friday. The 6A Division started with a total of 128 teams with the top 32 teams from each of the four regions. Texas is home to some of the greatest players in the nation and it is guaranteed to be quite a show this year with teams full of talent across the board. Below we preview some of the top wings representing their teams in the 6A Region 2 playoff bracket.
More 6A Playoff Previews:
Region 1: Guards | Wings | Bigs
Region 2: Guards | Wings Pt. 1 / Wings Pt. 2 | Bigs
Region 3: Guards Pt. 1 / Guards Pt. 2 | Wings | Bigs
Ashton Hardaway
Ashton Hardaway 6'8" | SF Sierra Canyon | 2023 State #164 Nation CA-S – 6'8″ – SF/PF – Junior – Duncanville
Hardaway, Prep Hoops' #3 small forward and #15 overall for 2023's in the state of Texas, is an absolutely deadly sharpshooter, averaging 2.4 threes made per game on 39% shooting for the season, and a versatile and skilled defender. He has one of the cleanest strokes in the game with the height and length to hit over anyone, no matter the kind of pressure the defense gives him. He has NBA-range and must be accounted for at all times, especially on fast breaks where he can leak out to the perimeter and drop an open 3 on you every single time. He is fantastic at moving without the ball and stretching the defense several feet behind the high school 3-point line. Even if you manage to stay with him though, he has the composure to take an extra dribble or two off the catch to get just enough space to laser in a long-range shot, and when the shots not falling, which is rare, he can still take you to the paint and drop smooth floaters and tough layups. He is also an intense defender that can play both inside the paint and out on the perimeter thanks to his combination of size, agility and athleticism. His incredible length and quick feet help him lock up any matchup he's assigned to, and he can sneak in for a steal in the passing lanes or straight from his opponent's hands at any given moment. His long arms and perfect timing make him a lethal shot blocker, as well, where he can block long range attempts with his quick close outs and completely smother any attempt from within the paint. Duncanville handled business in their 1st round matchup against the Killeen Shoemaker Wolves, with Hardaway dropping 12 points on the way to a 99-63 win. He'll look to continue his hot shooting in their 2nd round matchup against the Rockwall Heath Hawks on Friday, February 25.
Davion Sykes
Davion Sykes 6'6" | SG Duncanville | 2022 State TX – 6'6″ – SG/SF – Senior – Duncanville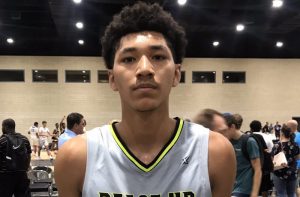 Sykes, the vet and senior leader of the defending champions, Duncanville Panthers, is Prep Hoops' #8 shooting guard in Texas for the class of 2022 and will be joining the Texas State Bobcats next year as he continues his already impressive basketball career. He is the ultimate all-around player, working on every aspect of his game during his time at Duncanville to ensure he has no weakness in his game. He is as vocal as anyone on the court and brings energy and effort to everything he does on every single play. He has extreme athleticism to finish explosive dunks that will get any crowd on their feet, and he can shoot the lights out with his impressive stroke from deep. He has relentless and intelligent off-ball movement to get open on cuts to the basket or along the perimeter, but he can also handle the ball like a guard with extremely impressive control for a player of his height combined with impeccable court vision and passing to create for others on the team. His long frame, athleticism and intensity make him a strong defender, as well, and he can guard multiple positions thanks to his size and strength. He forces multiple turnovers in a game and can then immediately create fast breaks with his speed and relentless motor. Rounding out his complete game, he attacks the boards on both sides of the court with that same intensity and relentlessness he shows in all other parts of his game. He fights for every loose ball and is someone that must be accounted for on box outs by the opposing team. Coming off a solid 12 point game in the 1st round against the Killeen Shoemaker Wolves, Sykes is embracing his leadership role on the team, noting that "everything starts in practice," and he is ready to help his team continue winning games by "leading [his teammates] and showing them how playoffs [are] played in Duncanville, [because] playoff environment [is] totally different than a regular game."
Daylon Porter Daylon Porter 6'4" | SF Cypress Falls | 2024 TX – 6'4″ – SF/PF – Sophomore – Cypress Falls
Porter, Prep Hoops' #4 ranked small forward and #21 overall player in the class of 2024 in Texas, is the youngest of the talented Cy Falls starting lineup and a vital piece in their championship hopes this year as a do-it-all forward. With so many impressive scorers on the team, Porter is usually tasked with doing all the little things that contribute to winning and he executes his role to perfection. He plays both sides of the ball with extreme aggression and determination to make as much of an impact on every play as possible. On offense, he doesn't need the ball in his hands to make winning plays. He is relentless with his off-ball movement, setting hard screens and constantly slashing through defensive sets to disrupt their organization and gameplan. Even when he does get the ball, he will almost immediately move the ball to the next open man with strong and decisive passes, keeping the energy flow in the ball alive and making the defense constantly work to keep up with Cy Falls' offense. Don't sleep on his scoring abilities though, because he can put the ball on the floor and attack the basket as good as anyone, finding openings in the defense, and attacking the seams to get tough layups and floaters to fall through traffic. You can't sag off on him too much either, because he is a dangerous catch-and-shoot threat from the perimeter. On defense, he is just as aggressive and relentless, with the versatility to guard nearly any kind of player. He attacks the ball and forces turnovers in even the most improbable scenarios and locks up his matchup by bodying them up with incredible lateral movement, exhausting them and forcing them to give the ball up before they turn it over. He is ferocious on rebounds, boxing out well, and then attacking the boards to secure defensive possessions or get his team another opportunity on offense, where he also has a terrific second jump to get the putback to fall. Porter and Cy Falls handled their 1st round matchup against the Klein Forest Eagles with ease on Tuesday, winning 62-34, and now take on the College Park Cavaliers this coming Friday.
Jacob Carmelo Duran
Jacob Carmelo Duran 6'5" | SG Cypress Falls | 2022 TX – 6'5″ – SF/SG – Senior – Cypress Falls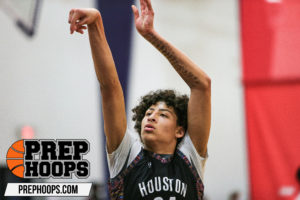 Duran is an absolute sniper from deep with the offensive talent and skillset to lead the Cy Falls Eagles in scoring on any given night. His quick release and deadly accurate shot from beyond the arc is his bread and butter, and rightfully so with how much he can change a game if he's hitting his shots, but he can do so much more on offense, as well. He's a fantastic slasher without the ball, timing his cuts perfectly to find openings in the defense and then finish tough layups right as he receives the ball. He works beautifully in the post, as well, with solid footwork and great control. He has the ability to hit fadeaways out of the post and pull off various moves to get a clean look at the rim, utilizing his soft touch to get the two points. He is also an exceptional passer out of the post or as he drives to the paint, with full awareness of where his teammates are and the unselfishness to deliver beautiful passes to them for an open shot. On defense, he is a fantastic perimeter defender and can keep up with almost anyone with his lateral movement. He also has good coordination to smother his opponent as they drive to the paint, swatting the ball out of their hands or staying vertical and keeping his arms high to deter to any kind of shot down low. The stars for Cy Falls may be able to handle business in the early rounds of the playoffs, but as they get deeper and face stronger competition, Duran will be a vital piece in ensuring they get to the state championship and reach their goals.
Evan Chatman – 6'4″ – SG/SF – Junior – Harker Heights
Chatman is the exact kind of 3-and-D sniper that any playoff team and championship contender needs. He has incredibly deep range with a narrow base and a high and quick release, making him an elite catch-and-shoot threat that must have a defender in his face at all times, even without the ball. Even when guarded, though, and with a hand right in his face, he can still hit the 3-ball with ease. He's extremely confident in his shooting ability and stretches the floor beautifully for the athletic slashing guards on Harker Heights. He can also put the ball on the floor and attack the paint, stretching high up and using his strong leaping ability to finish a tough dunk in traffic, especially on the fast break, but nearly all of his damage comes from beyond the arc because of his elite ability to find the open spots along the perimeter, patiently wait for the ball to find him, and then to simply shoot the ball with great efficiency. He plays fantastic all-around defense, as well, both as an on-ball defender and a help defender. He denies the ball to perfection to limit the opposing team's movement and flow, he disrupts passes with his long arms, and he plays tough and spirited defense when guarding 1-on-1. After a dominating 1st round win over the Lake Ridge Eagles, Chatman and the Knights have a tough matchup in Round 2 going up against one of the top teams in Texas, the 22-1 Garland Owls. Chatman believes in Harker Heights identity and style of play though, telling Prep Hoops that "we are really good when we play team defense and control the glass, so that will be our focus," and his impact will come from "playing tough defense and knocking down big shots."
Terrance Carter – 6'4″ – SF/PF – Senior – Harker Heights
Carter, a star athlete that also plays quarterback and wide receiver for the Harker Heights varsity football team, is a big-bodied, athletic wing with an impressive inside-outside game. He loves running in the open floor to spark a fast break, possibly stemming from his play as a wide receiver, and he is fantastic at finishing strong on alley oops or solo dunks to complete a fast break. He is incredible on cuts to the basket, as well, trailing teammates and slashing from the weakside as the guards on the team penetrate the paint, where he has a quick jump immediately after catching the ball to finish strong through traffic. He doesn't have the quickest release, but if open, he can be a deadly 3-point shooter, which forces the defense to step up on him on the perimeter, allowing him to use his strength and big body to blow past his opponent and attack the paint for a strong finish. He also has great coordination and awareness on the defensive side of the ball. He puts himself in the perfect spots on the court, staying with his man but also staying aware of where the ball moves to help at just the right time, and he is terrific at intercepting passes and disrupting the flow of the offense. Carter's height slots him in as more of a wing, but he spends plenty of time as a stretch-4 for the Knights because of his large frame and aggressive style of play. He can usually hold his own in the post against various types of big men, but in their next matchup against the Garland Owls, he will for sure have his hands full with their talented bigs and it will be a tall task for Carter to overcome, but he is definitely up for the challenge.