The first round of the UIL playoffs is complete and the 2nd round kicks off this Friday. The 6A Division started with a total of 128 teams with the top 32 teams from each of the four regions. Texas is…
The first round of the UIL playoffs is complete and the 2nd round kicks off this Friday. The 6A Division started with a total of 128 teams with the top 32 teams from each of the four regions. Texas is home to some of the greatest players in the nation and it is guaranteed to be quite a show this year with teams full of talent across the board. Below we preview some of the top wings representing their teams in the 6A Region 2 playoff bracket.
More 6A Playoff Previews:
Region 1: Guards | Wings | Bigs
Region 2: Guards | Wings Pt. 1 / Wings Pt. 2 | Bigs
Region 3: Guards Pt. 1 / Guards Pt. 2 | Wings | Bigs
Mario Johnson – 6'3″ – SF – Senior – Westfield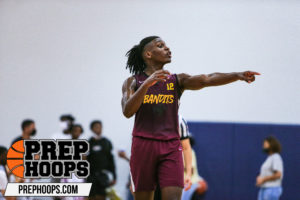 Johnson may be an undersized forward, but he is extremely active in all aspects of the game and makes several plays in the paint that positively affect winning on both sides of the ball. That impact in the paint combined with his 2-way skillset on the perimeter make him an effective wing that any championship contender would love to have in their lineup. He is a solid catch-and-shoot threat with a strong jump and a quick and high release point. His off-ball movement is extremely well calculated and well timed, finding openings in the defense and then attacking them at full speed at just the right moments. He's also athletic enough to finish off strong alley oops through traffic and he has a soft touch near the basket to complete his aggressive drives to the hoop with the ability to adjust midair in the paint. His rebounding at his height is incredible, with extremely effective box outs and a relentless attack on the offensive boards, securing several second chances for his team every game and getting the putback to fall on numerous occasions all by himself. He has impeccable timing on blocks, first staying vertical and stretching his arms high and long to deter the shot without fouling, but then jumping high and strong at just the right moment to completely smother the shot attempt and send it the other way, sometimes even getting two hands on the ball and keeping it in play. He shows that same kind of impressive shot denial on the perimeter and can block a shot midair after it's already left the shooter's hands. He has very quick reflexes on defense, as well, leaping into passing lanes in a split second and being the first to go after 50/50 balls on several occasions. Johnson embodies everything that the Mustangs are about with toughness and energy, and he is sure to be a vital piece in their pursuit of a state championship this year.
Blake Washington – 6'2″ – SG/SF – Senior – Westfield
Washington is a strong and tough wing for the Westfield Mustangs and is a terrific 2-way player that has one of the most dangerous midrange games in the state of Texas. Get him the ball anywhere between 10-15 feet from the basket with even a sliver of room and you are almost guaranteed 2 points because of his incredibly efficient midrange shooting. He has relentless off-ball movement, making baseline cuts all over the court to lose the defense and find an opening, where he has an amazing ability to get a shot off the catch to go even if he's off balance and fading away. He's just as dangerous off the dribble too. He can hit the 3-pointer with ease, but if the defense gets to him in time on the perimeter, all he needs is one or two dribbles to get to his midrange spots, and he can fire up a shot that is just a beautiful sight to see. He gets his feet under him, rises up high and square with the basket, elbow straight, and lasers in the shot. It doesn't matter if the defense has a hand right in his face, Washington has exemplary poise and composure under pressure, and all his focus is on the basket when he's shooting. Even on fast breaks, he has the speed and strength to threaten a paint attack, with the ability to finish through traffic, but if the defense is packing the paint too much, he is more than willing to stop on a dime and rise up from the free throw line or elbows for an easy midrange shot, which for him is more efficient than most guys trying to force a layup through traffic. On defense, he is strong and quick, fighting to stay in front of his man at all costs in a low and intense defensive stance, and doing everything necessary to make his presence felt on that end of the court. He fights for rebounds and has a good feel for when to go for blocks and when to simply stay vertical and deter a shot. Westfield has Klein Collins up next in the 2nd round of the playoffs, but if they make it to the next round, they will have some impressive guards and wings to face in Cypress Falls or College Park. It will be a major test for Washington on both ends of the court, but he's confident in their ability to make it to the state championship this year and his focus is all about "displaying great leadership and working hard every day."
Jutaun Clopher – 6'3″ – SF/PF – Junior – Westfield
Clopher is another undersized forward for the Westfield Mustangs but also like his teammates, he plays with extreme grit, determination and aggression that make his game seem bigger than his size. His perimeter game consists of a solid catch-and-shoot ability and the skillset to take his man off the dribble and attack the basket, but for the most part, he lives in the paint and is phenomenal when it comes to attacking out of the post. He has impeccable post control with beautiful footwork and a veteran's skillset when performing his array of moves to get an open look at the rim. He can take all sorts of contact down low and still get a tough post move to fall near the basket through his soft touch and aggressive approach. He also makes smart and calculated cuts towards the basket, finishing in all sorts of ways under the rim as he receives the pass. On defense, his height may seem like a disadvantage, but he is extremely intelligent on that end and understands when and how to take charges and is terrific at staying vertical to challenge shot attempts without fouling. His shorter stature makes him quicker than most wings or bigs, as well, allowing him to stay in front of them on the perimeter and knock the ball loose when the opportunity arises. He slots in as the power forward for Westfield during these playoffs, so it will be interesting to see how his game develops, especially on the perimeter, going into his senior season.
Kambren Drummer – 6'2″ – SF – Senior – Waxahachie
Drummer is a solid contributor as a 3-and-D prospect with a strong sense for rebounding. He has a solid dribble pullup jumper with a powerful step back, but he's an even better catch-and-shoot 3-point shooter with good movement and spacing away from the ball to spread the floor as much as possible. He's a strong rebounder on both ends of the court, with a relentless pursuit of the ball, fighting through box outs and establishing good positioning of his own to secure double-digit boards on any given night. He also has the athleticism and timing to simply outjump his matchup to secure a board even if he hasn't established great positioning. On the other end, he's a fantastic help defender with a nose for the ball and understands when to jump on a double team to force a turnover and when to stick with his man and deny the ball, deterring valuable movement in the opponent's offense. Disrupting the opponent's offense even more, he has a knack for timing when to jump into passing lanes, forcing turnovers and turning it the other way for a fast break. He had an impressive senior season, but Drummer's high school career ended in the 1st round of the 6A playoffs on a tough loss to the Killeen Ellison Eagles, 50-48.
Trap Johnson
Trap Johnson 6'5" | SG Belton | 2024 State #198 Nation TX – 6'5″ – SG – Sophomore – Belton
Johnson, Prep Hoops' #5 ranked shooting guard and #28 overall in the class of 2024 in Texas, is already one of the stars of the Belton Tigers in just his sophomore year. He has incredibly deep range and a near perfect shooting form, which when combined with his high IQ off-ball movement makes him one of the best catch-and-shoot threats in Texas. He understands spacing and positioning along the perimeter as good as anyone and he executes V-cuts and flare cuts to perfection to get just enough space between him and his defender for a catch-and-shoot attempt. He also has very impressive athleticism at such a young age, finishing fast breaks with strong and purposeful dunks. He's a skilled wing defender, as well. He has good ball denial and can quickly adjust to keep up with his man if he attempts a back door cut, he has quick reflexes to snatch the ball out of midair on pass attempts, and he has great coordination to swat the ball straight from an opponent's hands. He's a solid shot blocker too and holds his own in the post if switched onto a big man. His length comes in handy down low and has the intelligence to keep his arms high and long to make it as difficult as possible to score on him in the post, occasionally coming away with a block or two. Lastly, he has a respectable box out, putting in good effort to ensure he does his job and help his team secure a rebound. Johnson and the Tigers had a tough end to their season, losing in the 1st round to the DeSoto Eagles, 63-59, but nonetheless, it was a season to be proud of where he led Belton, along with his older brother, TJ Johnson TJ Johnson 6'6" | SF Belton | 2022 State TX , to a 29-6 record and a district championship.