The UIL Playoffs are right around the corner. The 6A Division will field a total of 128 teams with the top 32 teams from each of the four regions. The state of Texas is home to some of the greatest…
The UIL Playoffs are right around the corner. The 6A Division will field a total of 128 teams with the top 32 teams from each of the four regions. The state of Texas is home to some of the greatest players in the nation and it is guaranteed to be quite a show this year with teams full of talent across the board. Below we preview some of the top guards representing their teams in the 6A Region 1 playoff bracket.
More 6A Playoff Previews:
Region 1: Guards | Wings | Bigs
Region 2: Guards | Wings Pt. 1 / Wings Pt. 2 | Bigs
Region 3: Guards Pt. 1 / Guards Pt. 2 | Wings | Bigs
Cason Wallace
Cason Wallace 6'4" | CG Richardson | 2022 State #6 Nation TX – 6'4″ – SG/PG – Senior – Richardson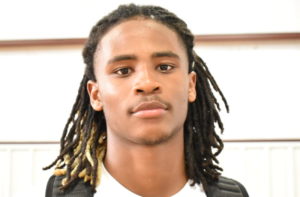 Wallace, the consensus #1 player in the state and Prep Hoops' #6 overall player in the nation, is a generational talent leading Richardson as one of the top programs in the country. He has committed to the University of Kentucky and is quickly rising up the ranks for the 2023 NBA Draft, already reaching a top 12 status per ESPN's Jonathan Givony and Mike Schmitz. He is patient and composed at every moment in the game. Even in the face of extreme adversity he is the ultimate calming force on the court, as we saw in the late comeback by Lake Highlands just over a month ago, playing his game to perfection and not letting anything or anyone get in his head and affect his game. He is in complete control of the pace of the game and sees everything on the court in slow motion to make the right move at the right time, making accurate passes and creating scoring opportunities seemingly out of nowhere. He could be surrounded by defenders, completely smothered with nowhere to go, and he will still be the calmest player on the court, making the perfect pass to the open man. Don't be fooled by his calm and composed demeanor though, as he can explode to the basket with extreme athleticism at any given moment if the opening is there, rarely forcing his way and letting the ball flow through the offense, seamlessly finding the open man. On defense, he has the athleticism to guard any perimeter player, but his greatest strength on that end of the court is his intelligence, his IQ. He stays between his man and the basket at all times, rarely fouling, and only jumping in for a steal at the most opportune times, instead making it as difficult as possible for his man to make a play with the ball in his hands. Wallace will be leading a talented Richardson team as one of the favorites, if not the leading favorite, to the state championship this year, and each game should be a show to watch every time he and his teammates take the court.
JaCovey Campbell
JaCovey Campbell 5'8" | PG Accelerated Prep | 2024 TX – 5'8″ – PG/SG – Junior – McKinney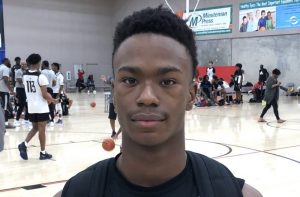 Campbell is the lead point guard for the #3 ranked team in the state of Texas, the McKinney Lions, and he has seen massive improvement in all facets of his game from the start of his junior season until now. He has climbed up Prep Hoops' 2023 rankings to be the #10 ranked point guard and the #45 overall player in the state of Texas. Even with so many weapons on McKinney's roster, he is never afraid to take big shots from deep, hitting 3-pointers off the catch or off the dribble with extreme accuracy even when heavily defended. He has lightning quick speed and acceleration that makes him a threat to spark a fast break at any given moment and he is fantastic at delivering accurate passes to his slashing teammates as he penetrates the paint and draws in the attention of the defense. Don't let his smaller stature fool you either, he is an absolute dog on the defensive end, with Patrick Beverley-like intensity, picking the pocket of any opposing ball handler that relaxes for even a second with Campbell defending him. He is a total pest on that end of the court and can lock up even the quickest of ball handlers with his lateral movement, aggression, and quick hands. With McKinney suffering from several injuries from the start of the season, Campbell is most looking forward to finally playing with a full roster and is ready to make a deep run in the playoffs this year. He understands his role on this star-studded team, stating that his impact will come from "knocking down shots and leading [his] team to the best of [his] abilities."
Makhi Dorsey – 5'11" – SG/PG – Senior – Plano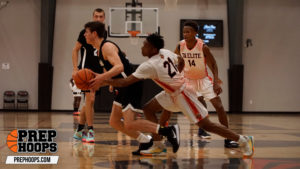 Dorsey is a solid all-around talent with a strong frame that can do it all on both ends of the court. He has a great eye for the ball, getting steals in passing lanes and stuffing his opponent just as he is about to attempt a pass. He also has great timing as he reaches in to snatch the ball from the opposing ball handler. He's a hard and strong sprinter that loves to push the pace and attack off the fast break, especially after creating a turnover on the other end. He plays with great energy and closes out perimeter shooters as quick as anyone, with incredible timing on blocks that make up for his lack of elite vertical leap. He's a very solid left-handed 3-point shooter, as well, that will more commonly knock it down with consistency off the catch, but still must be respected by the defense to hit from deep off the dribble. Plano is stacked with talent, but Dorsey played a vital role in helping them secure MaxPreps' #4 ranking in the entire state primarily with his ability to force turnovers and turn them into fast breaks, and his consistent shooting off the ball.
Xavier Williams – 6'1″ – PG/SG – Senior – Plano
Williams is very similar to his teammate, Makhi Dorsey, in that he is a defensive menace that forces multiple turnovers in a game and almost always turns them into fast breaks going the other way. He has long arms to deny shots and passes all over the court and then immediately pushes the pace to spark a fast break. He has incredible instincts and timing as he jumps into passing lanes, grabbing the ball midair just as a pass is made. He plays with great speed as he attacks the basket on the fast break or in the half court, but also with great control, with the ability to adjust his direction and shot at a moment's notice based on what he sees in the defense. With Plano's constant ball movement and never having one guy handle it too long, he understands spacing and how to move without the ball extremely well, ready and waiting on the perimeter for the ball to find him where he can then use his quick release to put his efficient catch-and-shoot abilities to work. Williams knows they have a special team this year and is looking to break through Plano's playoff struggles of the past, where they lost to Wylie and Hebron in the 1st round and play-in games in consecutive years. He sees himself as a leader of the talented group and wants to show everyone who the Plano Wildcats really are and that their undefeated 32-0 record this year is not a coincidence. He is ready to "push each and every single one of [his teammates] to prepare them for these playoff games and… just give [his] all for the last games [of his high school career]."
Elijah Brown – 6'4″ – SG/PG – Senior – Plano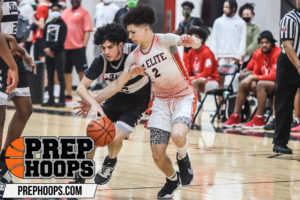 Plano clearly has a type when it comes to their guards and Elijah Brown exemplifies that yet again, just as his teammates, Makhi Dorsey and Xavier Williams, do. Brown moves the ball extremely well, never taking many dribbles and keeping the defense in a constant rotation around the court. He has a quick catch-and-release from beyond the arc to perfectly compliment Plano's constant ball movement between the multiple guards along the perimeter. His defense is right on par with his teammates too, as he has fantastic coordination with the ability to knock the ball loose without fouling as the opponent drives to the basket. He also has great timing as he leaps into passing lanes to steal the ball and sprint the other way for a fast break. He differs slightly from his colleagues thanks to his height and length, which when combined with his timing, make him an above average shot blocker both on the perimeter and on the chase down. Brown fully believes in the Wildcats' share-the-ball mindset, telling Prep Hoops, "our team is willing to sacrifice for each other, so regardless of who has the hot hand or who doesn't, we all will do whatever it takes to win and that is what makes us special." He has all the confidence that this is Plano's year to make a deep run and his focus right now is "getting better each and every day leading up to Tuesday in any and every way we can…it starts by being locked in every single day."
Quinton Perkins – 6'0″ – PG/SG – Junior – Lake Highlands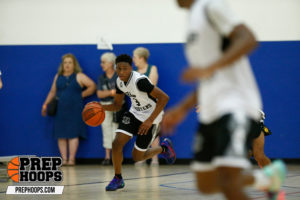 Perkins is a fantastic 2-way threat that does everything you want in a point guard on the defensive end and has immense skill on the offensive end. He has quick handles that help him penetrate the lanes and attack the paint with ease where he can hit his smooth floaters and get his tough layups to fall through traffic. He has a fantastic dribble jumper from deep, with the ability to hit quick step backs, get in his wide stance, and pull up from anywhere on the court, even hitting off fadeaways and with a hand in his face. Better not leave him open off the ball, either, because he will make it rain from beyond the arc with his efficient catch-and-shoot abilities. On defense, he has an incredibly quick closeout on the perimeter and even with his shorter stature, he is a fearless rim protector, with the ability to rise straight up and block paint attacks by opposing guards. He's an opportunistic and smart on-ball defender, staying in front of his matchup with quick lateral movement and then patiently waiting for just the right moment to snatch the ball right from his opponent's hands. He provides strong off-ball defensive help, as well, with timely steals if the nearby opponent loses focus of his surroundings.
Wyatt Bell – 6'0″ – SG/PG – Senior – Keller
Bell is a do-it-all guard averaging right around 11 points, 5 assists and 5 rebounds per game for the Keller Indians this year. He has a fantastic shooting form with great mechanics and a quick release that help him be an absolute bucket from 3-point range and midrange on his catch-and-shoot attempts if left unguarded. Even if a defender gets the closeout in time, he has the wherewithal to take one or two extra dribbles to the open space and then rise up for the midrange jumper that he hits with great consistency. It's not just his shooting either. He is a very intelligent player and understands how to react to what the defense gives him. If the shot isn't there, he continues his dribble all the way to the basket where he can finish through contact or hit a floater over outstretched arms. He has solid off-ball movement, as well, finding open lanes to attack the paint or midrange zones, and roaming the perimeter to lose his man to get just enough space to get an open shot. He also has the awareness to deliver accurate and beautiful point guard-like passes to his open teammates slashing to the paint or waiting along the perimeter. On the other side of the ball, he's an energetic defender, fighting on every defensive play, with a nose for finding the ball on errant passes and on 50/50 plays, averaging 1.6 steals per game for the season. With his focus set on their first game against the Trinity Trojans coming up on Monday, Bell understands that his greatest impact on the team will come from doing all the little things, "using [his] physicality and strength on the defensive end and on the glass…[and] getting into the paint offensively."
Blake Bahr Blake Bahr 6'2" | PG Keller | 2022 State TX – 6'2″ – PG – Senior – Keller
Bahr, like his teammate, Wyatt Bell, does a little of everything in terms of scoring, passing and rebounding. In his senior season he averaged 12 points, 5 assists and 5 rebounds per game. Controlling the point position for Keller, he does a fantastic job of distributing the rock to his teammates with extremely quick and strong passes that find the open man each and every time as the defense focuses on trying to stop Bahr's scoring. He also has a lightning quick release on his jump shots off the catch and off the dribble, where even if you think you're close enough to stop him, you better get even closer, because he can hit with great accuracy with just a sliver of breathing room. His midrange is just as deadly as his 3-point game, if not more deadly, with his smooth fadeaways and quick pullup as he dribbles in from beyond the arc. Just like Bell, if the shot isn't there, he has the ability to attack the basket and finish through all kinds of contact he might encounter down low. He also averages the same number of steals per game as Bell at 1.6 thanks to his great awareness and hands on the defensive end to intercept passes and pick the pockets of opposing ball handlers. Bahr has taken on a leadership role with the team in his senior season and is most looking forward to making a final run with the guys he's played with all these years in high school. He understands that he needs to set the tone for his team going into the playoffs and he wants to be as vocal as possible, "keeping up [their] communication during each game and practice." He puts an extra emphasis on practice, noting they must stay "focused every day during practice to keep improving" and reach their goals as a team.
Parker Hannah
Parker Hannah 6'2" | PG Keller | 2023 State TX – 6'1″ – PG/SG – Junior – Keller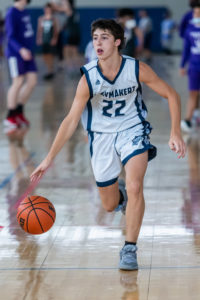 Hannah is a quick and shifty guard with a natural handle and feel for the game. He has great vision to find the open man cutting to the basket, making him a reliable starting point guard for the Keller Indians next year as a senior. His shiftiness and speed help him get to the basket with ease and he has a smooth floater at his disposal and understands how to use his body to create space in the paint with an array of finishing moves once he gets down low. His greatest strength is his shooting ability, though. He has an efficient jumper with great mechanics and unlimited range, hitting deep from NBA distance consistently in any game he's out there, both off the catch and off the dribble. On defense, he's just like his senior teammates. He's aggressive in the passing lanes and as a point-of-attack defender with great awareness and hand-eye coordination, already averaging 1.5 steals per game, and he should only improve in these playoffs going into his senior season. Hannah is excited to go to battle in the playoffs with the group of guys Keller has this year and he is ready "to show everyone how talented [they] really are." He's going to do whatever is necessary to help his team win and vows to give his "best effort 100% of the time and [be] a good leader to [his] teammates."