The UIL Playoffs have begun! The 6A Division will field a total of 128 teams with the top 32 teams from each of the four regions. The state of Texas is home to some of the greatest players in the…
The UIL Playoffs have begun! The 6A Division will field a total of 128 teams with the top 32 teams from each of the four regions. The state of Texas is home to some of the greatest players in the nation and it is guaranteed to be quite a show this year with teams full of talent across the board. Below we preview some of the top guards representing their teams in the 6A Region 2 playoff bracket.
More 6A Playoff Previews:
Region 1: Guards | Wings | Bigs
Region 2: Guards | Wings Pt. 1 / Wings Pt. 2 | Bigs
Region 3: Guards Pt. 1 / Guards Pt. 2 | Wings | Bigs
Aric Demings
Aric Demings 6'0" | PG Duncanville | 2023 State TX – 6'0″ – PG/SG – Junior – Duncanville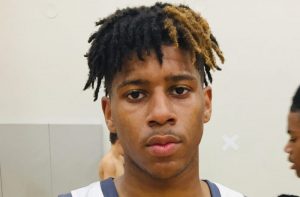 Demings, Prep Hoops' #7 ranked point guard and #36 overall player in the class of 2023 in Texas, has stepped up in a big way for Duncanville after they lost their senior point guard, CJ Ford
CJ Ford 6'0" | PG Duncanville | 2022 State TX to injury earlier in the season. He is an absolute sniper with a fantastic single-motion shooting form, extremely quick release, and deep range that is deadly accurate off the catch and off the dribble. He has a natural feel and handle of the ball, giving him the necessary confidence to run the potent offense of Duncanville. He can create an open shot on the perimeter with his quick and sharp ball handling on any given play, but also has extreme explosiveness and acceleration to blow past defenders and penetrate the paint, getting tough layups to fall with his long arms and soft touch, or delivering beautiful and strong passes to open teammates as they cut to the basket. He sees the floor beautifully and has a very well-balanced attack between scoring and passing. His threat to score from any spot on the court, especially from deep or just within the arc in the midrange, draws in extra defenders and he has the awareness and unselfishness to immediately get the ball to the open man every single time. As incredibly dominant as he is with the ball in his hands, he has some of the best off-ball movement of any point guard in the state, moving to the next open spot immediately after making a pass and finding any way possible to get open on the perimeter for a quick 3-pointer. His quick hands and awareness do wonders on defense with incredibly swift reaction times on passes, and then he has the quick feet and lateral movement to stay in front of anyone on the perimeter. Demings' focus is all set on securing the state championship for Duncanville for a 3rd straight season. He's putting a special emphasis on rebounding from the point position as the playoffs are heating up, noting that "rebounding pays well in the playoffs, if I can snag an extra 5 or 6, we're in good shape." He also gave a special shoutout to the seniors on the team, crediting their leadership abilities to allow him to take on a "secondhand leadership" role and focus more on playing his game and "just be a floor general," but he is always ready to step up and be the vocal leader that he can be when needed.
Xavier Scott – 6'0″ – PG/SG – Senior – Cypress Falls
Scott is a perfect 2-way, non-ball dominant point guard for any championship team and pairs extremely well with Cy Falls' star guard, Jesaiah McWright Jesaiah McWright 6'5" | SG Cypress Falls | 2022 State TX . He's an extremely willing passer, never handling the ball for too long on any play and moving it around the court to keep everyone involved. He always has his head looking up the court, making several accurate full court passes over defenders' outstretched arms, right into teammate's hands, in every game to spark a fast break. He's a knockdown shooter from deep when creating his own shot, never afraid to take and make a big-time shot when called upon. He is also very accurate off the catch after getting open with his relentless and well-planned off-ball movement. He doesn't just run around aimlessly without the ball. He makes calculated and timely movements, patiently waiting for the right opportunity to make a backdoor cut to the basket or curl around a screen to get open on the perimeter. He's an aggressive and intelligent point-of-attack defender, as well. He has quick hands to disrupt passing lanes and is relentless when defending the opposition's ball handler. He has the quickness to stay between his man and the basket and then has the attacking mindset to gamble for the steal at any given moment. Cypress Falls has a talented and well-rounded starting lineup to compete for the state championship this year and Scott is bound to make several impact plays that will help the Eagles win close games and make a deep run.
Jesaiah McWright Jesaiah McWright 6'5" | SG Cypress Falls | 2022 State TX – 6'4″ – SG/PG – Senior – Cypress Falls
McWright is the star for the Cy Falls Eagles and has led them to new heights this year securing a 31-4 record heading into the playoffs. He slots in as Prep Hoops' #6 shooting guard and #25 overall player in 2022 in Texas and he will be attending Louisiana Tech University next year, where he is sure to make an immediate impact as an elite scoring guard that can get a bucket from anywhere on the court in any fashion. He has one of the deadliest midrange pullup jumpers in the entire state, where he utilizes his impressive and patient handle to take his man off the dribble from the perimeter and then stop on a dime, rising up high from 10-15 feet out and draining it under any kind of pressure. You want the ball in his hands with the game on the line because he has cold-blooded killer instincts and all the confidence in the world to make the big shots time and time again. The midrange is his bread and butter, but he can be just as deadly from beyond the arc, as well, draining 3's against even the toughest of defenders. He's an incredibly gifted shot creator, utilizing an array of dribble moves and smooth footwork to create just enough space between him and his man and get a clean shot off. He's an extremely tough finisher in the paint too, getting to the basket with an explosive and quick first step and then finding all kinds of creative ways to get a layup to fall. Even with his elite scoring ability, he will rarely force a shot that's not there and always maintains extreme poise and composure, seemingly to be in full control of the pace of play, delivering beautiful passes to his teammates if they're open off his drives to the paint or if he's double-teamed on the perimeter. He's a more than capable defender, as well, thanks to his length and all-around intelligence of the game, with the ability to make big plays on that side of the ball at any given moment. The Eagles will have a tough path to the championship in the 6A bracket, but McWright gives them the upper hand in almost any matchup, and it should not be a surprise if he hits a game winner or two in crunch time.
CJ Evans
CJ Evans 6'1" | PG Harker Heights | 2022 State TX – 6'1″ – PG/SG – Senior – Harker Heights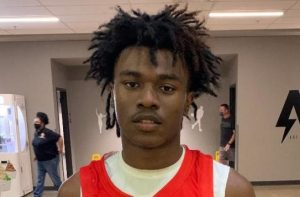 Going back to his junior season, Evans was already one of the most intimidating and imposing defenders in the entire state with an absolutely incredible finishing ability to match. Now, just a year later in his senior season, he has added another crucial element to his game with elite playmaking abilities as the lead point guard for Harker Heights, bringing them to a 29-4 record and breaking the school record for assists in a single season with 191. He was a capable playmaker in the past, but over this current season, he has become a true passing genius that can find the open man even through the tightest of seams. He has an incredibly aggressive, downhill attacking mindset but he always has his head up with a full awareness of the court and where his teammates are at all times. His passing ability has become a show to watch all on its own, with the ability to hit guys on the move with pinpoint bounce passes through traffic and the wherewithal to adjust midair and drop accurate dimes to open teammates as the defense collapses on him. He can run the offense in the half court, penetrating the paint with his explosive and aggressive first step, sharp handles, and incredibly quick change of direction, and then beautifully distribute the ball as he manipulates the defense to his will. His shooting has taken a step forward, as well, hitting 3-pointers and midrange shots right in the face of defenders as he creates space off the dribble. With the massive improvements he's seen in all aspects of his game, his strengths of defense and finishing in the paint have gotten even better, as well. He is an absolute beast on the defensive end with relentless energy and effort. He has the coordination, the aggression, the determination, the willingness to do whatever is necessary to lock up his matchup on the perimeter, create turnovers, and make an impact play on the defensive side of the ball. His activity on and off the ball is a complete disruptor of any offense and teams are better off simply keeping the ball away from him at all times, which still might not be enough because of his ability to disrupt passes and provide impeccable help defense. He may be on the shorter end of most players, but he can also hold his own in the post because of his ferocity, strength and quick hands to knock the ball away from opposing bigs. Going back to his offense, he has an elite finishing touch with incredible versatility in the ways he gets a bucket. He can be a bulldog and just use brute force to muscle his way through traffic to the rim, finishing through all kinds of contact and using any angle possible to get the layup to fall, or he can pull off a beautiful and agile play in the paint, euro stepping his way to the basket and contorting his body all sorts of ways to get the two points. There are plenty of offensively talented guards in the 6A bracket that will have incredible games throughout the playoffs, but when they run into the buzzsaw that is CJ Evans
CJ Evans 6'1" | PG Harker Heights | 2022 State TX , they will have an extremely tough time going up against one of the strongest defenders in the state. With all the improvements Evans has made in his game this past year, he's more ready than ever to "put [his] name on the map and leave [Harker Heights] on a great note." Starting with their 1st round game against Lake Ridge, he is all about "staying locked in and… doing what's best for the team to win."
Antwan Taylor Antwan Taylor 6'4" | SG Harker Heights | 2022 State TX – 6'5″ – SG/PG – Senior – Harker Heights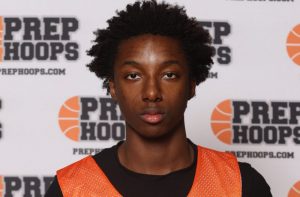 Taylor is one of the most explosive and athletic guards in the state that gets his head above the rim seemingly every time he attacks the basket. He could be going full speed downhill towards the basket or standing still under the rim, he can jump with anyone and finish with an extremely strong and ferocious dunk, cocking the ball back and slamming it on anyone's head. He pairs perfectly with the Knights' star point guard, CJ Evans
CJ Evans 6'1" | PG Harker Heights | 2022 State TX , with his impeccable off-ball movement, sliding around the court as Evans maneuvers the defense with the ball, and patiently waiting to time his cuts to the basket at the perfect moment to finish off a crowd-pleasing alley oop dunk. He's an elite finisher on fast breaks, with the speed to get open down court immediately after a turnover or even if the other team is too slow to get back on defense after Harker Heights inbounds the ball. His vertical leap and timing on his jumps make him an above average offensive rebounder, as well, with the finishing ability and touch around the rim to get the putback to fall more times than not, even when surrounded by taller defenders. With as dominant as he is on his dunks, it's not nearly all he can do on the offensive end. Taylor has the complete package with the ability to shoot from outside, hitting step back 3's off the dribble and dropping catch-and-shoot bombs, and he can just as easily handle the ball and create for others with pinpoint bounce passes as he attacks from the perimeter or timely extra passes off his cuts to the basket. On defense, his athleticism makes his blocks nearly as exciting as his dunks. He's a highflyer and can block nearly any attempt the other team throws up. His chase down blocks are special in their own right, but he also has incredible timing to leap straight up and block long distance shot attempts after they've already left the opponent's hands. He also has the coordination and timing to swat the ball loose as his matchup drives to the basket or if they get too relaxed handling the ball on the perimeter. Taylor and Evans together make up one of the most defensively adept backcourt duos in the state, let alone the 6A division, and will be a tough matchup for anyone as they make their way through the playoffs. The Knights have seen first round exits in both of the past two seasons and Taylor has all his focus on winning that first playoff game on Tuesday night against the Lake Ridge Eagles. He's ready to contribute in all ways possible, emphasizing his "leadership and experience," and noting his impact will come from "scoring, rebounding, playing defense and most importantly making the winning play to advance."
Zion Pipkin
Zion Pipkin 6'1" | PG Oak Hill Academy | 2024 VA – 6'2″ – PG/SG – Sophomore – Westfield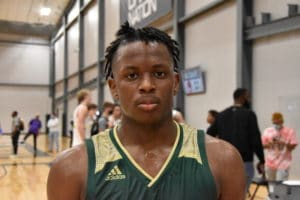 Pipkin, Prep Hoops' #1 ranked point guard and #3 overall in the class of 2024 in Texas, is one of the most impressive prospects in the state and has been a huge reason for the Westfield Mustangs' district championship and 28-1 record coming into the playoffs. He has a quick and pure jumper that is deadly accurate on catch-and-shoot attempts, making an impact without the ball with his constant off-ball movement and determination to get open, spreading the floor for his teammates. Once he does get the ball in his hands, though, he is an absolute star, with the ability to create his own shot and score from virtually any spot on the floor. He has an incredible change of pace, with an insanely quick and low dribble and phenomenal footwork, and he has this relentless attack mindset, getting in the paint on nearly every possession. Once he gets in the paint, he is in complete control with the ability to finish through traffic with a variety of creative finishing moves at his disposal, including a clean floater that extends out to the free throw line, and with the awareness and composure to dish to a trailing teammate if they have an easier shot at the basket. He also has the strength and pinpoint accuracy to launch a pass out to the perimeter if the defense decides to collapse on him. Even with his shorter stature, he is one of the most persistent guards going for offensive rebounds and then getting the putback to fall immediately after, even through heavy contact. He is just as much of a fighter on the defensive end, as well. He has an endless motor to stay with his man, which is usually the opposition's lead ball handler, and he can out hustle his matchup on nearly every play, fighting for loose balls and pestering them as they try and break free of his defense. Pipkin will be leading a talented Westfield lineup through a challenging bracket, but if he plays to the best of his abilities, they have a real shot at making it to the state championship.
V'Zarion Roberson – 6'2″ – PG – Senior – Waxahachie
Roberson is a deadly sniper at the point position with a very rapid release that is wildly accurate from deep on catch-and-shoot attempts and even more so off the dribble. When combined with his quick change of pace, where he appears to be on his toes at all times, gliding across the court and ready to change direction within a split second, he is nearly impossible to defend on the perimeter, drilling 3-pointers under all kinds of pressure and off various creative moves to create just a sliver of space between him and his defender. On the other side he is an extremely aggressive defender that will rip the ball right out of his opponent's grip or slide in just at the last second to intercept a pass. After a steal or a long defensive rebound, he loves to turn on the jets and push the other direction for a fast break. He's not the most athletic guard out there, but he uses his body well to create space as he attacks the paint and gets just enough daylight to get a clean layup off. He willingly moves the ball around too, never taking too many dribbles in a given possession, and making sure to mix in his impactful off-ball movement around the perimeter with his impressive on-ball creation. Roberson enters these playoffs with the mindset of "taking it game by game" and he stresses that if Waxahachie is going to reach their goals as a team and make it to the state championship, they must play their style of ball and "play together, especially when things are going downhill." He's locked in and wants his entire team to "stay focused and take no days off."