The champions from each region have been crowned and the state tournament is up next! The 6A Division started with a total of 128 teams with the top 32 teams from each of the four regions. Texas has some of…
The champions from each region have been crowned and the state tournament is up next! The 6A Division started with a total of 128 teams with the top 32 teams from each of the four regions. Texas has some of the greatest players in the nation and it has already been quite a show this year with teams full of talent across the board, with plenty more tough and exciting matchups to come. Below we preview some of the top wings that represented or are still representing their teams from 6A Region 3.
More 6A Playoff Previews:
Region 1: Guards | Wings | Bigs
Region 2: Guards | Wings Pt. 1 / Wings Pt. 2 | Bigs
Region 3: Guards Pt. 1 / Guards Pt. 2 | Wings | Bigs
Kaleb Pouncy – 6'6″ – SF/PF – Senior – Atascocita
Pouncy is an outstanding forward in doing all the little things that contribute to winning basketball games. He sets hard screens up top for his guards to create space and moves intelligently without the ball, cutting hard to the paint and keeping the defense's attention split at all times between him and where the ball is. He runs the floor extremely hard with incredible footspeed for someone his size, sprinting down the court like a freight train, flying by everyone, and finishing fastbreaks with strength and power. He also moves the ball extremely well with solid ball handling, awareness and passing, playing with complete unselfishness and moving the ball within the flow of the offense, rarely holding it for too long or taking many dribbles, and having the patience to allow plays to develop as his teammates move around the court. When he does have the ball, he is a very solid shooter from distance, only slightly rising up off the floor, but with the accuracy to hit off the catch and off the dribble from beyond the arc. He is also very good at faking the pullup, getting the defender off the floor, and then quickly attacking the paint with an explosive first step, setting up a strong finish under the basket or opening up teammates to which he'll deliver the accurate pass every time. He has the strength to plow through anyone as he attacks the paint or as he posts up defenders, but he also solid agility and footwork to find various ways to get to the basket and he has a very soft touch under the rim, which combined make him an elite finisher in all sorts of conditions. On the other end, he has a rare combination of size, strength, speed and quickness, allowing him to guard nearly every position and any kind of player. He has an extremely strong defensive stance, staying on his toes and playing with impressive energy to stay in front of quick guards on the perimeter and bang with strong bigs in the paint, and then he has the hands and the coordination to quickly block their shot or block a pass attempt as they get flustered by his smothering defense. Pouncy has been a vital piece in Atascocita's pursuit of a state championship so far as they just recently won the Region 3 championship round against the Shadow Creek Sharks, moving on to play a dominant Duncanville team in the state semifinals this Friday. As mentioned, he does all the little things that contribute to winning and he wants to continue "being a leader on and off the court, get everybody involved, and bring energy all game long."
AJ Aungst – 6'1″ – SG – Senior – Atascocita
Aungst is a flat-out sharpshooter in every sense of the word with a variety of other skills and abilities in his full basketball package that make him a vital piece in Atascocita's lineup that allows everything else to work the way it does as they continue to win games in this year's playoffs. His shot is as pure as they come with perfect form and mechanics both off the catch and as he rises up off a quick dribble move. His release is extremely quick, transitioning seamlessly from a catch or dribble into his shot, allowing little time for the defense to get a hand up from the moment he decides to shoot it. He is a very high IQ player, seeing the floor like a point guard and being incredibly unselfish as he moves the ball around the court, finding the open man, and then he moves without the ball to perfection, as well. He is relentless off the ball as he tries to get open for a long-range shot, but he also makes fantastic cuts the moment he passes the ball for give-and-goes to attack the paint or draw his defender away from the ball. He has a solid touch around the basket, as well. His athleticism is limited, as he will mostly generate his offense from the perimeter, but if does find himself near the basket, he can finish through contact and has the poise and focus to get layups to fall through traffic. As a defender, he is intelligent and rarely has any lapses in judgement and focus. He has the footwork and determination to stay with his man all over the court and get his hand up to contest shots, and he willingly sacrifices his body time and time again, establishing great positioning down low and taking hard charges in the paint whenever an opponent is coming his way. Aungst wants that state championship as much as anyone, but he is also cherishing every moment in this last ride with his team, telling Prep Hoops, "[I'm] just looking forward to playing with my teammates for this last playoff run because a lot of us are seniors, so this is it for high school."
Tosh Lyons – 6'7″ – SF/PF – Senior – Clear Brook
Lyons is a tall and long wing that can essentially play any position thanks to his guard-like skillset and his size. He has incredibly smooth and creative handles for someone of his height and he is a very unselfish passer. He keeps his head up at all times and finds the open man as he maneuvers through the defense. He has long strides which help reach a solid top end speed on the fast break, but when in the half court, he relies on his intelligent and creative footwork more than his ability to blow by defenders with his speed and length. He utilizes spin moves, euro steps, and more to attack the openings in the defense, keeping the ball high above his head, and finishing through traffic with a soft touch near the rim. He also has good control and footwork in the post. He's on the leaner side for a post player, so he can't necessarily power his way through defenders, but his intelligent footwork and impressive skill allows him to create a good look at the rim in almost any situation. Most of his offense will be generated from attacking the paint, but he is a reliable catch-and-shoot threat, as well, with solid off-ball movement and a fairly quick release which requires a defender to be glued to him at all times or he will make you pay from deep. His quickness and length make an excellent defender too, especially with his switching ability between guards and bigs. He has very quick feet and has the ability to change directions to keep up with quick guards. He can then swat any shot his matchup throws up with impeccable timing and coordination. His rebounding is another positive in his game, where he has a nose for the ball and seems to always find himself in the right spots to secure a rebound on either end of the court, keeping the ball high and getting a putback to fall or hitting the outlet pass to spark a fast break.
Broderick Jackson Jr – 6'1″ – SG/SF – Junior – Clear Brook
In what is a guard heavy team at Clear Brook, Jackson does everything you would want in an undersized wing player that gets a lot of minutes at the small forward spot. He brings energy, effort and aggression to everything he does, as he will more than likely be matched up with someone that is bigger than him. He's a strong 6'1″ and attacks the boards and the paint as if he's several inches taller thanks to his activity and energy. He moves extremely well without the ball, finding lanes to get into the paint and then getting up quick layups as soon as he receives the ball on his effective cuts. He doesn't handle the ball too much, but when he does, he has a good control and great ball security and spreads the ball to his open teammates very well. He'll push the ball up court off a rebound to spark a fast break and will always get it to an open man instead of forcing up a bad shot through traffic. He does have a very strong finishing ability though, and if the pass isn't there, he can go right through hard contact with his strength and determination and hit tough layups. He's a big time shot maker, as well, with a sniper's ability from deep, making three pointers late in games whenever needed and in crucial moments off the catch. 
Jackson Fields
Jackson Fields 6'7" | SF Fort Bend Elkins | 2022 State TX – 6'8″ – SF/PF – Senior – Fort Bend Elkins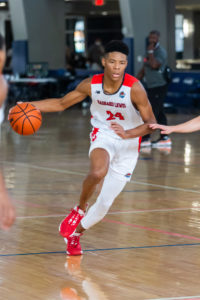 Fields is a defensive menace and a complete offensive player that is not only extremely athletic and aggressive in the paint, but he has the skill set to play as a point-forward at times, as well. His versatility and determination on the defensive end earned him the selection of co-defensive player of the year for district 20 in the 6A division. He can truly guard 1 through 5. He has great mobility for a strong 6'8″ frame and is an extremely hard worker to stay in front of his man, no matter how quick they may be. He stays active with his hands and has the length and the coordination to knock the ball loose and completely smother any shot attempt or pass attempt. He has the strength and aggression to bang down low against bigs, as well, and understands how to stay low to limit movement and then extend high at the right times when battling in the post to contest shot attempts. He also has an impressive defensive IQ to read offensive sets, defend pick-and-rolls, and when to switch or stay on his man. He's the total defensive package and is an ideal piece in a 5-on-5 defensive lineup. On offense, he is just as versatile as he is on defense. He has the ball handling and vision to bring the ball up himself and set up teammates in half court sets and he is fantastic at moving without the ball, making timely cuts to the basket to finish off strong dunks in traffic and fight through contact for tough layups. He has great speed and power on the fastbreak, as well, where he is essentially a freight train coming down the court and puts a certain fear in any defender that gets in his way. He can also step out and hit the 3-ball with great consistency off the catch, giving him important stretch capabilities if slotted in at the power forward spot. Completing his total package, Fields is also an impressive rebounder on both ends of the court, fighting for every 50/50 ball with great positioning, timing, and a quick second jump to secure boards in bunches, averaging just under 10 rebounds per game for the Fort Bend Elkins Knights this year.
Jae'Coby Osborne
Jae'Coby Osborne 6'5" | SF Bella Vista Prep | 2024 State AZ – 6'5″ – SF/SG – Sophomore – Fort Bend Elkins
Osborne, Prep Hoops' #3 ranked small forward and #18 overall in the class of 2024 in Texas, is an athletic 2-way slasher that is already a fearsome defender at such a young age. He has great timing for emphatic, crowd-pleasing blocks in the paint, on the perimeter, and when chasing down fast breaks. He's extremely quick on his feet and stays ready to contest or block a shot in a split second. He's also a complete pest as an on-ball and off-ball defender, staying extremely active at all times in passing lanes and in 1-on-1 situations. He keeps his feet moving, his hands up, and is ready to pick the ball loose and disrupt passes at any given moment with his strong awareness and activity.  He's a solid rebounder, as well, with good positioning and meets the ball at the peak of his jumps which helps him secure boards even through a sea of taller players with outstretched arms, and then he is very good at keeping the ball high on offensive rebounds to quickly put it back up before the defense can contest it. He has impressive ball handling and control, with a quick first step, using his body well to protect the ball as he attacks the paint, and then a soft touch around the rim to finish through traffic at an efficient rate. He has very good top-end speed too, making him a lethal threat on fast breaks when combined with his finishing ability. Although the Knights' season didn't end the way they had hoped, they are bound to make a strong return next year with a defensive talent like Osborne in the lineup.
Tyree Davis – 6'6″ – SG/SF – Senior – Dawson
Davis is one of the best in the state at playing off the ball and finding openings to get a good look at the basket, but he has also come a long way in his senior year in being a complete 3-level scorer that plays with poise and control at all times with the ball in his hands. He stays extremely active at all times when moving without the ball, not running around recklessly, but making calculated and deliberate cuts through the defense to get open himself or create openings for his teammates. He is a master at manipulating the defense with his off-ball movement. He is a fantastic shooter off the catch, seamlessly getting in his shooting motion coming hard around screens and after making cuts out to the 3-point line, and he is getting better every day at shooting off the dribble, making a quick one-two dribble move and then rising up high for a pullup. When attacking the paint, he maintains complete control and awareness of how the defense is set. He attacks at a certain pace and speed that allows him to make any kind of adjustment needed to get a good look at the rim, pulling off hop steps, euro steps, and more to finish a smooth layup or strong dunk over most defenders. While he may play slower in the half court, he has impressive speed on fast breaks and can get ahead of the entire defense if they don't hustle back, finishing the play with an emphatic slam or alley oop. He is also a solid wing defender, staying with his man with good lateral movement, and then using his long arms to knock the ball loose if the opportunity arises. Davis and the Dawson Eagles had an impressive season, finishing with a 24-6 regular season record and making it all the way to the regional quarterfinals, where they lost to the regional champs, Atascocita.