With the 2021-22 Texas UIL season fast approaching, Prep Hoops Network previews several players in Region 1 of the 5A conference for this next season. This article focuses on wings in the senior class. 6A seniors' player previews: Region 1…
With the 2021-22 Texas UIL season fast approaching, Prep Hoops Network previews several players in Region 1 of the 5A conference for this next season. This article focuses on wings in the senior class.
6A seniors' player previews:
Region 1 PG's, Wings, Bigs
Region 2 PG's, Wings, Bigs
Region 3 PG's, Wings, Bigs
Region 4 PG's, Wings, Bigs
5A seniors' player previews:
Region 1 PG's, Wings, Bigs
Region 2 PG's, Wings, Bigs
Region 3 PG's, Wings, Bigs
Region 4 PG's, Wings, Bigs
Jalen Nettles
Jalen Nettles 6'5" | SG Richland | 2022 State TX – 6'5″ – SG – Richland – Max Levels Elite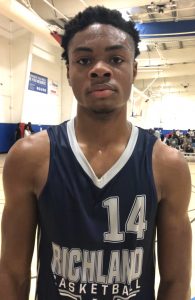 Nettles is an explosive, long and skillful wing that plays with control and poise. He's calm and collected when controlling the ball, utilizing his intelligence of the game and awareness of the court to get to his spots and create opportunities at the right moments, but he also has the athleticism to attack the paint and explode to the basket at any given moment, finding a unique balance in his game. He has a strong frame to create space on his drives and takes hard contact in the paint, keeping the ball up high with his long arms, and putting the ball in the basket over or around defenders as he adjusts midair. He has a great pullup jump shot from anywhere on the court, utilizing his quick dribble and solid footwork to get open but then stopping on a dime to pullup and drain it from midrange or beyond the arc. He uses that same impressive footwork to get open off the ball, as well, giving defenses fits with his dependable catch-and-shoot game. He sees the court well and has the awareness to pass to teammates just as they get open on a cut, leading them to the basket or a good shot on the perimeter. He's an above average rebounder for his position as he follows his shots and attacks the paint on his teammates' shots for the offensive boards. His length and athleticism, combined with his intelligence on the defensive end, make him a positive on that side of the ball, as well. He can guard multiple positions with his quick footwork and strong body, emphatically blocking shots at the rim and coming away with steals in passing lanes. Nettles spent this offseason working on his strength and refining his offensive game. He's looking to improve his shooting abilities, both off the catch and dribble, and he's adding more versatility to his touch around the rim and finishing packages, putting in a lot of practice on floaters off one or two feet.
Chase Henderson
Chase Henderson 5'10" | SG Birdville | 2022 State TX – 5'10″ – SG – Birdville – Dallas Mustangs
Henderson is a quick, fast and agile sharpshooter. He's a blur on the court with his elite speed and quick footwork. He has perfect shooting form and an extremely quick release, efficiently hitting from anywhere on the court. What makes him so special, though, is his ability to attack at full speed but then come to an abrupt stop, get his feet under him, and rise up for the shot in the blink of an eye, making it nearly impossible for any defender to even have a chance of contesting the shot effectively. He also doesn't even need to get his feet in the proper position to hit his shots. He can pullup off balance with his legs flailing and still get his upper body to follow the correct mechanics to effortlessly hit the shot. His shorter stature might limit him in other aspects of the game, but he can still get inside the paint with his elite speed and doesn't shy away from finishing at the basket surrounded by giants. He has an effective floater, as well, giving him a variety of options to utilize on the offensive end. On the other side of the ball, he utilizes that same speed and quickness to be an effective perimeter defender. His smaller stature may get taken advantage of against stronger players, but he can easily sneak in for the steal and give opposing ball handlers fits if they don't take care of the ball.
Jared Washington Jared Washington 6'3" | SG Mansfield Timberview | 2022 State TX – 6'3″ – SG – Mansfield Timberview – Urban DFW Elite
Washington is a strong and athletic two-way wing that aggressively puts his stamp on the game on both ends of the court making his presence known and felt by the opposition. He attacks the rim ferociously utilizing his strength to bully his way to the basket and his athleticism to explode to the basket for exciting dunks. He has an impressive post game, as well, backing down smaller opponents and hitting the defense with quick turnaround jump shots, spin move layups, or swift bunny hooks. His aggression towards the paint forces the defense to react to his dribble drives which opens up perimeter opportunities, where Washington can then utilize his incredible shot. He has great balance as he attacks with speed and aggression off the dribble and then abruptly pulls up from midrange, and he can put his consistent and well-developed mechanics to work on his catch-and-shoot attempts, as well. He's an elite defender, bringing the same aggression he shows on offense to his defensive approach, and can do it all on that end of the court, locking up perimeter players, challenging post players in the paint, taking charges, and disrupting passing lanes. He has incredible reflexes to snatch the ball in midair on passes or out of the opponents hands, extreme leaping ability and impeccable timing to rise up and challenge shots at the rim or on chase downs, and he has the intelligence and willingness to sacrifice his body at the right times to take charges, both on the perimeter and in the paint. Coming in to his senior season, Washington's focus is all about consistency. He wants to continue his strong showing in his junior season, playing hard on both sides of the ball and putting in a consistent and efficient effort every time he's on the court.
Quion Williams Quion Williams 6'4" | SF Mansfield Legacy | 2022 State #107 Nation TX – 6'4″ – SF – Mansfield Legacy – Southern Assault 3SSB
Williams is an aggressive and athletic wing that plays much bigger than what his height might suggest. He attacks the boards on both ends of the court with ferocity and strength, ripping the ball from opponents or strongly securing the ball with both hands as he flies into the paint, giving his team another opportunity on offense, getting the immediate put back, or finishing off the defensive effort. He attacks the basket with no regard for the defender in his way, exploding to the rim, and finding a way to get the two points through contact with a crafty layup or aggressive dunk. He's also a solid shooter from midrange and beyond the arc, giving his team a reliable catch-and-shoot threat to go along with his strong finishing ability. To round out his offensive game, he's a willing passer that sees the court well and will always make the extra pass if it means getting an easier shot for his team. He brings the same aggression and athleticism on the defensive end, as well. He attacks opponents at the rim with violent blocks and is relentless on the chase down, and he can body up ball handlers to frustrate them into mistakes and get the steal. Williams is currently recovering from a complex meniscus tear but he expects to make a full recovery soon and will be ready for his senior season. With his recent commitment to Oklahoma State, Williams is considering forgoing his final year with Mansfield Legacy to put all his focus on his recovery and the upcoming transition to college ball.
Jourdyn Grandberry
Jourdyn Grandberry 6'3" | SG Richland | 2022 State TX – 6'3″ – SG – Richland – Nike ProSkills EYBL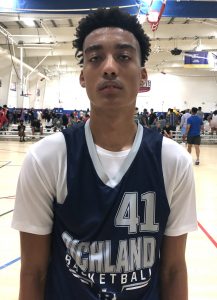 Grandberry is an elite offensive talent that can both run the offense and play off-ball. He has elite speed and quick ball handling that allows him to get to any spot on the court he chooses and he has a certain bounce to his step while handling the ball that gives him the ability to change directions as quick as anyone. He seems to have perfected the spin move, effectively utilizing it to setup open pullup jumpers or attack the basket. He's crafty with his playmaking, as well, seeing everyone on the court, manipulating the defense to react a certain way, and then pulling off a fancy and accurate pass to a teammate for the easy score. He sees the court just as well off the ball, moving quickly through screens and finding open lanes to make strong cuts. He's an impressive shooter, especially off the dribble, but his catch-and-shoot can be just as deadly, even with a hand in his face. He has an array of finishing moves around the basket, putting his length and quickness to good use finding various angles to get the layup or dunk through traffic. His length comes to great use on the defensive end, as well, with the ability to lock up defenders on the perimeter with his great lateral movement and then he can reach in without fouling and come away with the steal.