With the 2021-22 Texas UIL season kicking off, Prep Hoops Network previews several players in Region 4 of the 5A conference for this new season. This article focuses on point guards, wings and bigs in the senior class. 6A seniors'…
With the 2021-22 Texas UIL season kicking off, Prep Hoops Network previews several players in Region 4 of the 5A conference for this new season. This article focuses on point guards, wings and bigs in the senior class.
6A seniors' player previews:
Region 1 PG's, Wings, Bigs
Region 2 PG's, Wings, Bigs
Region 3 PG's, Wings, Bigs
Region 4 PG's, Wings, Bigs
5A seniors' player previews:
Region 1 PG's, Wings, Bigs
Region 2 PG's, Wings, Bigs
Region 3 PG's, Wings, Bigs
Region 4 PG's, Wings, Bigs
Braxton Burdick Braxton Burdick 6'4" | SG Boerne-Champion | 2022 State TX – 6'4″ – SG – Boerne-Champion – HD Toros
Burdick is a strong and talented scoring guard with good end-to-end speed, explosive first-step burst, and agile footwork and change of direction. His combination of strength and skill allows him to play multiple positions on the wing and even as a stretch four at times. He's an aggressive rebounder, fighting for position and chasing 50/50 balls. He's a powerful slasher, using his solid handle and speed to get around defenders on the perimeter and using his strong frame to body his way into the paint, embracing contact and finishing through the bumps and bruises he takes under the basket. He's also a reliable catch-and-shoot option from beyond the arc, with a quick release and undeterred by tight coverage. He may be a score-first wing, but he limits his dribbles and willingly moves the ball to find the best option on offense. He's an intelligent defender, as well, with quick lateral movement and using his body to stay in front of the opponent, taking charges and knocking the ball loose if his matchup exposes it.
Traeshaun Leak
Traeshaun Leak 6'0" | CG Leander Glenn | 2022 State TX – 6'0″ – CG – Leander Glenn – Drive Nation Austin 2022 Black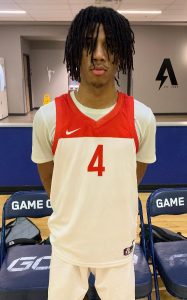 Leak is an extremely quick, fearless and confident guard. He attacks any defender off the dribble with grit and determination, trusting in his abilities to make a play one way or another. He is lightning fast with a handle to match and he can get around any defender on the perimeter, leap into the paint, take hard contact, maintain his focus on the play, and either get the layup to go or dish the ball to a teammate. Whether he's falling to the ground, getting smacked across the arms, or getting bumped on the body, he stays focused and finishes the play as if he was untouched and unbothered. He has a clean shot, as well, using his extreme quickness to create space off the dribble, rising high for the jump shot, and draining it with ease, or providing a reliable off-ball catch-and-shoot threat from the perimeter. He uses that same speed and quick hands on the defensive end too, vaulting into passing lanes or swiping the ball from an opponents hands before he even has time to react. He relentlessly moves his feet to stay in front of his matchup, taking charges and making the offensive player work for every dribble. Leak spent this past offseason working on his creation off the dribble, telling Prep Hoops, "over the summer I worked on my dribble pull ups and floaters to be ready for the season…[I] made sure to focus on elevation with my mid range jumper."
Jacob Swoboda
Jacob Swoboda 6'2" | PG Cedar Park | 2022 State TX – 6'2″ – PG – Cedar Park – ATX Lockdown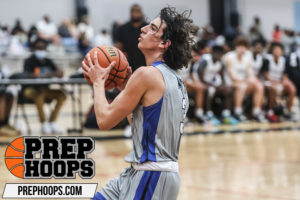 Swoboda has a methodical yet somewhat unconventional style of play as a scoring guard. He can score from all areas of the court, getting to his spots with a smooth handle, staying low to the floor and changing direction in an effortless but sharp manner. His unconventional scoring stems from his knack of attacking the center lane, rising up over a defender and getting into his shooting form, no matter how close he is to the basket. Instead of forcing his way into a defender for an acrobatic layup, he rises up for what looks like a shot or lobs up a smooth floater, which works extremely well for him time and time again. He also loves attacking the basket with a hop step, which he again occasionally turns into somewhat of a jump shot, or utilizes the euro step to perfection. His consistent shot works from anywhere on the court and becomes increasingly difficult to defend or even contest because of his quick and high-rising leap and his ability to jump straight up even when attacking at full speed. Swoboda is also very effective at backing down defenders, even with his shorter stature, and feeling out his opponent before rising for a nice bunny hook or fadeaway jump shot. His head is always up, as well, ready to create for his teammates or attack any opening that comes about.
Aaron San Miguel
Aaron San Miguel 6'2" | SG San Antonio Jefferson | 2022 State TX – 6'2″ – SG – San Antonio Jefferson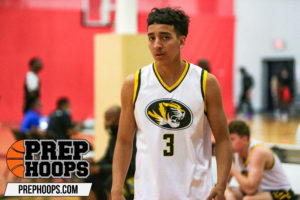 San Miguel is an elite 3-level scorer with deep range and incredible footwork off the ball. He's quick, he's fast, he makes sharp and deliberate movements to get open, losing his defender with quick two-step moves, and then catches the ball and releases it from the perimeter before anyone has a chance to contest it. He has deadeye accuracy from beyond the arc, with the ability to hit in a variety of scenarios, whether he's off balance or not, off the catch or off the dribble. His ball handling is just as quick and seamless as his off-ball movement, making quick moves to lose a defender in space, stopping on a dime, and changing direction with ease. He gets to the basket with his speed and can finish through contact, contorting his body and using his long arms to get the layup to fall from various angles. His pullup game is beautiful, attacking at full speed but then rising in a moment's notice for the midrange dagger with a quick and sudden release. His playmaking compliments his scoring ability well, finding his teammates with perfect bounce passes and strong chest passes as the defense focuses their efforts on slowing his scoring down. San Miguel made it clear to Prep Hoops that he intends to embrace his lead guard role coming into his senior season. He put an emphasis this summer on his playmaking and leadership, "continuing to make the right play and trusting more [in his] teammates. Trying to be a little more patient on offense and taking what the defense gives [him] while not settling for a low percentage shot. Being more vocal on defense." He is also looking to get bigger and stronger, putting on 10 lbs already over the summer and steadily creeping up on his target weight of 180 lbs.
Joseph Waring
Joseph Waring 6'6" | SF Georgetown | 2022 State TX – 6'6″ – SF – Georgetown – ATX Lockdown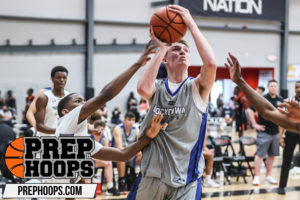 Waring is an active, high-IQ, non-ball dominant wing that can be a valuable piece to any team he is a part of. He provides constant movement off the ball, diving to the basket, setting off-ball screens, cutting in and out to the perimeter, always keeping the defense alert and on their toes when he's in the game. He's an excellent rebounder for his position and size, with a relentless pursuit of the ball on both ends of the court and sound mechanics boxing out opponents. He has the valuable ability to put points on the board without handling the ball much. He has a solid touch around the rim as he cuts to the basket, finishing with either hand, and he is a reliable catch-and-shoot threat on the perimeter. He is extremely active and relentless on the defensive end, as well. His feet are always moving and his hands are constantly up and ready to tip or intercept any pass in his vicinity. He also has great coordination, knocking the ball loose from opponents hands as they drive to the basket or handle on the perimeter. Waring continued to improve his dominant off-ball game over the summer, working specifically on all levels of his shooting: 3-point, midrange and free throw. He noted to Prep Hoops that he has already seen positive results from his efforts, increasing his 3 point % from 35% during his junior year in high school to 40% during his AAU season this past spring/summer.
Chris Loofe Chris Loofe 6'10" | C Leander | 2022 State TX – 6'9″ – C – Leander – JL3 Elite
Loofe is a long, mobile and skilled big man. He has good ball handling for his size and is extremely agile, giving him the ability to create for himself from the perimeter and attack the paint off the bounce. He's a solid finisher around the rim too, not only because of his towering height and length compared to most opponents, but he has a soft touch and good coordination that helps him get tough layups to fall even through hard contact and tight coverage. He has a well developed shot and can step out as a consistent catch-and-shoot threat from midrange and 3-point range. He is also a talented playmaker, creating for others off the dribble or out of the post which limits the defense's ability to double team him, as he can easily see over the defense, find the open man, and then deliver strong and accurate passes in a timely manner. He's on the skinnier end for a big man but his speed and mobility provides an advantage over other larger bigs and he understands how to use that to his advantage.
Jesse Peart Jesse Peart 6'4" | CG Boerne-Champion | 2022 State TX – 6'4″ – CG – Boerne-Champion
Peart is a slashing playmaker that has an explosive first step and extremely smooth handles allowing him to get to anywhere he wants on the court. He has a very good jump shot and is a phenomenal catch-and-shoot threat, but he does most of his damage from a scoring standpoint within the paint as he drives to the basket. With his aforementioned elite first step and ball handling, combined with his speed and agility that help him change directions quickly and weave through defenders, he effortlessly gets to the paint whenever he chooses. Once he's in the paint, he finishes at the basket as good as anyone, fighting through contact, contorting his body and twisting his arms in various ways to find the right angle to get the layup to fall, or hanging in the air longer than his defender to get an uncontested look. His speed and finishing abilities also make him the go-to option on fast breaks, where he excels at sprinting past everyone off a turnover to finish with an easy layup on the other end. His elite scoring threat opens up opportunities for his teammates, as well, and he finds them every time at the perfect time. He has the intelligence and awareness to find the best shot available for his team, manipulating the defense with his tireless ball handling and forcing them to collapse on him, where he then dishes out to a teammate for an open shot.
Cris Villarreal, another top point guard in Region 4 of the 5A conference, was previously studied in Senior Guards Preview – UIL Class 5A.