With the 2021-22 Texas UIL season kicking off, Prep Hoops Network previews several players in Region 3 of the 5A conference for this new season. This article focuses on point guards and wings in the senior class. 6A seniors' player…
With the 2021-22 Texas UIL season kicking off, Prep Hoops Network previews several players in Region 3 of the 5A conference for this new season. This article focuses on point guards and wings in the senior class.
6A seniors' player previews:
Region 1 PG's, Wings, Bigs
Region 2 PG's, Wings, Bigs
Region 3 PG's, Wings, Bigs
Region 4 PG's, Wings, Bigs
5A seniors' player previews:
Region 1 PG's, Wings, Bigs
Region 2 PG's, Wings, Bigs
Region 3 PG's, Wings, Bigs
Region 4 PG's, Wings, Bigs
Noah Arnold – 6'2″ – PG – Austin McCallum
Arnold is a skilled lead ballhandler that does everything well from the point guard position. He can score inside and out, he can effortlessly keep the dribble alive while creating for himself or others, he's a relentless defender, and he fights for loose balls. He may lack elite speed, but he has solid ball handling and he can change direction fairly quickly, stopping on a dime when moving at full speed and utilizing his very effective pullup jumper as soon as he has even a little bit of space to breathe. His pullup is a beautiful sight, squaring up perfectly with the basket, rising straight up no matter which direction he's moving, and following correct mechanics throughout his entire body all the way to the follow through. He can hit from anywhere on the court, even deep beyond the arc. He attacks the basket using his body to protect the ball and create space between him and his defender, getting all the way to the basket with his opponent on his hip and putting the ball off the backboard once he has the necessary space. He sees the floor well too, keeping his head up as he moves with the ball and making the right play finding the open man and setting his teammates up for easy baskets. On the defensive end, he's energetic and active, keeping his hands up and picking off passes, jumping in for weak passes, and sacrificing his body diving on the floor or taking charges under the basket.
Elijah Hill Elijah Hill 6'4" | SF James Madison | 2022 State TX – 6'4″ – SF – James Madison – Texas TakeOver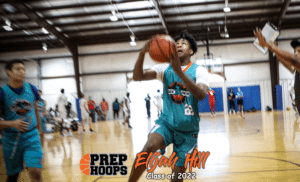 Hill is an athletic two-way slashing wing that also plays wide receiver for the James Madison High School football team. He brings the same aggression, determination and athleticism he displays as a wide receiver to the basketball court in everything he does. He's an elite offensive rebounder, relentless on the boards with a quick recovery on his jumps and an incessant drive to finish the play once he gets positioning down low. He's also a first-class defender, one of the most active defenders in Texas with continuous movement and activity, flying around the court and forcing the offense to keep the ball away from him as much as possible. He aggressively attacks passing lanes and vigorously denies shots at the basket with either hand or even both hands at the same time. His long arms, quick lateral movement, and aggressive, relentless mindset make him a problem for any opponent as an on-ball defender, as well, locking them up and giving them little chance to make a play. His speed and athleticism make him an effective slasher too. He has a capable handle of the ball, enough to attack the basket from the perimeter or run the fast break, and as he nears the paint, he explodes to the rim, leaping high for a strong dunk or finishing a layup through contact. His active off-ball movement also gives him open looks at the rim as he makes quick and strong cuts, coming around screens or leaving opponents in the dust. He does have the ability to step out and hit shots from range, but his speed and length afford him the ability to get to the basket almost any time he wants. Hill spent this past summer focused on his game off the dribble, creating more space to score and create for teammates, and specifically focusing on going left and pulling up for dribble jump shots.
Jivenson Sylvestre Jivenson Sylvestre 6'4" | SG Northeast Early College | 2022 State TX – 6'4″ – SG – Northeast Early College
Sylvestre is a big body that can do it all on the court. He's a deadeye sharpshooter extending all the way out to NBA range, smoothly pulling up off the dribble or providing a reliable catch-and-shoot threat to really stretch the defense. He attacks the paint with force, using his strong frame to bully his way to the basket and powerfully finishing through traffic, regardless of the kind of the contact he takes. He can also play in the post, again due to his stronger frame, bodying up his matchup and pulling off various moves to come away with a clean shot at the rim. His strength and power, combined with his quickness and speed, allows him to defend multiple positions, as well. He can defend guards and wings on the outside with good lateral movement and quick hands, and he can drop to the paint, holding his own against larger opponents in the post with his strong base and intelligent hand-eye coordination. The most intriguing aspect of his game is his playmaking. He has a good control of the ball as he moves around the court and has the aforementioned inside-outside scoring ability, but he is a more than willing passer too. He sees the court extremely well and has a very high passing IQ and skillset where he delivers beautiful passes to his open teammates as he draws in extra defenders due to this inherent threat to score. Sylvestre spent this offseason primarily focused on his ball handling and jump shot, looking to create more off the dribble, but more importantly for his senior season, "showcasing [his] game is overall polished and full."
Isaiah Barganier Isaiah Barganier 6'7" | SF Fulshear | 2022 State TX – 6'7″ – SF – Fulshear – JL3 Elite
Barganier is an all-around wing with a strong body and quick decision making. He can score from all levels of the floor with ease. He attacks the basket with strength, protecting the ball well, powering through contact, using his body to create space, and getting the ball up for a strong dunk, easy layup, or beautiful floater. He has very clean and decisive handles, getting to his spots with very few dribbles, quickly getting his feet under him, and pulling up for an extremely effective jump shot, especially from midrange. He has a smooth, single-motion shooting form with a quick release and strong base that is undeterred by contact or heavy contest. His shot extends beyond the perimeter as a valuable catch-and-shoot threat from 3-point range. He uses his strong body in the post, as well, backing down smaller opponents and using spin moves or up and unders to get a good look at the rim. His scoring may be elite, but he is also an effective and creative playmaker, commanding the offense like a point guard and moving the ball to the open man, finding the best shot possible for his team on every play. He rebounds well on both ends of the court, positioning himself well near the basket and fighting for his right to the ball on the boards. He defends multiple positions, utilizing his versatile athletic abilities to guard on the perimeter and in the post, providing energy boosts with his timely blocks. Over this past summer, Barganier put an emphasis on specific aspects in each part of his well-rounded game. He described to Prep Hoops three different focal points in his training this summer: 1) Strength to improve his finishing through contact and his interior defense, 2) Shooting with range and high release work on his jump shot, and 3) Lateral quickness to improve his ability to guard smaller players on the perimeter.
Tyson Whybrew
Tyson Whybrew 6'5" | SF Pflugerville Weiss | 2022 State TX – 6'5″ – SF – Pflugerville Weiss – Drive Nation Austin 2022 Black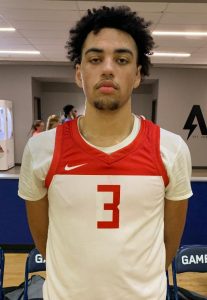 Whybrew is a strong and long two-way wing that operates from the perimeter but can dominate on the inside given the right matchups. He has good speed and change of direction, creating space off the dribble with quick moves and a downhill, aggressive mindset. He loves getting inside the paint, utilizing hop steps and finding seams to make his way towards the basket, utilizing a combination of finesse and strength to finish through contact or finish around a defender. He has an impressive post game, powering straight through a smaller defender or using a quick one step move to get around a larger defender. He's a capable and willing passer, delivering the ball to cutting teammates and those that are open on the perimeter as he attacks the paint. His shooting is solid and adds an additional aspect to his game that defenders must respect and be aware of, which helps to draw defenders out, opening up lanes to the basket for Whybrew to cut through off the ball or attack off the dribble. His length on defense also causes problems for any opposing team, with an extremely long and sneaky reach where he can snatch the ball midair as the opponent tries to move the ball around the perimeter or into the post, and he can block any kind shot that is within his reach. Whybrew took this past offseason getting in the best shape of his life and specifically working on his shot and his ball handling, telling Prep Hoops, "I've been in the gym like crazy just trying to prepare for a monster senior season!"
Cory J Ruben
Cory J Ruben 5'10" | SG La Porte | 2022 State TX – 5'10" – SG – La Porte – C2C Come 2 Compete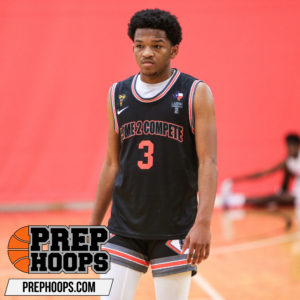 Ruben is a long range sniper that plays with strength and confidence, utilizing his speed and bulldog mindset to attack the paint, and his agility and disciplined mechanics to be an elite threat from the perimeter. He's quick with the ball in his hands and his shorter stature affords him the ability to change directions in the blink of an eye and break free from any opponent. He's strong for his size and has the confidence and downhill speed to get into the paint and finish among towering defenders, taking contact and using the backboard to get the layup to go. His shifty movement gets him to his spots on the perimeter, as well, moving around screens and creating just enough space to get off a quick shot, where he can get set and release a beautiful jumper as quick as anyone, off the dribble or off the catch. He's an elite shooter and has a well-developed shooting form that he can rely on and trust even with multiple hands in his face blocking his view of the basket. He's an effective playmaker, as well, seeing the floor well with patient decision-making, allowing plays to develop and delivering the ball to cutters as they get open. Ruben took the past summer to develop his all-around perimeter game, focusing on his ball handling and continuing to refine his already elite shooting, as well as working on his on-ball defense.
Sam Bradford
Sam Bradford 6'6" | SF Goose Creek Memorial | 2022 State TX – 6'6″ – SF – Goose Creek Memorial – Houston TTG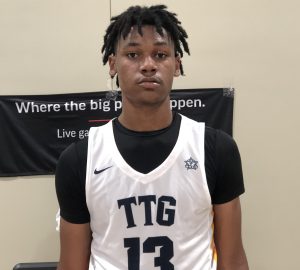 Bradford is an athletic, playmaking slasher with top notch speed and great awareness of the court, constantly mindful of all the moving pieces around the court and always looking to make the right play. He's a fantastic ball handler for his height with extremely quick footwork and elite agility, moving around the court effortlessly, weaving in and out of traffic. He has an array of finishing moves once he gets in the paint, going over shorter defenders, around taller defenders, and just powering through weaker defenders. He can hit hook shots, floaters, powerful dunks through traffic, layups through contact, it truly takes a team effort to stop him from scoring. He can also step out and hit from midrange and 3-point range, extending the defense and causing them even more issues while trying to defend him. Making it even more difficult for anyone trying to stop him, Bradford is essentially a point forward, seeing the floor extremely well with a sky high passing IQ and willingly dishing the ball to teammates as he draws the double team or help defender. Bradford took the offseason to really emphasize his point forward skillset, working on his shooting and athleticism, and emphasizing his ball handling and running the pick-and-roll offense to perfection.
Chancellor White Chancellor White 6'6" | SG Richmond Foster | 2022 State TX – 6'6″ – SG – Richmond Foster – Houston Defenders UAA 2022
White is a long and athletic wing that can get buckets from anywhere on the court in essentially any fashion. He excels on the fast break with long strides, top end speed, and athletic finishes. He has quick ball handling and agile movement with the ball, easily getting around defenders, finding seams, and attacking the paint with an elite combination of speed and aggression, finishing in various ways to get the basket. He can shoot from any distance, extending out to NBA-range beyond the arc, pulling up off the dribble or moving off the ball and hitting the catch-and-shoot with great efficiency, all with a very quick release and good form, hitting dagger after dagger with the defense draped all over him. He is especially strong at taking one or two dribbles from the perimeter to create just enough space, pulling up for a midrange jumper or backing down an opponent in the midrange and hitting the spin fadeaway. He is a strong defender, as well, using his length and quick footwork to lock up opponents on the perimeter and disrupt passing lanes, wreaking havoc on that end of the court.
Jah Gulley Jah Gulley 6'0" | PG Lockhart | 2022 State TX , another top point guard, and Jack Francis Jack Francis 6'2" | SG Austin Anderson | 2022 State TX and Jarmaine Mason Jarmaine Mason 5'11" | PG Pflugerville Weiss | 2022 State TX , other top wings in Region 3 of the 5A conference, were previously studied in Senior Guards Preview – UIL Class 5A.