With the 2021-22 Texas UIL season fast approaching, Prep Hoops Network previews several players in Region 2 of the 5A conference for this next season. This article focuses on wings in the senior class. 6A seniors' player previews: Region 1…
With the 2021-22 Texas UIL season fast approaching, Prep Hoops Network previews several players in Region 2 of the 5A conference for this next season. This article focuses on wings in the senior class.
6A seniors' player previews:
Region 1 PG's, Wings, Bigs
Region 2 PG's, Wings, Bigs
Region 3 PG's, Wings, Bigs
Region 4 PG's, Wings, Bigs
5A seniors' player previews:
Region 1 PG's, Wings, Bigs
Region 2 PG's, Wings, Bigs
Region 3 PG's, Wings, Bigs
Region 4 PG's, Wings, Bigs
Rocco Paul
Rocco Paul 6'4" | SG Frisco | 2022 State TX – 6'4″ – SG – Frisco – United Ballers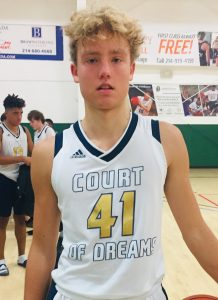 Paul is a patient finisher when attacking the paint and a deadeye shooter from beyond the arc. His beautiful shooting form works from anywhere on the court and can hit under any kind of circumstances: fading away, moving sideways, off turnarounds, and more. He has quick movements and good speed to get to his spots on the court and he has great control and poise even when surrounded by defenders in the paint. He protects the ball, throws up a convincing pump fake, and waits for the right opportunity to attack, putting up a clean layup or floater through traffic or around defenders with ease. His ball security allows him to run the offense himself and he sees the court well enough to create for others, passing to cutters and dishing out to open teammates as he attacks the basket. He's not the most athletic wing out there but he has great timing and a good eye for the ball which helps him come away with timely blocks in the paint. Paul studied his game extensively this offseason and looked to fix specific weaknesses he acknowledged to Prep Hoops, stating "I struggled last year [with] on ball defense and picking off passes but that's stuff I worked on a lot." He also looked to make one of his strengths even better and virtually unstoppable, putting in extra work on his shot and expanding his range.
Deshawn Jagwan Deshawn Jagwan 6'6" | SF Woodrow Wilson | 2022 State TX – 6'6″ – SF – Woodrow Wilson – Texas Impact 4:13
Jagwan is a creative and crafty finisher that finds numerous ways to get a bucket. He has the strength to take hard contact and still finds a way to get the layup to go by either contorting his body a certain way or just powering through. He can hit a smooth euro step and manages to get his larger body into open seams and get a clean look at the basket. He can also step out and hit from midrange and beyond the arc with a wide, strong base and a fairly quick release. He has a strong frame with long arms, holding his own in the post and coming away with impressive hook shots or scoop shots, while also being a monster on the offensive boards and dominating the put backs. He has a solid handle too with great downhill speed that makes him a scary sight for defenders when he's leading a fast break or attacking the paint from the perimeter. He defends bigger than his size, as well, embracing the verticality rule well and making life difficult for any opponent that tries to put up a shot in the paint against him. Jagwan's strength in all aspects of his game stems from his dedication to "molding [his body] into not only a good looking athlete, but a great one," and this offseason he "worked really hard on [his] athleticism and [being] an above the rim player." He emphasized to Prep Hoops though, that the aspect of his game where he improved the most over the summer was his leadership. He learned "how to lead guys around [him] that don't have the knowledge [and experience] that [he] possesses." His goal for his senior season is to utilize that newly developed leadership while on the court, "teaching while playing and being able to direct and help while in the moment."
Michael Niemann Michael Niemann 6'1" | SG Frisco Wakeland | 2022 State TX – 6'1″ – SG – Frisco Wakeland – Nike ProSkills EYBL
Niemann is an elite perimeter threat with phenomenal off-ball movement and incredibly intelligent spacing and positioning. He makes calculated cuts and moves without the ball with intention and purpose, finding spots along the arc that stretches the defense, forcing them to make a decision between collapsing to the driving player with the ball or guarding Niemann on the perimeter with little chance for recovery either way. It all comes together with his first-class perimeter shooting. He has a clean and well-developed shooting form and a quick release that he can get off in a blink of an eye. His mechanics from when he catches the ball to when he releases the ball are clearly practiced and nearly perfected. He's a capable on-ball player, as well, with sharp and strong handles, pulling off nice spin moves and crossovers to create space and hit from range with great efficiency. He attacks the basket with the same methodical approach as his perimeter game, finding seams to attack and utilize his soft touch around the rim, but also not shying away from contact and powering through more aggressive defenders. He also has a beautiful floater that stretches out to the free throw line to complete his total offensive package.
Nicholas Jett Nicholas Jett 6'2" | SG Frisco Heritage | 2022 State TX – 6'2″ – SG – Frisco Heritage – Texas Dynasty
Jett is an impressive 3-level scorer and an elite threat with the ball in his hands. He has an extremely quick first step where he explodes out of the triple threat and immediately creates separation between him and his defender. He has fantastic catch-and-shoot abilities but he's an even better shooter off the dribble, hitting his defender with a quick one dribble move to create space or moving around the court freely with his sharp handling and swift footwork, squaring up promptly with the basket and rising up high to get off a shot. He has a strong leap on his shots, seemingly levitating at the peak of his jump, and has a high release point, making his jump shot very difficult to block or even defend. He has the same leaping ability when attacking the rim and uses this spectacular athleticism to pull off remarkable acrobatic finishes. His focus and determination is unnerving for the defense, as well. No matter what kind of pressure he faces, no matter how many hands in his face or how much contact he takes, he seems to finish with consistency and efficiency with his eye on the basket at all times.
Avery Jackson
Avery Jackson 6'1" | G Frisco Memorial | 2022 TX – 6'2″ – SG – Frisco Memorial – Texas Dynasty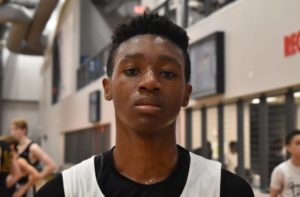 Jackson is the epitome of a 3-and-D wing and an excellent one at that. He does everything well on the court, rebounding, attacking the paint and finishing through traffic, running the point and making clean and timely passes to teammates, but it's his perimeter shooting and defense that really makes him one of the top wings in the 5A conference, let alone this region. He has speed and agility, moving well off the ball, coming around screens and positioning himself well to space the floor nicely for his teammates, and the second he receives the ball, the defender better be right in his face because he can let off an accurate and precise shot in an instant. He has a quick release with virtually perfect mechanics, hitting from anywhere on the court with unlimited range. Even if a defender manages to stay with him and provide a good contest on his shot, Jackson has great poise and focus to look past the hand in his face and still drain the three. His perimeter defense is impressive, as well. With his quick lateral movement, long arms, and relentless motor, he stays between his matchup and the basket at all times and doesn't give them any opportunity to get an open shot. He even makes it difficult for his matchup to simply receive the ball, with great instincts and reaction time to snatch the ball midair just before a pass gets to the man he's defending. He then turns on the jets and sprints the other way to spark a fast break for his team. Jackson worked on several aspects of his game this offseason, giving a special shoutout to his trainer, Kendrick Bryson. He mentioned him and Kendrick focused on getting his ball handling skills to the point where he can create his own shot more effectively and he is looking to improve his "driving to and finishing at and above the rim more consistently," especially "working on dunking more." He also continued to refine his already strong perimeter game, putting in extra reps on "hitting threes and shots off the dribble consistently."
Chauncey Gibson
Chauncey Gibson 6'6" | SG Dallas Kimball | 2022 State TX – 6'6″ – SG – Dallas Kimball – Dallas Showtyme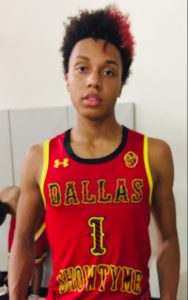 Gibson is a sharpshooting playmaker that can both run the offense creating for others and provide a dangerous off-ball catch-and-shoot threat along the perimeter while also putting additional pressure on the defense by attacking the paint and coming away with strong finishes at the rim. He has a quick first step and good acceleration, getting to the rim with ease if the defense is stepping up on him too close on the perimeter, but he has fantastic awareness and control to find the right play and not force anything. If he sees an open teammate, he will always get him the ball, hitting cutters with beautiful bounce passes, bigs with perfect lobs, kicking out to other perimeter threats on the team as they get open around the arc, and finding streaking teammates on the fast break with accurate outlet passes. He can score from anywhere, but his perimeter shot is elite and has this smooth and pure jumper that works effortlessly beyond the 3-point line. His defense is fairly versatile, as well, with the athleticism to block shots at the rim and the lateral movement to hold his own on the perimeter.
Trae Clayton Trae Clayton 6'5" | SF Dallas Kimball | 2022 State TX – 6'5″ – SF – Dallas Kimball – Dallas Showtyme
Clayton is an athletic and strong wing that brings passion, energy and ferocity to everything he does on the court. He plays the game the right way, moving the ball, limiting the amount of dribbles he takes, attacking the paint with aggression, and positioning himself properly along the perimeter to create good spacing for his team. He's an outstanding catch-and-shoot threat as he roams the perimeter and is nearly unstoppable attacking the basket due to his size and strength. He's a freight train coming towards the paint, with top notch speed and no regard for anyone that gets in his way. Contact doesn't affect him and he understands how to use large body to create space and finish with power. He can back down opponents with ease and is calm and collected once he's under the basket, throwing pump fakes and waiting for the perfect opportunity to put up the close shot. His size, athleticism and timing affords him the ability to come away with offensive rebounds, as well. His defense embodies his same approach to the offensive end. He's a sound and disciplined player on that end of the court, guarding perimeter players with quick lateral footwork, staying in front of them with his body, not his hands, and forcing them into mistakes by inducing frustration and fatigue. In the paint he has the strength to body up any opponent and has the intelligence and talent to limit his fouls, keeping a low base to limit movement towards the basket and extending vertical on shot attempts to deter the shot as much as possible.