With the 2021-22 Texas UIL season fast approaching, Prep Hoops Network previews several players in Region 2 of the 6A conference for this next season. This article focuses on wings in the senior class. 6A seniors' player previews: Region 1…
With the 2021-22 Texas UIL season fast approaching, Prep Hoops Network previews several players in Region 2 of the 6A conference for this next season. This article focuses on wings in the senior class.
6A seniors' player previews:
Region 1 PG's, Wings, Bigs
Region 2 PG's, Wings, Bigs
Region 3 PG's, Wings, Bigs
Region 4 PG's, Wings, Bigs
5A seniors' player previews:
Region 1 PG's, Wings, Bigs
Region 2 PG's, Wings, Bigs
Region 3 PG's, Wings, Bigs
Region 4 PG's, Wings, Bigs
Antwone Gonzales
Antwone Gonzales 6'2" | CG Killeen Shoemaker | 2022 State TX – 6'0″ – CG – Killeen Shoemaker
Gonzales is a sniper from long range with impressive athleticism that allows him to seemingly float in the air on drives to the basket. His catch-and-shoot skillset is one of his greatest strengths and he moves well off the ball to utilize it to the best of his abilities. Even with his shorter stature, he has the athleticism and talent to jump high on his 3-point shots, rising over his opponent, and hit with great accuracy. His leaping ability is apparent in the rest of his game too. Coming off the 3-point line, he can take 1 or 2 dribbles and rise high over a defender from midrange, or he can attack the paint with an impressive hangtime, staying in the air longer than his opponents, switching hands or contorting his body midair, and finish with a range of acrobatic layups. He's shown he's a willing defender too, sacrificing his body to take charges and chasing down loose balls on several occasions. As a combo guard, Gonzales took this offseason to work on his shooting off the dribble and his change of speed with the ball, adding to his already dangerous offensive arsenal.
Kamayua Black Jr
Kamayua Black Jr 6'5" | F Dallas Skyline | 2022 TX . – 6'6″ – SG – Dallas Skyline – PB Nation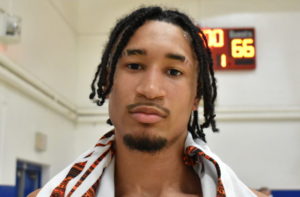 Black is a long and athletic wing that has immense talent finishing at the basket and passing the ball. He brings a certain energy on his drives to the paint, that when combined with his speed and length, can be very difficult for any defender to match up with. He is an acrobatic finisher that can also finish through contact and has a smooth floater, giving him several options to put the ball in the basket when he's driving the lane. To add to his finishing ability, he's a more than willing passer, see's the floor well due to his height and vision, and delivers accurate passes setting his teammates up for easy looks. His strength is his finishing ability but he's a capable shooter from range, as well, and has one of the quickest shot releases around. He brings his energy on defense and on the boards, jumping passing lanes and attacking rebounds, making him a solid all-around talent. Black is coming into this year after a strong offseason working on his ball handling and shooting as he put a special focus on "handling pressure and being more aggressive going up off the bounce."
Prince Banks Prince Banks 6'1" | CG Waxahachie | 2022 State TX – 6'0″ – SG – Waxahachie
Banks is a dangerous shot creator that is in complete control of the offense with the ball in his hands. He has a patient handle of the ball that he uses to get to any spot he desires. He has elite acceleration, utilizing the stop-and-go or hesitation moves to perfection, allowing defenders to make one move and then counters with a sudden change of direction. He has a smooth and effortless jump shot that consistently hits from anywhere on the court and he's athletic and fearless on his drives, using either hand to finish and pulling off acrobatics midair that can get everyone in the gym on their feet. He's a solid on-ball defender, as well, where he fights to stay in front of every opponent and has a nose for the ball with the ability to force multiple turnovers in any given game. Banks spent the offseason working on his shot and finishing ability, and primarily putting focus on his execution in transition and on fast breaks, telling Prep Hoops he put in a lot of work on getting "up and down the court faster, being better at transition with [the] ball and making good decisions and getting it to my teammates when they are open." 
Augustine Chibuko
Augustine Chibuko 6'5" | SF North Garland | 2022 State TX – 6'5″ – SF – North Garland – BBSS National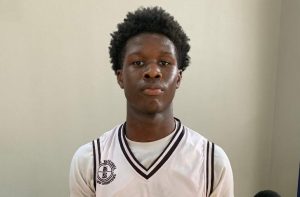 Chibuko is a strong and athletic slashing wing with the ability to make an impact in the paint on both ends of the court. He is an elite defender, locking down ball handlers on the perimeter, jumping passing lanes, creating fast break opportunities off forced turnovers, and blocking shots at the rim and on long range attempts. He attacks the basket with a certain ferociousness, finishing through contact, coming away with and-1 layups or dunking on opponents' heads. He's a strong rebounder, positioning himself well, timing his jumps, and relentlessly fighting for 50/50 balls. He can also handle the ball well for his size, attacking from the perimeter or running the fast break, and he is a willing passer, always aware of where his teammates are for an open shot.
Jesaiah McWright Jesaiah McWright 6'5" | SG Cypress Falls | 2022 State TX – 6'3″ – CG – Cypress Falls – RL9 Elite
McWright is a natural scorer and plays at a certain pace that allows the game to come to him. He rarely forces his shots and he waits for the right opportunity to attack with a patient and controlled handle of the ball and a constant awareness of the court. He's deliberate with his handle and he doesn't need flash or many dribbles to get to his spots and create the right play at the right time. He's a knock down shooter with good form, and even though he can hit his shots with a hand in his face, he almost always prefers to be patient and find the best shot available. McWright is very good at catching defenders in the split second they lose focus with his change of pace and speed, and he uses his body well to get to the basket and create space for a strong finish. He's a capable and intelligent defender, as well, with very good hands and quick feet. He moves laterally extremely well to stay in front of any opponent and then understands the verticality rule to force bad shots without fouling or can attack at a moments notice to come away with a steal or a huge block.
David McKnight
David McKnight 6'5" | CG Waco Lavega | 2022 State TX – 6'4″ – CG – Waco LaVega – Young Pro Basketball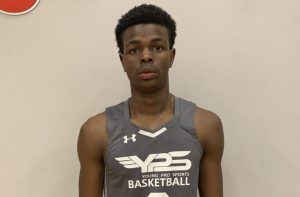 McKnight is a long, athletic playmaking wing with impressive ball handling and good court vision. He's an aggressive perimeter defender with good hands and he fights under the basket for positioning and rebounds. He can score from anywhere on the court with strong drives to the basket and good shooting mechanics. He can run the offense with his ball handling, awareness and point guard-like passing abilities, finding teammates off the dribble, on cuts to the basket, or on the fast break, and he can also play off the ball with his calculated off-ball movement and solid catch-and-shoot abilities. Transferring from Waco Midway to Waco LaVega for his senior season, McKnight is putting a special focus on his strength, making his return for the first time since freshman year to football as a safety, specifically "to be a part of the weight program and improve [his] explosion," and he's confident this extra work will translate to positive results on the basketball court.
Antwan Taylor Antwan Taylor 6'4" | SG Harker Heights | 2022 State TX – 6'4″ – SG – Harker Heights – Asak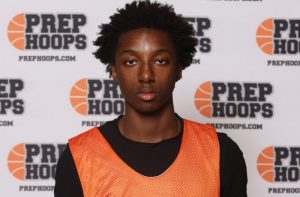 Taylor is a gifted scorer with elite athleticism and strong shooting abilities. He seemingly dunks every attempt at the basket with strength and flare that gets the crowd going and his team energized. He uses that same athleticism, combined with good timing and strong hands, on the defensive end to fly in for blocks and disrupt passing lanes and ball handlers. He is a talented sharpshooter, as well, with the ability to hit from midrange and behind the arc, off the dribble or off a pass, making him an elite inside-outside scoring threat that is rare to find. Taylor took this offseason to study film, developing his knowledge of the game and ways to improve his decision-making, where he wants to "make more dominant moves…taking less dribbles to get to [his] spots." In his senior season, Taylor is already thinking bigger than basketball, recently stating to Prep Hoops, "I'm focusing on…being a bigger role model to my community and try[ing] to give back."
Davion Sykes
Davion Sykes 6'6" | SG Duncanville | 2022 State TX – 6'6″ – SG – Duncanville – Beast Up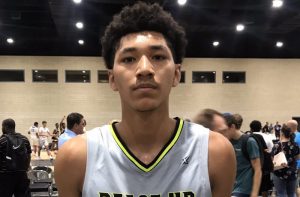 Sykes is an athletic all-around talent with the ability to score from all 3 levels and defend multiple positions. He has clean and smooth shooting mechanics, and aggressive and strong finishing abilities, making him a threat from where ever he is on the court. He can handle the ball extremely well, especially for someone with a long 6'6″ frame, with the ability to run the offense with impeccable court vision and awareness, and impressive passing abilities that span the entire court. He plays off-the-ball well too, applying constant pressure on the defense with his movement and dangerous catch-and-shoot threat. He attacks the paint with speed and aggression to go after offensive rebounds and he fights for every 50/50 ball. His long frame, athleticism, and aggression combined with his IQ and strong hands make him a talented defender that can seemingly guard any position, on the perimeter and in the paint. Sykes continued working on his offensive game this offseason, focused on "spreading out [his] game [and] becoming more versatile in scoring on all 3 levels of the court." He's also locked in on the team's success for his senior season, looking to do whatever he can to contribute to wins and secure yet another championship for Duncanville.
TJ Johnson TJ Johnson 6'6" | SF Belton | 2022 State TX – 6'6″ – SF – Belton – Texas Impact 4:13 UAA 2022
Johnson can do it all on the court with elite slashing and off-ball movement abilities. He's a talented shooter with good length and strong ball handling to get an open shot over any opponent, but it's his perfectly timed cuts and finishing ability that make him such a dangerous threat on the offensive end. He is patient and methodical off-the-ball, making sharp, strong cuts at just the right time to lose his primary defender, and then receives the ball on the move, making an aggressive finish through contact against the secondary help defender in the paint. He can create for others on offense, as well, with good court vision and timely passes once the defense starts to collapse on him. He can hold his own in the post with an array of moves to get an open shot and he has the size to battle down low for rebounds. He is also a strong defender, with the length, quickness and good hands to cause problems for any kind of offensive player. Even with his elite finishing ability, Johnson wants to get even better in that area. This offseason, he put a special focus on finishing strong at the rim, especially against athletic defenders.
Devyn Franklin
Devyn Franklin 6'8" | SF Waxahachie | 2022 State TX – 6'8″ – SF – Waxahachie – Crab5
Franklin is a long and gifted scorer that has the size and skillset to make an immediate impact at the next level as a stretch forward. Limiting him to a role of just a stretch forward would be a disservice to his abilities though. He has an extremely quick release and is a very efficient shooter from beyond the arc, both off the dribble and off the catch, but he is an effective scorer in the paint, as well. He plays with aggression and uses his size and strength effectively to create space down low and find good looks at the rim. He can back down smaller players with good post control and has a variety of finishing moves. He can attack from the perimeter with a secure handle and finish layups or dunks through contact or weave his way through open seams. He's a timely slasher, making strong cuts to the basket if a defender presses up on him too far on the perimeter, and he is a willing passer, seeing the floor well and hitting open teammates as they cut to the basket. His size and athleticism affords him the ability to grab rebounds on both ends of the court in bunches and come away with emphatic blocks at the rim, but his aggression is undeniable in these situations and will translate nicely at the next level regardless of matching up against players closer to his size. Franklin spent this past offseason developing his perimeter game even further. He spent extra time working on his ball handling and he focused on refining his jump shot and extending his range.
Josh Comeaux Josh Comeaux 6'5" | SF Klein Collins | 2022 TX , another top wing in Region 2 of the 6A conference, was previously studied in Rising Seniors Preview – Texas UIL Class 6A.