With the 2021-22 Texas UIL season fast approaching, Prep Hoops Network previews several players in Region 4 of the 6A conference for this next season. This article focuses on point guards in the senior class. 6A seniors' player previews: Region…
With the 2021-22 Texas UIL season fast approaching, Prep Hoops Network previews several players in Region 4 of the 6A conference for this next season. This article focuses on point guards in the senior class.
6A seniors' player previews:
Region 1 PG's, Wings, Bigs
Region 2 PG's, Wings, Bigs
Region 3 PG's, Wings, Bigs
Region 4 PG's, Wings, Bigs
5A seniors' player previews:
Region 1 PG's, Wings, Bigs
Region 2 PG's, Wings, Bigs
Region 3 PG's, Wings, Bigs
Region 4 PG's, Wings, Bigs
Shane Perales
Shane Perales 6'0" | PG South San Antonio | 2022 State TX – 6'0″ – PG – South San Antonio – HD Toros
Perales is an assassin with the ball in his hands. He has smooth handles and is extremely light on his feet, with good change of speed and direction that make him one of the best at creating his own shot. Combine that with his excellent shooting ability, especially off the bounce on heavily contested shots, and he becomes the main focus of many defenses, providing a dangerous crunch time threat, hitting several Damian Lillard-like daggers last year in his junior season late in games. Perales has seemingly perfected the spin move, as well, utilizing it at any moment to create space for his dangerous midrange game or get to an opening on a drive to the basket. His quickness and athleticism gives him elite finishing abilities, dunking the ball with an open lane, finishing strong through contact, or using one of his several acrobatic moves to find a way to get the two points. He's an elite scoring point guard, but he's a more than willing passer and sets his teammates up nicely when attacking the paint. He's also an aggressive defender. Even for his shorter stature, he has the ability to block shots at the rim and has the hands to cause issues for any opposing ball handler.
Hudson Johnson
Hudson Johnson 6'0" | PG Stony Point | 2022 State TX – 6'0″ – PG – Stony Point – ATX Lockdown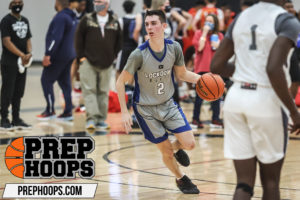 Johnson has solid and deliberate handles, never wasting any time to get to his spots and create an efficient offensive play for his team. He is extremely effective at creating space off the dribble, especially utilizing the behind the back dribble move, changing directions and stopping on a dime, hitting the step back and draining the shot. He has NBA range from distance and is a dangerous shooter at any moment that the defense must be glued to at all times. He doesn't necessarily explode to the basket when attacking the paint, but he is phenomenal at finding openings in the defense, splitting defenders, and getting a shot up near the rim. He can finish through contact, has a nice floater, and is extremely patient and intelligent with the ball, waiting for the right moment to get the shot up and rarely forcing anything. He has that same patience and intelligence when setting up his teammates too, keeping his head up and maintaining full awareness of the court as he controls the ball, finding openings through the defense, and accurately delivering the ball in a timely fashion to his teammates. Johnson took the time this offseason to really focus on his control and pace of the offense, putting in extra work on his ball handling and pushing the ball in transition.
Kaden Smart
Kaden Smart 6'0" | PG Hutto | 2022 State TX – 6'0″ – PG – Hutto – Drive Nation Austin 2022 Black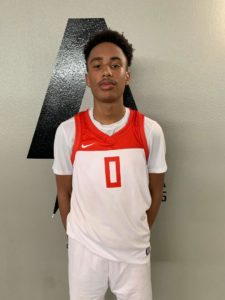 Smart is a non-ball dominant point guard with great mobility, vision and intelligence. He moves extremely well off the ball, making strong cuts and utilizing screens to get open and is an elite catch-and-shoot threat, with good mechanics and a quick catch and release. He has good handles to create his own shot and create for others but it's his incredible vision and patience that allows him to stay in his triple threat stance on the perimeter, wait for the motion offense of Hutto to create openings for his teammates, and then hit them with his strong and laser accurate passes, leading them to open spots and easy shots. He's quick with the ball and a strong finisher at the basket, taking hard contact and still putting the ball in the hoop. He's an impressive defender, as well, with high defensive IQ and long arms to force several turnovers as an on-ball defender or off the ball disrupting passing lanes. He has quick feet and gets in position very quickly too, sacrificing his body down low and taking charges as the opponent drives into the paint.
Kendall Dow Kendall Dow 6'1" | PG San Antonio Johnson | 2022 State TX – 6'1″ – PG – San Antonio Johnson – ASAK Elite
Dow is a scoring point guard that simply gets the job done. He handles the ball and leads the offense with poise and composure, minimizing flash and flare, and just getting the ball in the basket one way or another. He has an excellent shot from midrange and 3-point range, with the ability to hit in a variety of situations: off screens, off the dribble, step backs, contested, fadeaways, and more. He's fast and deliberate with his ball handling, finding seams and angles to weave through the defense and make his way into the paint. He doesn't necessarily explode to the basket, but he has a smooth finishing ability that is very effective and extremely difficult to block, angling high off the backboard or hitting deep floaters. He's calm and collected at all times with the ball in his hands, with full awareness where his teammates are and where the defenders are as he navigates through the defense and then hits his teammates with pinpoint and timely passes setting them up for alley oops or open shots. Dow took this past offseason to continue to work on his control of the game and improve his already effective style of play, telling Prep Hoops, "this summer I worked on improving my patience as a player and just getting a better overall feel for the game."
Jordan Mason Jordan Mason 6'2" | PG San Antonio Clark | 2022 State TX – 6'2″ – PG – San Antonio Clark – Nike ProSkills EYBL
Mason is a midrange assassin that can manipulate the defense any way he chooses once he has the ball in his hands. He is a very effective 3-point shooter, as well, but give him one or two dribbles inside the arc and he can laser in his midrange shot as easy as a layup, utilizing spin moves, step backs, any kind of move to get just enough space to get his shot up. He has a dangerous floater, as well, that extends out to the free throw line. Most defenses understand the kind of threat Mason provides for San Antonio Clark and will attempt to collapse on him the second he starts dribbling into the midrange area, but he has the vision and awareness to find the open man and gets the ball to his teammates nearly every time for an easy bucket. Completing his 3-level scoring talent, he's also a solid finisher at the rim, taking contact in the paint and putting the ball in the basket high off the backboard. On the other side of the court, Mason is a plus defender, with long arms and good coordination to come away with blocks on perimeter shots and steals if the opponent gets to lax with the ball. As effective and lethal as Mason's midrange game is, he continues to work on increasing his range to bring that same deadeye marksmanship beyond the arc. This offseason and going into his senior season, he's "been working a lot on extending [his] range getting [his] 3 point shot more consistent."
Anariss Brandon Anariss Brandon 6'1" | PG Converse Judson | 2022 State TX – 6'1″ – PG – Converse Judson – Texas Impact 4:13 UAA 2022
Brandon is an athletic 2-way slashing point guard that is relentless on the defensive end. He's a solid shooter from anywhere on the court, especially on catch-and-shoot attempts, but it's his elite finishing ability that really separates him as a scoring threat. He has very good handles and drives to the paint with a certain aggression and strength, using his body to protect the ball and create space, making it difficult for any defender to keep up with him. He maintains that aggression and explodes to the hoop with his extreme athleticism, finishing through contact, ferociously dunking the ball, or finding an angle to get the layup. His aggression towards the paint opens up opportunities for his teammates as the defense collapses on him, allowing him to set up his teammates nicely for open shots or easy dump offs at the basket. He brings that same aggression on the defensive end too, where he is relentless as an on-ball and off-ball defender, fighting for the ball on every possession and making sure the opposition has a difficult time even getting a shot up on every play. Brandon took a lot of time this offseason working to round out his game and become an elite point guard, giving priority to improving his jump shot and working on his pace and control of the offense.
Reese Miller Reese Miller 6'2" | PG Round Rock | 2022 State TX , another top point guard in Region 4 of the 6A conference, was previously studied in Rising Seniors Preview – Texas UIL Class 6A.