With the 2021-22 Texas UIL season fast approaching, Prep Hoops Network previews several players in Region 4 of the 6A conference for this next season. This article focuses on bigs in the senior class.
6A seniors' player previews:
Region 1 PG's, Wings, Bigs
Region 2 PG's, Wings, Bigs
Region 3 PG's, Wings, Bigs
Region 4 PG's, Wings, Bigs
5A seniors' player previews:
Region 1 PG's, Wings, Bigs
Region 2 PG's, Wings, Bigs
Region 3 PG's, Wings, Bigs
Region 4 PG's, Wings, Bigs
Christian Pillow – 6'6″ – PF – Judson
Pillow is a long and athletic big with great mobility and solid hands. He's a raw talent that may end up being a late bloomer if he continues to refine his offensive game. His strength is on the defensive side of the court, where he has a rock-solid defensive stance and quick lateral movement to stay in front of opponents, and he has quick and explosive vertical movement, using his long arms and good timing to block shots at the rim and on chase downs. He also has good awareness and is quick enough to disrupt passing lane, intercepting the ball on numerous occasions. His timing and vertical ability makes him a solid rebounder as he crashes both the offensive and defensive glass, with good hands and a persistent pursuit of the ball. He has great movement and agility off the ball on the offensive end, finding lanes to cut to the basket and finish off passes from teammates with a dunk or a layup through traffic. There was a small sample size last year in his junior season, but he has also shown the ability to step out and hit from range, which if he continues to work on, could provide a nice pick-and-pop threat.
Preston Clark Preston Clark 6'6" | PF Austin Westlake | 2022 State TX – 6'6″ – PF – Austin Westlake – THP Elite
Clark is a solid all-around talent that does everything well and is able to do anything that's asked of him, filling multiple roles and positions. He's a relentless rebounder, following shots, boxing out well, and fighting for the ball every time he crashes the boards. He's a solid finisher around the rim with a good touch and always finding the right angles to get the basket through traffic. He can also step out and hit the 3-pointer, providing a reliable catch-and-shoot or pick-and-pop threat for his team. He is a willing passer and moves the ball extremely well with pinpoint accuracy and sky high IQ to give his team an opportunity to get the best shot possible every time he touches the ball. He's a reliable defender, as well, with good lateral movement and great timing on his blocks in the paint and on the perimeter, meeting the opponent at the peak of their shot and denying it with determination. He is also fantastic at denying the ball in the post against taller big men, coming away with steals or knocking the ball loose on multiple occasions. Clark took this offseason to continue adding to his perimeter game, specifically his mobility on defense, his ball handling, and his shooting, providing him a full arsenal of skills to make him into even more of a complete player in his senior season than he already was.
Marcel Bryant
Marcel Bryant 6'7" | PF Round Rock Cedar Ridge | 2022 State TX – 6'7″ – PF – Round Rock Cedar Ridge – ProSkills Austin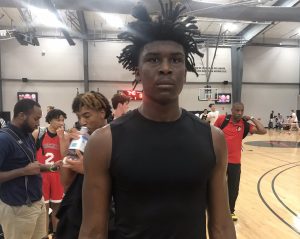 Bryant is a tough and athletic big that plays with energy and power. He has a quick first step, allowing him to explode out of the triple threat or once he receives the ball, blowing by the initial defender, and then attacking the paint with ferocity and strength, finishing through hard contact or dunking over opponents. He's a relentless rebounder with a quick recovery on his jumps, where once he's positioned down low, he's determined to get the offensive boards and the put back, no matter how many takes are needed. His long strides help him move with speed and make him a dangerous threat on the fast break, barreling down the court with his strong frame, and finishing the break with speed and strength. He's a versatile defender, as well, with good footwork and quick hands to lock up perimeter players and knock the ball loose, and the strength, length and toughness to body opponents in the paint and shut them down with strong blocks and firm post defense. Bryant is focused on adding to his offensive game entering his senior season, telling Prep Hoops, "I specifically worked on my shooting and ball handling, I felt those pieces would surely improve my all around game."
Keshaun Napoleon
Keshaun Napoleon 6'6" | PF San Antonio Lee | 2022 State TX – 6'6″ – PF – San Antonio Lee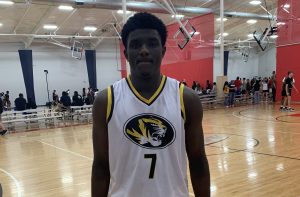 Napoleon is a large body down low with the athleticism and talent to make him an impressive prospect as a big man. He has incredible footwork, impeccable post control, and has clearly put in the work to refine his post game with a whole package of various backdown and faceup moves. He can finish through contact as good as any big man and emphatically finishes dunks, ensuring no one can stop him. He has the strength to body opponents down low and clear space for numerous rebounds any given night, on offense and defense. He moves well off the ball, coming around screens and making cuts to find openings near the paint where he can receive the ball on a mismatch and go to work. His speed and strength makes him a freight train coming down the court on a fast break and puts fear in any opponent thinking about getting in his way. He's also an aggressive defender with quick hands and long arms, able to pick pockets, disrupt passing lanes, and block any shot he wants.