Who are the top 10 prospects in Wisconsin's 2025 class? Prep Hoops Wisconsin reveals our initial top 10… 1.  Kai Rogers Kai Rogers 6'10" | C Wauwatosa West | 2025 State WI – Center – Wauwatosa West Rogers is a…
Who are the top 10 prospects in Wisconsin's 2025 class? Prep Hoops Wisconsin reveals our initial top 10…
1.  Kai Rogers
Kai Rogers 6'10" | C Wauwatosa West | 2025 State WI – Center – Wauwatosa West
Rogers is a beast at 6-foot-10.  The most dominant prospect in Wisconsin's 2025 class right now, Rogers can completely own the paint offensively and shut it down defensively. He's worked hard on his body and is surprisingly athletic, nimble for his massive frame. He's working to expand his game away from the rim as well, which is pretty exciting.
2.  Davion Hannah
Davion Hannah 6'5" | SF Milwaukee Academy of Science | 2025 State WI – Small Forward – Milwaukee Academy of Science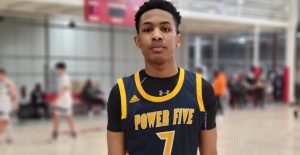 If you're talking about the best all-around player right now in 2025, it's Hannah. A 6-foot-5, multi-dimensional wing, Hannah can impact the games in a variety of ways.  A long, athletic wing with skill and a motor, Hannah has some serious offensive firepower. Also think he's a high-IQ, tenacious defender as well that loves to do the little things.
3. Xzavion Mitchell
Xzavion Mitchell 6'6" | SF Oshkosh North | 2025 State WI – Forward – Oshkosh North
Another prospect with No. 1 potential, Mitchell is an exciting talent with plenty of room for growth. The 6-foot-6 combo  forward is a terrific scorer around the rim. Mitchell plays with a high motor and has a soft touch to go right over people. Able to handle the ball in transition, Mitchell can get coast-to-coast with the basketball. If he's able to improve his jumper and push his game away from the rim, he'll likely give the names ahead of them a run for their money.
4. Clevon Easton
Clevon Easton 6'0" | CG Madison East | 2025 WI – Guard –  Madison East
Wouldn't sleep on Easton either for the No. 1 spot when all is said and done. The Madison East guard is a highly explosive leaper who can do some special things away from the rim. Easton is an adequate 3-point shooter as well and very dangerous in the open floor. Easton has some serious break-you-down ability in the halfcourt as well and is a plus finisher for his age.
5. T.J. Stuttley
T.J. Stuttley 6'3" | SG Onalaska | 2025 State WI – Guard/Wing – Onalaska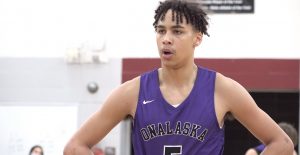 Stuttley is a versatile, all-around prospect that can play anywhere on the wing. The 6-foot-4 freshman likes the point position and wants to be at the controls. Stuttley is a tough matchup due to his excellent positional size, strength, and go-to- mid-range game.  Has a little junkyard dog in him as well. Responds to a challenge and makes things happen on the offensive glass.
6. Aaron Womack
Aaron Womack 6'3" | SF Dominican | 2025 State WI – Wing – Dominican
Plus-length wing that can really shoot the ball. Womack is a hand-down, man-down threat that will rise and fire with ease. The Dominican standout has extended range from beyond the arc. Not even close to his ceiling, Womack is likely to add a lot of athleticism and explosiveness to his game once he fills into that very raw frame.
7. Zach Kinziger
Zach Kinziger 6'2" | SG De Pere | 2025 State WI – Shooting Guard – De Pere
Kid just knows how to play ball. He's got a little bit of his brother's game in him — a relentless worker off the ball who's always moving and looking to outwork people for easy baskets. Like his brother, Kinziger is also a dangerous sniper that can't be left alone.  At 6-foot-2, Kinziger has good positional size and can take a bump at the rim.
8. Javantae Edwards Javantae Edwards 6'0" | CG Milwaukee Carmen | 2025 State WI –  Guard – Milwaukee Carmen
Not quite sure what Edwards is yet, but he can play. The 6-foot freshman is a big body for a wing that's pretty athletic and bouncy. Playing up in the 16U level, Edwards does a lot of things for Power 5. Think he can be a nice two-way talent that's capable of stuffing a stat sheet and impacting the game without always having to score.
9. Myles Herro
Myles Herro 6'2" | PG Whitnall | 2025 State WI – Point Guard – Whitnall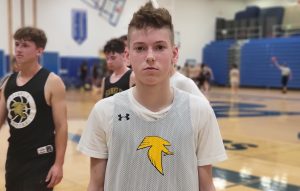 Terrific feel for the game. Herro can make his presence felt without ever taking a shot. Would like to see him be more assertive as a scorer, but you put him in the pick n' roll and good things generally happen.  Very raw physically right now, but Herro looks like he has a ton of growing left to do, considering his lanky build and long arms. Can see him being a 5+ assist guy per game and someone who can take over in crunch time.
10. Juan Guerrero Hernandez
Juan Guerrero Hernandez 6'3" | CG Grafton | 2025 State WI   – G-  Grafton
Think this prospect is pretty unique and has a  chance to really explode up this list.  Guerrero Hernandez is listed at 6-foot, but has a build that makes him look 6-foot-4. He's a playmaker on the ball that can break people down and make things happen in the paint.  Last season, he averaged 12 points, four rebounds, and three assists per game for Grafton.  A lead guard with excellent vision who can also score it, think Hernandez could develop into a big matchup problem. 
Also considered:  Jamarion Batemon
Jamarion Batemon 6'1" | SG Milwaukee Academy of Science | 2025 State WI (Milwaukee Academy of Science), Drew Murphy
Drew Murphy 6'4" | SF Verona | 2025 State WI (Verona), Sean Hansen
Sean Hansen 6'0" | PG Appleton North | 2025 State WI (Appleton North), Brooks Hinson Brooks Hinson 6'1" | CG Marshfield | 2025 State WI (Marshfield), Devin Brown
Devin Brown 6'7" | PF Milwaukee Academy Of Science | 2025 State WI (Milwaukee Academy of Science), Luka Momcilovic
Luka Momcilovic 6'5" | SF Pewaukee | 2025 State WI (Pewaukee), Devin Isaj
Devin Isaj 6'5" | SF Greendale | 2025 State WI (Greendale), Andrew Rader
Andrew Rader 6'9" | PF Notre Dame | 2025 State WI (Notre Dame), A.J. Bender
A.J. Bender 6'4" | SG Lake Mills | 2025 State WI (Lake Mills)