Preseason Player of the Year: 2024 Caden Wilkins Caden Wilkins 6'6" | SG Bettendorf | 2024 State #69 Nation IA (Bettendorf) The top ranked player in the state in the 2024 class, Wilkins had a huge summer with the Iowa…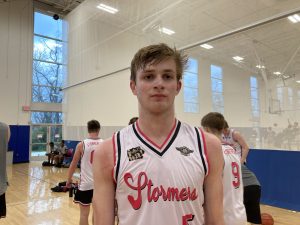 Preseason Player of the Year: 2024 Caden Wilkins
Caden Wilkins 6'6" | SG Bettendorf | 2024 State #69 Nation IA (Bettendorf)
The top ranked player in the state in the 2024 class, Wilkins had a huge summer with the Iowa Barnstormers and is on the verge of becoming a nationally ranked prospect. He looks primed to have a massive junior year for the Bulldogs as a scorer and defender.
First Team
2024 Caden Wilkins
Caden Wilkins 6'6" | SG Bettendorf | 2024 State #69 Nation IA (Bettendorf): 16.1 points, 5.8 rebounds, 2.2 assists
The leading returning scorer in the conference, Wilkins is an athletic 6-6 wing who can fill it up from all three levels in a hurry. He has a high IQ and knows how to pick and choose his spots. Look for him to increase his efficiency as a junior and become one of the state's top scorers.
2023 Connor Borbeck Connor Borbeck 6'2" | SG Pleasant Valley | 2023 State IA (Pleasant Valley): 13.5 points, 3.6 rebounds, 2.7 assists, 1.3 steals, 37.4 3P%
Borbeck had a really good junior year for the Spartans, burying over 37% of his 3-point attempts and averaging 13.5 points a game, which ranked second on the team. A 6-2 off-ball guard who plays strong team defense, he'll be asked to be the leader of this year's iteration of PV.
2024 KJ LaMonte
KJ LaMonte 6'2" Davenport North | 2024 IA (Davenport North): 13.1 points, 2.1 rebounds, 1.9 assists, 75.6 FT%
An athletic, slashing combo guard, Lamonte can take over games with his ability to get into the paint and either score or dish to a teammate. He led the Wildcats in assists as a sophomore and will have the ball in his hands even more this year following the graduation of two of the top three scorers from last year's team.
2023 Matthew Watters Matthew Watters 6'2" | SF Central DeWitt | 2023 State IA (Central DeWitt): 8.5 points, 3.8 rebounds, 3.0 assists, 2.1 steals, 48.9 FG%, 37.5 3P%
Watters was a really good tertiary option for the Sabers last season because of his ability to do a little bit of everything on both ends of the floor. With both of the team's double-figure scorers graduating, he'll be asked to become a bigger scoring threat, something he looks capable of doing.
2023 Lucas Weiner
Lucas Weiner 6'8" | PF Clinton | 2023 State IA (Clinton): 11.9 points, 6.8 rebounds
A bouncy 6-7 big man who has really started to come into his own the past year or so, Weiner had a productive summer with the Barnstormers as an interior scorer and shot blocker. Clinton won just three games last year, but Weiner will be a bright spot for the River Kings.
Second Team
2025 Luke Wieskamp Luke Wieskamp 6'5" | SF Muscatine | 2025 State IA (Muscatine)
2024 Jermilyn Gardner Jermilyn Gardner 5'8" | PG Davenport West | 2024 State IA (Davenport West)
2023 Cole Kilburg Cole Kilburg 5'11" | PG North Scott | 2023 State IA (North Scott)
2025 Ryan Watters Ryan Watters 6'6" | PF Central DeWitt | 2025 State IA (Central DeWitt)
2023 Drew Kilburg Drew Kilburg 5'10" | PG North Scott | 2023 State IA (North Scott)
Honorable Mentions
2023 Tracy Hayslett Tracy Hayslett 5'9" | PG Davenport Central | 2023 State IA (Davenport Central)
2023 Rico Byrd Rico Byrd 6'1" | SG Assumption | 2023 State IA (Assumption)
2024 Asher Wade Asher Wade 6'7" | C Bettendorf | 2024 State IA (Bettendorf)
2025 Cailen Shadrick
Cailen Shadrick 6'2" | SF Bettendorf | 2025 State IA (Davenport West)
2024 Kavon Phillips
Kavon Phillips 6'7" | SF North Scott | 2024 State IA (North Scott)
2023 Sam Emmert (Muscatine)
2024 David Gorsline
David Gorsline 6'2" | SG Pleasant Valley | 2024 State IA (Pleasant Valley)
2023 Nolan Mosier Nolan Mosier 6'6" | PF Davenport North | 2023 State IA (Davenport North)
2023 Jaden Tyler Jaden Tyler 6'1" | SG Bettendorf | 2023 State IA (Bettendorf)
2024 Tre'Von Coney
Tre'Von Coney 6'1" | SG Bettendorf | 2024 State IA (Davenport North)