[player_tooltip player_id="1067659" first="Padraig" last="Gallagher"] Beckman Catholic (8-2) at Clear Creek Amana (9-1) A cross-divisional WaMaC game kicks off our Friday night preview, and this one should be a little more up-tempo than the game the Blazers played against Mount Vernon…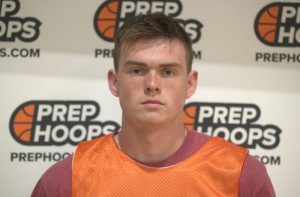 Beckman Catholic (8-2) at Clear Creek Amana (9-1)
A cross-divisional WaMaC game kicks off our Friday night preview, and this one should be a little more up-tempo than the game the Blazers played against Mount Vernon on Tuesday night (a 39-29 win). Beckman is led by junior wing Padraig Gallagher
Padraig Gallagher 6'5" | SF Beckman Catholic | 2023 State IA (21.8, 9.4 rebounds), a 6-5 wing who has emerged as one of the best scoring threats in the state with his versatility and efficiency. He can score from all three levels, rebounds at a high level, and is posting eye-popping shooting splits of 53-46-91 on the season. Senior lead guard Logan Goedken Logan Goedken 6'0" | PG Beckman Catholic | 2022 State IA (14.2, 5.6 assists) is a quality ball-handler and decision-maker who has also emerged as a strong secondary scorer with his ability to get to the rim. 
CCA is led by senior wing Ben Swails Ben Swails 6'2" | SF Clear Creek Amana | 2022 State IA (17.8), who is putting up some fantastic efficiency numbers of his own, posting 59-47-63 shooting splits to lead the Clippers. Senior guard Kyle Schrepfer Kyle Schrepfer 6'0" | SG Clear Creek Amana | 2022 State IA (13.3, 37.3 3P%) and wing Grant Kruse (9.9, 40.0 3P%) are also quality perimeter threats, while Harrison Rosenberg (7.5, 3.7 assists) has emerged as a strong playmaking threat for this group, leading the team in assists. CCA shoots nearly 43% from behind the arc as a team and likes to play up-tempo, so expect to see them looking to get Beckman into a faster game here.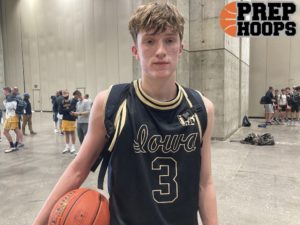 Cedar Falls (6-2) at 4A #3 Iowa City West (7-1)
Two of the top programs in the state over the last decade meet up in this one, and it should be another great game to add to their long list of high-quality contests. West comes into this one off of a surprising upset loss to Hempstead on Tuesday night and will be looking to get back on track. In that loss, Hempstead did a great job limiting Peter Moe
Peter Moe 6'9" | PF Iowa City West | 2022 State IA (22.5) and Jack McCaffery (11.0), holding that tandem to a combined 9 points on 3-17 shooting (0-10 3P). Don't expect that to happen again. In Moe, the Trojans are led by a dynamic three-level scorer with the footwork to dominate on the block, the stroke to stretch the floor, and the handle to take bigger defenders off the dribble and get to the rim. McCaffery has put together a really strong freshman season, shooting over 40% from the arc with a 6-8 frame, which makes him a tough matchup. Sophomore wing Kareem Earl
Kareem Earl 6'5" | SF Iowa City West | 2024 State #123 Nation IA (10.9) gives them an athletic wing scorer, while junior guard Savion Taylor
Savion Taylor 6'4" | SF The Burlington School | 2024 State NC (10.5, 50.0 3P%) is a knockdown shooter. They recently got senior point guard Christian Barnes Christian Barnes 5'10" | PG Iowa City West | 2022 State IA (9.5, 5.5 assists) back from injury, and sophomore Jacob Koch (9.3, 3.4 assists) filled in admirably in his absence. This is a potent offensive team that probably won't shoot as poorly as they did against Hempstead again.
West will have their hands full on the other end of the floor, however, with the Tigers dynamic one-two punch of senior point guard Trey Campbell
Trey Campbell 6'4" | PG Cedar Falls | 2022 State IA (25.5) and junior wing Dallas Bear
Dallas Bear 6'8" | SF Cedar Falls | 2023 State #276 Nation IA (14.4). Campbell, a future Northern Iowa guard, is having a huge year as a scorer and posting really good efficiency numbers (58-43-86 splits). He has the quickness to get to the rim whenever he wants, and he has turned into a knockdown shooter as well. He lets the game come to him, knowing when it's time to take over. Bear is a 6-8 wing who can really shoot it from the arc, and he's developing his all-around offensive game, becoming a better and more willing passer, as well as showing a willingness to take smaller defenders down onto the block and score. Senior guard Aaron Brost
Aaron Brost 6'2" | SF Cedar Falls | 2022 State IA (6.6) and sophomore forward Cade Courbat
Cade Courbat 6'8" | PF Cedar Falls | 2024 State #120 Nation IA (6.6, 6.4 rebounds) are the other standouts for Cedar Falls, but this is a team that will comfortably go 8 or 9 deep. The question will be whether or not they can slow down a potent West offense for a second straight game, and whether or not their role players will provide enough scoring alongside Campbell and Bear to keep pace.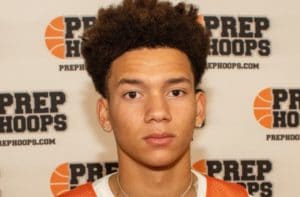 WACO (10-2) at 1A #5 New London (9-0)
The surprising Warriors travel to New London for a big one in the SEISC South. They come in with a 6-2 division record, and if they are able to pull off the upset, Danville could move into a tie atop the division with New London. WACO played the Tigers to a 60-57 overtime loss back on December 3, holding the potent Tigers to just 29.8% shooting. The downfall for the Warriors was a woeful 43.2% from the free-throw line in that loss. They'll be looking for revenge here, and doing so with the knowledge that they can play with the talented Tigers. They come into this one on a five-game winning streak, and they're allowing just 39.1 points a game, which ranks 12th in 1A. A balanced offensive team, they have five players averaging between 7.5 and 11.6 points a game, led by sophomore wing Hunter Hughes, who leads the team in assists and steals as well. Their dynamic defense is averaging over 18 steals a game, and they're pulling down nearly 16 offensive rebounds a game. They have a 50.7% offensive rebounding rate, and that combined with all of their steals helps offset an offense that doesn't shoot it particularly well.
Junior lead guard Blaise Porter
Blaise Porter 6'1" | PG New London | 2023 State #298 Nation IA (19.5, 62.1 FG%) is a lightning-quick guard who holds a pair of Division I offers. A 6-0 dynamo on both ends of the floor, he uses his quickness and handles to break down the defense and get to the rim routinely, and he has turned into a deadly 3-point shooter. Fellow junior forward Kade Benjamin
Kade Benjamin 6'6" | PF New London | 2023 State IA (16.3, 7.0 rebounds, 2.7 blocks) keeps improving and is a really nice complement alongside Porter, an athletic big who runs the floor, protects the rim, and finishes around the bucket. Senior Devin Swanson Devin Swanson 6'3" | PF New London | 2022 State IA (13.1) has given them additional scoring from all three levels, and senior guard Camden Kasel
Camden Kasel 5'10" | SG New London | 2022 State IA (7.3) is a capable scoring threat as well. Porter is the best player on the floor in this game, and they didn't have him in the first meeting between these teams. He will be the difference-maker in this one.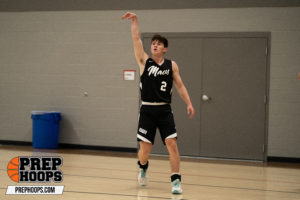 3A #4 Central DeWitt (8-1) at 4A #6 Pleasant Valley (10-0)
The biggest game of the night is in Riverdale, where the undefeated Spartans host Central DeWitt in a key Mississippi Athletic Conference tilt. The Spartans enter with an 8-0 conference mark, while the Sabers are 6-1. A PV win here would give them a major edge within the conference, while a Central DeWitt win could make things very interesting, as Davenport North is looming right below these teams as well. The Sabers will have the difficult task of scoring against a Pleasant Valley defense, something that they have struggled with since joining the MAC. In three meetings since they joined the league, the Sabers are averaging just 30.7 points a game. This year's team is a bit more potent, but they'll still have their hands full. Senior big man Shawn Gilbert
Shawn Gilbert 6'7" | PF Central DeWitt | 2022 State IA (22.7, 9.2 rebounds) has been fantastic this season, shooting 58% from the floor and showing the ability to stretch the floor in addition to being a dominant force in the paint. He's a big, physical forward who will be a difficult matchup for a smaller PV team. Gibson McEwen
Gibson McEwen 6'1" | SG Central DeWitt | 2022 State IA (15.9) has been a really solid perimeter scoring threat, while Matthew Watters Matthew Watters 6'2" | SF Central DeWitt | 2023 State IA (9.1) and Paul Kuehn (7.2) have been solid contributors as well.
Pleasant Valley plays a slow, methodical style on offense, and locks teams down defensively with their fantastic guard play. Senior guards Ryan Dolphin
Ryan Dolphin 5'8" | PG Pleasant Valley | 2022 State IA (15.5) and Joel Lawlor Joel Lawlor 6'0" | PG Pleasant Valley | 2022 State IA (12.1) are combining to shoot 44% from behind the arc and pace the offense, while junior wing Connor Borbeck (12.0) has given them a solid tertiary scoring option. Sophomore forward David Gorsline
David Gorsline 6'2" | SG Pleasant Valley | 2024 State IA (5.5, 7.4 rebounds) plays much, much bigger than his listed 6-0, and he'll need to play huge against the 6-8 Gilbert in the paint. Gorsline is a physical presence with strength, athleticism, and physicality, but he'll be giving up a lot of size in this matchup. The disciplined Spartans rarely turn the ball over (9.1 turnovers a game), have a pair of big-time guards in Dolphin and Lawlor, and are a great free-throw shooting team (77.3% as a team), all of which will be crucial in a game this big. If it's tight late, the edge will go to PV.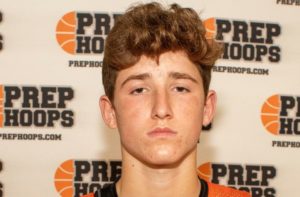 2A #5 Estherville Lincoln Central (9-2) at 3A #9 Spencer (9-2)
This is another big game in the Lakes Conference, as each team enters with identical 3-1 league marks and sitting atop the conference. It's also a matchup between two of the best scorers in the state in ELC's sophomore guard Owen Larson
Owen Larson 6'1" | PG Estherville Lincoln Central | 2024 State IA (23.4) and Spencer's senior wing Karter Petzenhauser
Karter Petzenhauser 6'4" | SG Spencer | 2022 State IA (20.9). After a strong freshman season, we expected Larson to take a step up as a sophomore, but he's blown our expectations out of the water, emerging as a dominant three-level scorer with efficiency (54-44-90 splits) who can also get others involved at a high level, dishing out 6.3 assists a game. He has led the Midgets to a surprising 9-2 start and will be looking to keep the train rolling against a Spencer team that is one of the hottest in 3A. Ryan Schiltz Ryan Schiltz 5'10" | PG Estherville Lincoln Central | 2022 State IA (12.9) and Blake Ingvall Blake Ingvall 6'3" | SF Estherville Lincoln Central | 2022 State IA (12.9) have been solid scoring options alongside Larson, and they'll need to step up in this one if they want to come away with a key road win.
Petzenhauser, a four-year varsity standout, has been one of the best scorers in the state for years now, and he's playing his best basketball as a senior, posting 57-45-78 shooting splits. He's a physical, athletic wing with great touch and a good handle who can create his own shot as well as get looks for others. Owen Olson (11.2), Evan Schmidt Evan Schmidt 6'5" Spencer | 2022 IA (10.1), and Devin Dirkx (9.8) have been strong all year for the Tigers, who come in on a five-game winning streak with each victory coming by at least 11 points. The back-and-forth battle between Larson and Petzenhauser will be fun, but the role players will decide this one.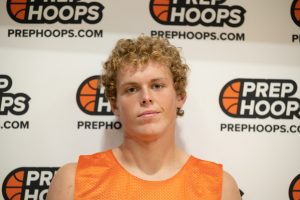 Boyer Valley (9-2) at West Harrison (10-1)
This is a big one in the Rolling Valley Conference, where West Harrison headlines the league with an 8-1 conference mark, and Boyer Valley enters at 5-2 (CAM, who holds a win over West Harrison, is 7-2). The Hawkeyes have won four straight in the series, including a 47-31 win at Boyer Valley back on December 3. They have been excellent defensively this season, allowing just 36.6 points a game, which ranks 8th in 1A. They have held eight opponents to 38 points or fewer. They're led by their junior quintet of starters – Koleson Evans
Koleson Evans 6'6" | SF West Harrison | 2023 State IA (14.8, 9.1 rebounds), Mason King
Mason King 5'10" | PG West Harrison | 2023 State IA (14.6, 40.0 3P%), Sage Evans
Sage Evans 6'2" | PF West Harrison | 2023 State IA (11.8, 14.4 rebounds), Brady Melby (7.1), and Walker Rife (6.5). Sage Evans
Sage Evans 6'2" | PF West Harrison | 2023 State IA is a talented playmaker as a stretch-4, dishing out 6.0 assists a game, and he's the straw that stirs the drink for this talented group, while Koleson Evans
Koleson Evans 6'6" | SF West Harrison | 2023 State IA is one of the biggest matchup problems in 1A basketball at 6-5/6-6 with his ability to handle the ball, shoot it, and defend. This group absolutely hammers the offensive glass as well, pulling down 15.5 offensive rebounds a game (including 6.6 from Sage Evans
Sage Evans 6'2" | PF West Harrison | 2023 State IA ). In that 47-31 win over Boyer Valley earlier this year, the Hawkeyes outrebounded the Bulldogs 42-15.
Boyer Valley enters this one playing their best basketball of the season, winners of five straight. The Bulldogs are a balanced team that has six players averaging between 4.4 and 10.2 points a game, led by Drew Volkmann (10.2). They can struggle to score at times, averaging just 49.5 points a game, but they have been strong defensively, allowing 38.9 points a night. They'll need to find a way to compete at a much higher level on the glass in this one if they want to pull off the upset. 
2A #2 Aplington-Parkersburg (10-1) at Denver (10-3)
Expect a ton of points in this one, as these two teams combine to average 156 points a game. Aplington-Parkersburg leads 2A, putting up 86.3 points a night, and their numbers have taken off in the last five games, averaging 92.8 points a game with 58-42-79 shooting splits as a team. Simply put, this is an offensive juggernaut that is playing at a level that few teams have touched in our time as a company. Led by senior guard Jayden Mackie
Jayden Mackie 6'2" | PG Aplington-Parkersburg | 2022 State IA (22.6), the Falcons have a quartet of double-figure scorers, with Garrett Hempen
Garrett Hempen 6'1" | PG Aplington-Parkersburg | 2023 State IA (15.2), Gavin Thomas
Gavin Thomas 6'0" | SG Aplington-Parkersburg | 2024 State IA (14.5), and Christian Haugstad Christian Haugstad 6'7" | C Aplington-Parkersburg | 2022 State IA (13.8) also joining him. In addition to that ridiculous scoring production, sophomore guard Cooper Hoff (7.6, 45.1 3P%) is one of the top shooters in the state and gives them even more punch off the bench. They dish out 21.5 assists a game, and everyone on this team is equally content putting up 25 or watching their teammate explode, which makes them extremely dangerous. 
For Denver, seniors Caylor Hoffer Caylor Hoffer 5'11" | SG Denver | 2022 State IA (23.9) and Mitchell DeVries Mitchell DeVries 6'1" | SF Denver | 2022 State IA (14.3) are having huge years, stepping into primary scoring roles after the graduations of four key pieces from last year's team. Hoffer set the single-game school scoring record in their last game, putting up 42 points in their win over South Hardin. Both Hoffer and DeVries are capable 3-point shooters and three-level scorers, and sophomore guard Eli Ricketts (7.9, 50.0 3P%) has provided some additional perimeter scoring punch. The Cyclones can put up points in bunches, but they are running into a buzzsaw here. If they can bury 3-pointers at the rate they did against South Hardin (made 14 as a team), they can hang with the Falcons.