The Teams Assumption (20-6, 24.5% of scoring returning): Six of the top eight scorers from last year's 3A state tournament team graduated for the Knights, leaving senior wing Rico Byrd Rico Byrd 6'1" | SG Assumption | 2023 State IA…
The Teams
Assumption (20-6, 24.5% of scoring returning): Six of the top eight scorers from last year's 3A state tournament team graduated for the Knights, leaving senior wing Rico Byrd Rico Byrd 6'1" | SG Assumption | 2023 State IA (7.7) and forward Luke Klostermann
Luke Klostermann 6'4" | PF Assumption | 2023 State IA (6.0) as the lone returnees with any significant experience. Byrd is a really good athlete who can attack the rim and create looks for himself and others, while Klostermann is a physical forward who can control the glass and score efficiently in the paint. While they've lost a ton of production, Assumption has been one of the strongest programs in the state throughout the QuikStats/VarsityBound era, averaging 16.6 wins over the last 14 seasons, with only one losing season (2015-16) in there. We may not know who the players are yet, but Assumption reloads rather than rebuild, and they should be expected to compete yet again in the MAC.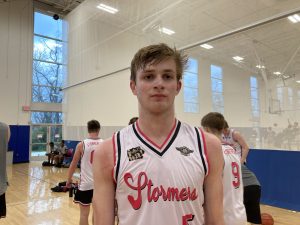 Bettendorf (9-13, 70.9%): A young Bulldogs team was playing really good basketball in late January/early February, winning five straight games before ending the year on a four-game skid against quality teams (PV, Assumption, North, Senior). They bring back three of the top four scorers from that group, including the best player in the conference in junior wing Caden Wilkins
Caden Wilkins 6'6" | SG Bettendorf | 2024 State #69 Nation IA (16.1), so expect them to be much improved. Wilkins, a skilled 6-6 wing on the verge of national rankings in the 2024 class, is a big-time three-level scoring threat who looks primed to have a breakout junior season. Senior wing Jaden Tyler Jaden Tyler 6'1" | SG Bettendorf | 2023 State IA (6.8) and guard Cameron Figgs (4.9, 3.1 assists) return to provide some senior leadership, and we expect junior big man Asher Wade Asher Wade 6'7" | C Bettendorf | 2024 State IA (5.5) to have a breakout junior year as well. He was really good with the Iowa Barnstormers throughout the summer, especially as an interior defender against some of the best big men in the country, holding his own as a rim protector and dominant rebounder. The X-factor for the 'Dogs will be senior guard Taydem Arguello, an explosive athlete who had a great summer with the Barnstormers Black team. If he plays as he did throughout the summer, the Bulldogs could win the league behind the strength of Wilkins, Wade, and Arguello.
Central DeWitt (20-7, 37.3%): The Sabers finished runner-up in Class 3A last season, dropping a heartbreaker by three in the championship game to Dallas Center-Grimes. They have a monumental hole to fill in the form of Shawn Gilbert, who was one of the most dominant players in the state last season, regardless of class. Both double-figure scorers from last year's team need to be replaced, but the next eight scorers from that group return, so the cupboard is far from bare. Senior combo forward Matthew Watters Matthew Watters 6'2" | SF Central DeWitt | 2023 State IA (8.5) should emerge as one of the best players in the league this year. An athletic 6-3 do-it-all player, he can defend anyone, rebound, facilitate, and score from all three levels. He should be one of the focal points of the attack this year. His younger brother Ryan Watters Ryan Watters 6'6" | PF Central DeWitt | 2025 State IA (3.9, 3.9 rebounds) was extremely productive throughout the state tournament last season, getting his name on our radar. He's a bouncy 6-6 forward who rebounds well and can protect the paint, and he should step into a major role as a sophomore. Gus Pickup (2.9, 3.6 assists) led the team in helpers last year as their starting point guard, and Paul Kuehn (5.5) is a good perimeter shooting threat. While Gilbert will obviously be nearly impossible to replace, Central DeWitt brings back a lot of experience and should be a contender in this conference.
Clinton (3-20, 30.5%): Four of the top five scorers from last year's team graduated for the River Kings, including a pair of big-time wing scorers. But they bring back senior forward Lucas Weiner
Lucas Weiner 6'8" | PF Clinton | 2023 State IA (11.9, 6.8 rebounds), who led the team in rebounding last season and had a productive summer with the Barnstormers Black team. A mobile 6-8 big man who can protect the rim, score around the bucket, and occasionally stretch the floor, he'll be the focal point of the offense as a senior. Addison Binnie (2.2), Aiden Thomas (2.0), and Kinnick Belitz (1.9) are the only other returnees to play in at least nine games last season, so there will be a lot of new faces in major roles for Clinton.
Davenport Central (4-18, 43.8%): Half of the Blue Devils losses last season came by single digits, so they were close to having a pretty successful year. Senior wing Tracy Hayslett Tracy Hayslett 5'9" | PG Davenport Central | 2023 State IA (8.4) is the top returnee, an athletic wing who can get to the bucket, jump passing lanes, and create for others. He led the team in assists last season and figures to have the ball in his hands quite a bit this season. Junior Tsuirad Moore Tsuirad Moore 5'11" | PG Davenport Central | 2024 State IA (6.1) is a strong on-ball defender, and junior big man Anthony Gott
Anthony Gott 6'8" | C North Scott | 2024 State IA (2.8) figures to step into a much more significant role this season. Gott is a mobile 6-8 forward who can protect the rim and control the glass, and if he provides any offense for the Devils, it will be a major boost for this group.
Davenport North (15-7, 19.4%): The Wildcats were already losing a ton of production, then suffered another blow when KJ LaMonte
KJ LaMonte 6'2" Davenport North | 2024 IA , the talented junior wing, transferred across the Mississippi to Rock Island. His departure leaves senior forward Nolan Mosier Nolan Mosier 6'6" | PF Davenport North | 2023 State IA (7.3) and junior wing Tre'Von Coney
Tre'Von Coney 6'1" | SG Bettendorf | 2024 State IA (5.9) as the two returnees with significant experience. Mosier showed the ability to score inside and out last season as well as rebound effectively on both ends, while Coney is a talented scorer who handles it well and plays downhill. The rest of the rotation will be filled by almost entirely new pieces.
Davenport West (11-13, 35.0%): Both double-figure scorers from last year's team graduated, but the Falcons had some young talent on the roster that appears ready to step into bigger roles this season. Junior point guard Jermilyn Gardner Jermilyn Gardner 5'8" | PG Davenport West | 2024 State IA (8.9) is a cat-quick guard who can break down a defense and get to the bucket for finishes or get others involved, while Landon Winston (5.3) provides some athleticism on the perimeter. The real player of note here will be sophomore wing Cailen Shadrick
Cailen Shadrick 6'2" | SF Bettendorf | 2025 State IA (3.4). Shadrick is a highly skilled wing who can get to the bucket, post up smaller defenders, and he's an excellent passer who loves to get others involved. He's in line for a breakout sophomore season for the Falcons. While they lost a lot of production from last year's team, they have a talented young core and the program is trending upwards.
Muscatine (1-21, 46.8%): The Muskies won just one game last season and were rarely competitive, posting a -21.0 point differential, but they should be improved this season. Sophomore wing Luke Wieskamp Luke Wieskamp 6'6" | SF Muscatine | 2025 State IA (9.7) is the top returning scorer, coming off a productive freshman season. The younger brother of former Iowa standout Joe, Luke is an athletic and talented wing who can score from all three levels and defend multiple positions. Senior forward Sam Emmert (8.4) also returns after finishing fourth on the team in scoring last season. Look for sophomores Ian Church and Kayvion Hodges to step into bigger roles, and seniors Paul Henry (3.6) and Diamond Krayee (3.1) each saw significant time last season. The Muskies won't be in contention for a top 3 finish in the league, but they will certainly win more games this season than last.
North Scott (10-12, 68.1%): New head coach Dave McLaughlin, who spent a lot of time on the bench as Shamus Budde's assistant, has quite a bit coming back this season, with five of the top six scorers returning. The Kilburg brothers, Cole Kilburg Cole Kilburg 5'11" | PG North Scott | 2023 State IA (8.6) and Drew Kilburg Drew Kilburg 5'10" | PG North Scott | 2023 State IA (8.5), a pair of senior guards, will be the focal points of the attack. Drew is a strong lead guard who gets others involved, and Cole is a knockdown shooter (45.5 3P%). A pair of talented juniors, Kyler Gerardy
Kyler Gerardy 6'0" | PG North Scott | 2024 State IA (8.0) and Kavon Philips (7.5), figure to have larger roles this season as well. The Lancers are always strong defensively, and don't expect that to change under McLaughlin. They are going to make each possession a grind, and use their defensive intensity to spark the offense. They should be in the running for a top 3 finish in the conference.
Pleasant Valley (22-1, 44.5%): The Spartans were dominant last season, winning 22 straight games before being upset by Burlington with a trip to the state tournament on the line. Always regarded as one of the top defensive teams in the state, PV has also become well-known for their methodical style of play on the offensive end, and many around the state are curious about how the Spartans and a number of other MAC schools will adjust to the new implementation of the 35-second shot clock. They lose a pair of standout senior guards from last year's team but bring back two starters and several players who saw time off the bench last season. Senior wing Connor Borbeck Connor Borbeck 6'2" | SG Pleasant Valley | 2023 State IA (13.5) is the team's top returnee in scoring, assists, and steals, and he emerged as a reliable perimeter scoring threat last season, knocking down 37.4% of his 3-point attempts. Junior forward David Gorsline
David Gorsline 6'2" | SG Pleasant Valley | 2024 State IA (6.2, 7.0 rebounds) is an undersized power forward, but he plays much bigger than his listed 6-2 with his athleticism, strength, and physicality. He's coming off a very productive summer with the Iowa Mavericks, and his ability to defend multiple positions, pound the glass, and stretch the floor is invaluable. Role player Aaron Trelstad
Aaron Trelstad 6'3" | SG Pleasant Valley | 2023 State IA (2.3) is ready to step into a bigger role, and the junior backcourt tandem of Coy Kipper Coy Kipper 5'8" | PG Pleasant Valley | 2024 State IA (2.7) and Caden Rubel Caden Rubel 5'9" | PG Pleasant Valley | 2024 State IA are also coming off good summers with the Mavericks and should be reliable lead guards for this group. PV is the most talented, best defensive, and generally the most disciplined (only 8.1 turnovers a game last season) team in the league, and they should once again be considered the favorites.
Projected Order of Finish
1. Pleasant Valley
2. Bettendorf
3. North Scott
4. Central DeWitt
5. Davenport West
6. Assumption
7. Davenport North
8. Davenport Central
9. Muscatine
10. Clinton
Analysis: Despite some major personnel losses, PV is the team to beat in the league. The Spartans are always outstanding defensively, and they'll be the most efficient offensive team. Bettendorf and North Scott should be improved, and Central DeWitt, West, and Assumption will all be difficult teams to play throughout the year.
Preseason Player of the Year
2024 Caden Wilkins
Caden Wilkins 6'6" | SG Bettendorf | 2024 State #69 Nation IA , Bettendorf: The top-ranked player in Iowa's 2024 class, Wilkins is the versatile three-level scorer with the size that college programs love. He had a massive summer with the Barnstormers and looks primed to have an explosive junior year for the Bulldogs.
Players to Watch
2024 Caden Wilkins
Caden Wilkins 6'6" | SG Bettendorf | 2024 State #69 Nation IA , Bettendorf
2024 Asher Wade Asher Wade 6'7" | C Bettendorf | 2024 State IA , Bettendorf
2023 Connor Borbeck Connor Borbeck 6'2" | SG Pleasant Valley | 2023 State IA , Pleasant Valley
2024 David Gorsline
David Gorsline 6'2" | SG Pleasant Valley | 2024 State IA , Pleasant Valley
2023 Matthew Watters Matthew Watters 6'2" | SF Central DeWitt | 2023 State IA , Central DeWitt
2025 Ryan Watters Ryan Watters 6'6" | PF Central DeWitt | 2025 State IA , Central DeWitt
2023 Lucas Weiner
Lucas Weiner 6'8" | PF Clinton | 2023 State IA , Clinton
2025 Luke Wieskamp Luke Wieskamp 6'6" | SF Muscatine | 2025 State IA , Muscatine
2023 Sam Emmert, Muscatine
2024 Jermilyn Gardner Jermilyn Gardner 5'8" | PG Davenport West | 2024 State IA , Davenport West
2025 Cailen Shadrick
Cailen Shadrick 6'2" | SF Bettendorf | 2025 State IA , Davenport West
2023 Cole Kilburg Cole Kilburg 5'11" | PG North Scott | 2023 State IA , North Scott
2023 Drew Kilburg Drew Kilburg 5'10" | PG North Scott | 2023 State IA , North Scott
2024 Kavon Phillips
Kavon Phillips 6'7" | SF North Scott | 2024 State IA , North Scott
2024 Kyler Gerardy
Kyler Gerardy 6'0" | PG North Scott | 2024 State IA , North Scott
2023 Tracy Hayslett Tracy Hayslett 5'9" | PG Davenport Central | 2023 State IA , Davenport Central
2023 Rico Byrd Rico Byrd 6'1" | SG Assumption | 2023 State IA , Assumption
2023 Nolan Mosier Nolan Mosier 6'6" | PF Davenport North | 2023 State IA , Davenport North
2024 Tre'Von Coney
Tre'Von Coney 6'1" | SG Bettendorf | 2024 State IA , Davenport North