The inagural WIAA/WBCA June Jam tips off on Saturday from Community First Champion Athletic Center in Appleton with Division 1,2,3 coaches all in attendance. Here's a look at the top class of 2024 prospects to know… Pierce Arenz Pierce Arenz…
The inagural WIAA/WBCA June Jam tips off on Saturday from Community First Champion Athletic Center in Appleton with Division 1,2,3 coaches all in attendance. Here's a look at the top class of 2024 prospects to know…
Pierce Arenz
Pierce Arenz 5'10" | PG Kiel | 2024 State WI – Kiel
Arenz can absolutely go with the basketball. The 5-foot-9 floor general gets up and down the floor with pace, has excellent vision, and is a plus finisher at the rim against contact. Also a sniper, Arenz can play off the ball and hunt 3's in the halfcourt. Last season, Arenz averaged 19 points and five assists per game for Kiel.
Bennett Basich
Bennett Basich 6'3" | SG Arrowhead | 2024 State WI – Arrowhead
Moving into the top 10  in the next rankings, Basich is generating Division 1 interest this summer. The 6-foot-4 guard uses his size well to set up his mid-range game. Basich is a blue collar prospect that plays with a chip on his shoulder and hits big shots. As a sophomore, Basich put up 15 points and six rebounds per game next to a fellow Division 1 prospect.
Nas Beamon
Nas Beamon 6'2" | PG Milwaukee Academy of Science | 2024 WI – Milwaukee Academy of Science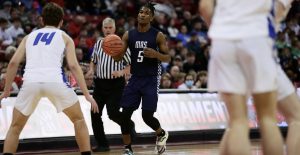 Beamon registered 15 points and four assists on a loaded Nova squad that reached the Division 4 state title game. An athletic, downhill guard who can mix in the mid-range jumper, Beamon has a lot of tricks around the rim.  The 6-foot-2 sophomore has a bulldog mentality when he puts his head down, constantly challenging defenders to get in between him and the rim.
Tayshawn Bridges
Tayshawn Bridges 6'2" | CG Milwaukee Academy of Science | 2024 #86 Nation GA – Milwaukee Academy of Science
Bridges owns offers from Maryland, Iowa, Florida State, Auburn, and Grambling State. As a sophomore,  he led MAS with 18 points per game to go along with three assists. A special athlete, Bridges can do some scary things in the open floor and blow by opponents in the halfcourt. When he's knocking down his perimeter shot, defenders are in a world of trouble.
Stevie Clark
Stevie Clark 6'6" | SF Oshkosh North | 2024 State #236 Nation WI – Oshkosh North
Clark has developed into a three-level scorer who can play with his back to the basket, pull-up in the mid-range, and stretch the floor as a prototypical swingman.  As a sophomore, Clark averaged 20 points and six rebounds per game. The 6-foot-5 sophomore has an early offer from St. Thomas. One of the top competitors in his class, Clark wills his way to the bucket and works tirelessly on the offensive glass.
Brady Corso
Brady Corso 6'2" | SG Neenah | 2024 State WI – Neenah
Corso definitely wasn't lost in the shuffle for Neenah's state championship squad, but his role is going to expand big time next season. Corso still got 10 points per game for a deep Rocket squad and shot 44 percent from deep. A dangerous sniper with deep range, Corso is also a sneaky good athlete and catches people by surprise in his 5-foot-11 frame.
Jack Daugherty
Jack Daugherty 6'8" | PF Brookfield Central | 2024 State WI – Brookfield Central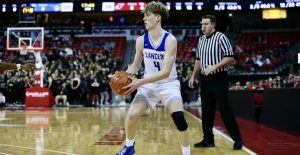 Interested to see how Daugherty responds to being "the guy" for this Lancer squad that appeared in the Division 1 state championship game last season. Daugherty contributed 13 points and seven rebounds per game next to a Division 1 recruit. A budding 6-foot-7 forward, Daugherty is a terrific pick n' pop shooter that shows flashes of being a big mismatch problem when he's able to handle the ball on the perimeter or face-up in the high post.
Dupree Fletcher Jr.
Dupree Fletcher Jr. 5'10" | PG Milwaukee Carmen | 2024 State WI – Carmen Northwest
An electric ball handler who can control a game, Fletcher is an up and down floor general that thrives in transition. The speedy, elusive lead guard averaged 21 points, seven rebounds, and four assists per game as a sophomore, all team-high's. 
Tim Franks
Tim Franks 6'5" | SG Homestead | 2024 State WI – Homestead
Franks landed his first scholarship offer from Bradley ahead of this event. The 6-foot-4 sniper is arguably the best catch-and-shoot guard in the state. Franks does most of his damage from beyond the arc, but his lanky build  could allow him to develop into  a very well-rounded scorer down the road. As a sophomore, Franks averaged 19 points per game for a Highlander squad that won 24 games.
Cole Hansen
Cole Hansen 6'4" | SG Legacy Early College | 2024 SC – Wauwatosa West
Currently a top 10 prospect in the 2024 class, Hansen averaged 13 points per game for the Trojans last season. A guard  that knows his spots on the floor and has a high scoring IQ, Hansen has numerous tools to get the ball in the hole. Drawing Division 1 interest this summer, Hansen has a mixture of high and mid-major programs keeping tabs on him.
Will Hornseth
Will Hornseth 6'8" | PF De Pere | 2024 State #217 Nation WI – De Pere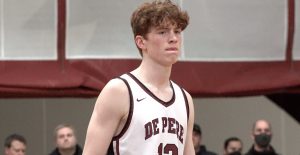 Hornseth owns offers from Toledo, St. Thomas, and UW-Green Bay.  An ideal prototypical post prospect, Hornseth understands the fundamentals and things that are very hard to teach young bigs — post position, soft hands, reading double teams/coverages, keeping the ball high, etc.  You can dump the ball in and expect Hornseth to create a high percentage look. The 6-foot-8 forward also has some budding versatility to handle the ball in the open floor, face up and slash from the high post, and knock down perimeter shots.
Derrick Johnson
Derrick Johnson 6'3" | CG Dominican | 2024 State WI – Dominican
A high-IQ guard, Johnson has strong size for the point position at 6-foot-3. He's an unselfish prospect that's willing to give up his own good looks if it means a teammate gets a great one. Johnson can do a little bit of everything on the floor and still gave Dominican 15 points per game as a sophomore.
Joey LaChapell
Joey LaChapell 5'10" | PG Appleton East | 2024 State WI – Appleton East
One of the best kept secrets in this class right now, Lachapell held his own in the grind of the Fox Valley Association last year. As a sophomore, Lachapell averaged 10 points per game, shot 53 percent from the floor, and 54 percent from 3-point range. Put the ball in his hands and good things happen. Lachapell is a creative playmaker who's very in-tune with the other four players on the floor.
Quinton Lomack
Quinton Lomack 6'1" | CG Madison La Follette | 2024 State WI – Madison La Follette
Lomack averaged 13 points per game as a sophomore for a deep Lancer squad. A rim-oriented lead guard, Lomack gets downhill with a purpose and can finish in a variety of ways. Drawing Division 1 interest this summer, Lomack is a top 10-14 prospect in a 2024 class that features a lot of mid-major  talent.
Michael McNabb
Michael McNabb 6'4" | CG Grafton | 2024 State WI – Grafton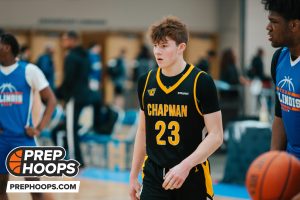 McNabb is  having a big summer and now drawing Division 1 looks. A 6-foot-4 combo guard, McNabb is almost equally good both on and off the field. He's a playmaking guard that's smooth, confident, and deliberate in what he does. McNabb plays mistake-free basketball, doesn't let a defense dictate his tempo, and knocks down his looks.
Sam Mickelson
Sam Mickelson 6'7" | PF Madison Memorial | 2024 State WI – Madison Memorial
Mickelson was one of the fastest rising prospects in the state last season. Now a top 20 prospect and still likely going up, Mickelson is an intriguing combo forward. At 6-foot-7, Mickelson shoots it really well from 12-18 feet and is improving his 3-point game as well. Good mix of strength, finesse, and athleticism here. Mickelson broke out as a sophomore, posting 19 points and eight rebounds last season.
Jonathan O'neill
Jonathan O'neill 6'9" | PF Kaukauna | 2024 State WI – Kaukauna
Think you're going to see a lot of Division 2 programs tracking O'Neill in Appleton. A fast-rising prospect, O'Neill is a long athlete that plays with a high motor. The 6-foot-8 forward is a game changer as a shot blocker and offensive rebounder.  While he's not overly featured in the offense right now, O'Neill can still get you a double-double with his effort plays. If the skills catch up to the motor…watch out.
Others: Andrew Graf
Andrew Graf 5'11" | CG Brookfield East | 2024 State WI (Brookfield East), Tegan Werner (Crivitz), Nathan Gorman (Manawa), Grady Geiger
Grady Geiger 6'4" | SF Brillion | 2024 State WI (Brillion), Eli Podoll
Eli Podoll 6'1" | PG Franklin | 2024 State WI (Franklin), Anthony Przybilla Anthony Przybilla 6'6" | SF Brookfield Academy | 2024 State WI (Brookfield Academy), Drew Wagner
Drew Wagner 5'7" | PG Kettle Moraine | 2024 State WI (Kettle Moraine), Carson Pendleton Carson Pendleton 6'2" | PG Kimberly | 2024 State WI (Kimberly), Isaiah Allen
Isaiah Allen 6'4" | CG Milwaukee Lutheran | 2024 State WI (Milwaukee Lutheran), Garrett Murphy
Garrett Murphy 6'3" | SG Kettle Moraine Lutheran | 2024 State WI (Kettle Moraine Lutheran)