With a full weekend of games under our belts, it's time to put some attributes next to our standouts. Day 2 was filled with prospects showing traits of a next level of talent. We've got high level shooters, athletes, and,…
With a full weekend of games under our belts, it's time to put some attributes next to our standouts. Day 2 was filled with prospects showing traits of a next level of talent. We've got high level shooters, athletes, and, of course, impactful defenders listed below.
Defensive Prospects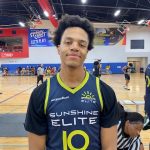 Anniel Pichardo looks like one of the most annoying players to matchup with. He's a pest with high energy and constantly talks on both ends. Pichardo moves his feet well on defense and has discipline yet causes turnovers with his hands. The leadership he shows on the court and in the huddle is phenomenal.
Keenan Johnson
Keenan Johnson 6'7" | SF West Nassau | 2023 FL
6'7 and agile make for a healthy dose of defensive potential. Johnson can rebound both ends and excels as a backline defender in a press. He covers a lot of ground laterally while having the athleticism to disrupt plays around the rim.
Swiss Army Knives
Brandon Noythanongsay
Brandon
Noythanongsay
6'6" | SG
American Collegiate Academy | 2023
FL
Noythanongsay does a bit of everything as a long athletic 6'6 wing. He's a solid slasher that can finish through contact and make big plays at the rim. He rebounds well for a perimeter player and shows good vision as an outlet passer. The 2023 prospect can knock down the three with his feet set. He racks up deflections on the defensive end thanks to good timing and length. Noythanongsay is a great target on the wing in transition.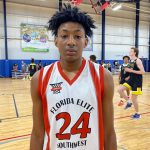 Gerkoby Christopher
At 6'4 Christopher has a diverse game. He does the dirty work while being the lead scorer for a team. He's consistently around the rim for tip ins. Is an adept scorer as a finisher and wing three point shooter. His length and size allow him to defender multiple positions and isn't afraid to put his body on the line for charges.
Top Athletes
Elijah Dawson
Elijah
Dawson
6'2"
Plant City | 2023
FL
Dawson's athleticism and motor help him play much taller than his 6'2 listing. He's a powerful athlete that plows through contact and dunks with authority. He channels all of his tools into a highly effective level of hustle that turns into plays on both ends.
Dominick Scott
Dominick
Scott
6'5" | SF
Riverside | 2023
State
FL
Equipped with ideal size for wing position, Scott routinely scored above the rim. The 2023 prospect's long strides and open court speed made him one of the best transition scorers of the weekend. Scott had a monster poster attempt to show off his explosiveness in the halfcourt.
Top Shooters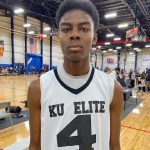 Christian White
Christian White 6'2" | SG Military Magnet | 2022 State SC
White shot 5 of 7 from three to finish with a game high 20 points. He knocked down shots from all over the perimeter. The 6'2 can take you off the drive to finish in the paint and draw fouls on the way to the cup. He made all three of his free throw attempts. White is quick enough to make plays in passing lanes.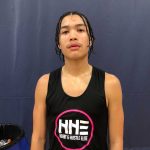 Lucean Milligan
Milligan was on fire in the final game of the tournament. He knocked down 6 threes half of which came off the dribble. Milligan is growing as an offensive. He's improved his handle, shooting, and confidence in a short amount of time.
Connor Mohr
Connor
Mohr
6'3" | SG
IMG Academy | 2024
FL
The 2024 prospect is a three point shooting specialist. He shot 3 of 7 from the field, showcasing his ability to run to spots and come off screens. Mohr was fouled on a three point attempt, he knocked down all three shots at the line. When Mohr solidifies his footwork, he'll really be able to use his strong 6'3 frame.
Top Scorers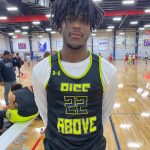 Tyrone Smith
Tyrone Smith 6'2" | SF Lake Weir | 2022 State FL
If you needed a bucket on Sunday, Smith was one of your best options. He's an athletic combo guard that can score from all levels. The unsigned senior has the burst and moves to beat his man off the bounce, the balance to pull up in the midrange, and hit threes from the top of the key after pushing the pace down the floor. Smith is an active off ball defender that reads the floor and stays in the right defensive position.
Trey Murray
Trey
Murray
6'2" | PG
Wesley Chapel | 2024
State
FL
Murray is a downhill scorer that doesn't force offense. All 22 of his points came from around the rim. He showcased his ability to use both hands on layups. Murray is a true transition threat with his ability to take steals down the court and run the wing with his speed.