[player_tooltip player_id="682270" first="Cole" last="Glasgow"] #1 seed: Dallas Center-Grimes (19-5) About the Mustangs: Outside of an outlier blowout loss to Indianola, DCG has probably been the best team in 3A this season, with their other four losses coming by 2 (Johnston),…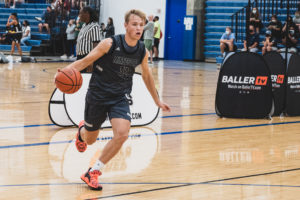 #1 seed: Dallas Center-Grimes (19-5)
About the Mustangs: Outside of an outlier blowout loss to Indianola, DCG has probably been the best team in 3A this season, with their other four losses coming by 2 (Johnston), 5 (Pella), 4 (Boone), and 5 (North Polk). The Mustangs have been excellent on the defensive end, allowing just 48.5 points a game, with their athleticism on the perimeter and size in the paint making life difficult for opponents. Their backcourt of seniors Cole Glasgow
Cole Glasgow 6'3" | SG Dallas Center-Grimes | 2022 State IA (15.0), Jacob Runyan
Jacob Runyan 5'9" | PG Dallas Center-Grimes | 2022 State IA (11.3, 4.9 assists), and Bo Huston
Bo Huston 5'10" | SG Dallas Center-Grimes | 2022 State IA (10.3, 37.9 3P%) is one of the most balanced and well-put-together groups in the state, with Glasgow providing the athletic slasher, Runyan the floor general, and Huston the dead-eye shooter. Jackson Jones
Jackson Jones 6'3" | SG Dallas Center Grimes | 2022 IA (8.7, 40.0 3P%) is the unsung hero of the group, an excellent defender with some size and length, and a knockdown shooter. The 'Stangs have experience from being here last year, and have been outstanding on the defensive end of the floor all year.
Why they can win it all: They're the top-seeded team for a reason, largely rolling through a really good Little Hawkeye Conference and dominating teams on the defensive end of the floor. Glasgow, Runyan, and Huston is a fantastic trio on the perimeter, and they have a number of other options who contribute.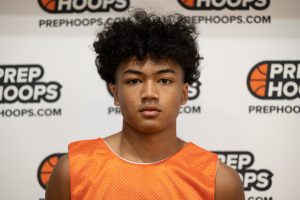 #2 seed: Decorah (22-1)
About the Vikings: The Vikings have been the most dominant team in 3A this year, rolling to a 22-1 record with a point differential of +24.5. They rank 1st in the field in both scoring offense and defense and enter the tournament on a 21-game winning streak. Joseph Bockman Joseph Bockman 5'10" | PG Decorah | 2022 State IA (14.1) leads a quartet of double-figure scorers, with two others averaging 8.5 and 9.5 points a game, giving them six dangerous scoring options. The Vikings are a bit undersized, but they are quick, athletic, and extremely physical. They play an aggressive style on both ends of the floor, looking to attack the rim, crash the offensive glass, and force turnovers. Treyton McCain
Treyton McCain 6'1" | PG Decorah | 2024 State IA (11.6, 4.7 assists), a talented sophomore point guard, may end up being the most important player for this group next week. He handles the ball well and limits turnovers, and he'll need to be assertive on both ends of the floor. The strength of the Vikings' schedule has been a question for some around the state, but there is certainly something to be said for all the winning they've done.
Why they can win it all: They've been blasting teams night-after-night all year, and they're an extremely confident team with balanced scoring and a boatload of quickness. Their speed will be difficult for teams to match up with. 
#3 seed: Assumption (19-5)
About the Knights: Since 6-9 Croatian Ivan Prug (13.7, 6.5 rebounds) became eligible, the Knights have gone 13-2 and enter the tournament on a 10-game winning streak. While Prug doesn't lead the team in scoring, he has been a matchup nightmare with his ability to stretch the floor (50.8 3P%) at his size, and he leads the team in rebounding. He takes bigger defenders away from the rim, and when paired with Noah Mack
Noah Mack 6'0" | SG Assumption | 2022 State IA (16.3, 44.0 3P%), JJ Stratman JJ Stratman 6'2" | SG Assumption | 2022 State IA (8.1, 37.0 3P%), and Jay Costello (6.0, 38.1 3P%), you can't really zone the Knights either. This team has been stout on the defensive end, allowing just 49.8 points a game, and with their shooting and experience (Mack, Stratman, and Costello were all key contributors on last year's semifinalist), the Knights will be formidable next week in Des Moines. 
Why they can win it all: This team has been on a roll since they've started playing with their full lineup. They have a number of shooting threats, and a few really athletic options off the bench who can take advantage of the stretched-out floor. Prug will be a difficult matchup for everyone in this tournament, and Mack has played like one of the best players in 3A this season. 
#4 seed: Winterset (19-5)
About the Huskies: The Huskies are playing as well as anyone right now, winning nine of their last 10 games, including wins over really good Ballard, Bondurant-Farrar, North Polk, and Pella teams. This is another team that like Decorah lacks traditional size, but they make up for it with their overwhelming quickness. Their starting backcourt is comprised of three quick guards in Levi Gurwell Levi Gurwell 6'0" | SG Winterset | 2022 State IA (17.5), Dawson Forgy Dawson Forgy 5'11" | PG Winterset | 2022 State IA (11.2), and Brayden Dinkla
Brayden Dinkla 6'0" | PG Winterset | 2023 State IA (9.8, 6.5 assists) who put constant pressure on opposing guards on both ends of the floor, and their "bigs" can stretch the floor, allowing them to play a five-out style that makes them difficult to defend as each of their guards thrives when given a little bit of space to break down a defender and get to the rim. 
Why they can win it all: Guard play wins in high school basketball, and Winterset has some of the best guard play in the state.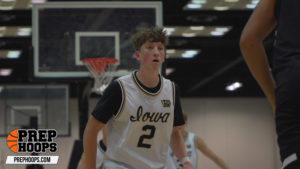 #5 seed: Marion (19-5)
About the Wolves: Marion rolled through their substate to get here, winning each game by at least 13 points en route to their third state tournament in the last five years. Junior guard Brayson Laube
Brayson Laube 6'2" | PG Marion | 2023 State IA (19.3, 42.3 3P%) followed up one of the most productive summers of anyone in the state by playing just about as well as anyone in the class this season. He's an electric three-level scorer who is as capable as anyone of dropping 30+ on any given night, and the Wolves are able to put some solid athletes alongside him. Alex Mota Alex Mota 6'1" | SG Marion | 2023 State IA (9.7, 5.5 rebounds) is a slasher who has committed to play football at Iowa, and despite being undersized, the Wolves do a good job on the glass on both ends of the floor, using their athleticism and physicality to compete on the boards.
Why they can win it all: Laube is one of the most dynamic players in the state, and he can carry this team on a deep run. They'll need to get production out of Mota, Cael Hodges Cael Hodges 6'0" | SG Marion | 2022 State IA , and Boede Rahe if they want to win a state title, but those are all players who are capable of stringing together three really good games on both ends of the floor. 
#6 seed: Humboldt (21-3)
About the Wildcats: Humboldt has been one of the biggest surprise teams in the state this year, rattling off 12 straight wins to open the year and qualifying for their first state tournament since 2014. The 'Cats have a pair of double-figure scorers in junior Will Orness
Will Orness 6'1" | SG Humboldt | 2023 State IA (13.5) and senior Caden Matson (12.6), who pair with junior Joshua Thurm (9.4) to give them a trio of good perimeter shooting threats. In all, six players average between 7.7 and 13.5 points a game, giving them a number of quality scoring options, and they crash the offensive glass hard, pulling down nearly 12 offensive boards a game.
Why they can win it all: They've won games all year, and done so in a variety of ways. Nothing that teams will throw at them in this tournament will catch them by surprise, and they have a trio of shooters who can get hot and make things interesting.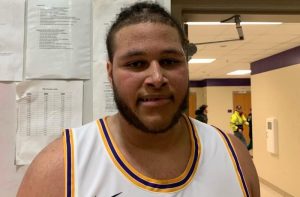 #7 seed: Central DeWitt (18-6)
About the Sabers: The Sabers will have the single most difficult player in this field for opposing teams to defend in 6-9, 295-pound big man Shawn Gilbert
Shawn Gilbert 6'7" | PF Central DeWitt | 2022 State IA (23.8, 10.0 rebounds). He is a physically imposing presence in the paint, and he's also extremely skilled, with excellent footwork, soft touch around the bucket, and the ability to step out and knock down 3-pointers at a 42% clip. Oh, and if you want to double-team him, he's also an excellent passer and they are able to put four players on the perimeter who shoot at least 36% from behind the arc. Teams will need to find a way to take Gilbert out of the game, or they'll risk him single-handedly destroying them like he did to Xavier in the substate semifinals when he went off for 45 points. 
Why they can win it all: They have the most dominant player in the field, and they're able to put a lot of shooting around him. If teams can't find a way to slow Gilbert down, they'll be able to make a deep run in this tournament.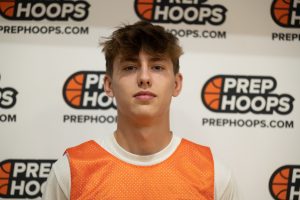 #8 seed: Carroll (16-8)
About the Tigers: Carroll had a few poor stretches during the year, a four-game losing streak before the holiday break, and a three-gamer in early February. But they're playing good ball down the stretch, winning eight straight games heading into the tournament. Talented senior guard Kaleb Booth
Kaleb Booth 6'1" | SG Carroll | 2022 State IA (20.2, 4.9 assists) leads the Tigers in scoring and assists. He's a dynamic three-level scorer armed with one of the best mid-range games in the state. Nick Macke Nick Macke 5'10" | SG Carroll | 2022 State IA (10.5, 35.7 3P%) is a solid shooter who complements Booth well, and the tandem of Caden Kock (8.9, 6.1 rebounds) and Evan Hammer (7.5, 6.4 rebounds), despite being undersized, has been really productive on the glass and in providing some strength and physicality in the paint on the defensive end of the floor. 
Why they can win it all: In Booth, Carroll has the type of player who can get scorching hot and carry them to a state championship. They can surround him with quality role players who understand their jobs and do them well, but this team will go as far as Booth is able to take them. 
Staff Picks
Tony
Quarterfinals: Dallas Center-Grimes, Winterset, Decorah, Assumption
Semifinals: Dallas Center-Grimes, Assumption
Champion: Assumption