First Team Player of the Year: Shawn Gilbert Shawn Gilbert 6'7" | PF Central DeWitt | 2022 State IA , Central DeWitt (2022) Stats: 23.7 points, 9.8 rebounds, 2.1 assists, 1.2 blocks, 61.8 FG%, 43.3 3P% The 6-9 big man…
First Team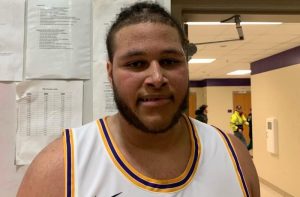 Player of the Year: Shawn Gilbert
Shawn Gilbert 6'7" | PF Central DeWitt | 2022 State IA , Central DeWitt (2022)
Stats: 23.7 points, 9.8 rebounds, 2.1 assists, 1.2 blocks, 61.8 FG%, 43.3 3P%
The 6-9 big man was absolutely dominant this season, shooting nearly 62% from the floor, showing his ability to stretch the floor, and he really showed some impressive flashes as a passer as well. He helped lead the Sabers to a runner-up finish in the class despite going into the state tournament as the seventh-seeded team and was deservedly named captain of the all-tournament team.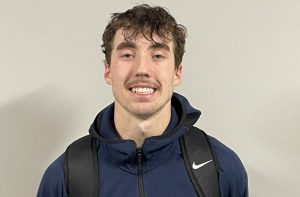 Ashton Hermann
Ashton Hermann 6'4" | SG Ballard | 2022 State IA , Ballard (2022)
Stats: 27.1 points, 6.2 rebounds, 2.6 assists, 2.1 steals, 42.8 FG%, 72.1 FT%
The leading scorer in the class, Hermann was a dominant force for the Bombers for the last three years as an explosive wing who can score in bunches. The future Drury guard has a lightning-quick first step and excellent instincts on the defensive end that he uses to turn defense into quick and easy offense. He's one of the best in the state in transition.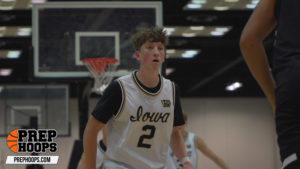 Brayson Laube
Brayson Laube 6'2" | PG Marion | 2023 State IA , Marion (2023)
Stats: 20.0 points, 3.1 rebounds, 2.8 assists, 1.9 steals, 50.9 FG%, 41.1 3P%, 77.5 FT%
Laube had an incredible 16U summer with the Iowa Barnstormers and carried that success into the high school season, helping lead the Wolves to the state tournament and showing off his ability to score from all three levels at a highly efficient clip. 
Karter Petzenhauser
Karter Petzenhauser 6'4" | SG Spencer | 2022 State IA , Spencer (2022)
Stats: 20.3 points, 4.4 rebounds, 2.5 assists, 1.7 steals, 57.2 FG%, 45.7 3P%, 72.4 FT%
A four-year starter for the Tigers, Petzenhauser has been one of the state's top scorers throughout his high school career, and he has only continued to get more efficient each year. A powerful 6-2 guard who can score from all three levels, he's capable of dropping 35 points on any given night and has been a dominant, consistent contributor all four years.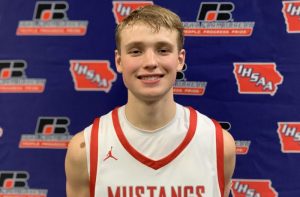 Cole Glasgow
Cole Glasgow 6'3" | SG Dallas Center-Grimes | 2022 State IA , Dallas Center-Grimes (2022)
Stats: 14.3 points, 5.4 rebounds, 2.7 assists, 1.4 steals, 50.5 FG%
The leading scorer for the 3A champions, Glasgow is a hyper-athletic two-guard who can get to the rim and score at will and he's also an excellent perimeter defender who routinely put the clamps on opposing team's biggest scoring threats. He's headed to play his college ball at Kansas City.
Second Team
Carson Toebe
Carson Toebe 6'3" | PG Clear Lake | 2022 State IA , Clear Lake (2022)
Stats: 19.4 points, 5.5 rebounds, 3.0 assists, 2.4 steals, 43.2 FG%, 71.4 FT%
A talented shotmaker who can fill it up in a hurry, Toebe has been a strong four-year varsity contributor for the Lions, helping turn them into one of the better programs in 3A.
Colby Collison
Colby Collison 6'4" | SF Bondurant-Farrar | 2023 State IA , Bondurant-Farrar (2023)
Stats: 18.3 points, 5.3 rebounds, 2.2 assists, 54.5 FG%, 45.3 3P%, 70.5 FT%
A highly efficient 6-4 scoring wing, Collison can score from all three levels and has an excellent feel for the game, knowing when he needs to take over as a scorer and when he needs to get others involved.
Karl Miller Karl Miller 6'4" | SF Pella | 2022 State IA , Pella (2022)
Stats: 15.6 points, 6.6 rebounds, 2.8 assists, 1.1 steals, 48.4 FG%, 37.3 3P%, 84.7 FT%
One of the best shooters in the state, Miller has unlimited range and the ability to get scorching hot in a hurry. A 6-4 wing who moves well off the ball, Miller is armed with a quick release and a picturesque stroke.
Jacob Runyan
Jacob Runyan 5'9" | PG Dallas Center-Grimes | 2022 State IA , Dallas Center-Grimes (2022)
Stats: 11.6 points, 1.5 rebounds, 5.0 assists, 51.8 FG%, 40.8 3P%, 77.5 FT%
One of the best pure lead guards in the state, Runyan thrives on playing downhill and getting others involved. He's an excellent ball-handler and decision-maker who can blow by defenders and finish around the rim and he's also a really good perimeter shooting threat. He was dominant in the 3A championship game, leading the Mustangs to the title.
Dayton Davis Dayton Davis 6'4" | SF Fort Madison | 2022 State IA , Fort Madison (2022)
Stats: 20.9 points, 12.3 rebounds, 1.4 assists, 4.4 steals, 49.3 FG%
Davis is a walking double-double with excellent hands, athleticism, and the ability to create his own shot. He was absolutely dominant on the offensive glass, pulling down over six offensive rebounds a game. He also led 3A in steals. 
Third Team
Kaleb Booth
Kaleb Booth 6'1" | SG Carroll | 2022 State IA , Carroll (2022)
Stats: 20.0 points, 5.7 rebounds, 5.0 assists, 2.0 steals, 43.9 FG%, 40.5 3P%, 83.8 FT%
Noah Mack
Noah Mack 6'0" | SG Assumption | 2022 State IA , Assumption (2022)
Stats: 16.2 points, 3.4 rebounds, 4.4 assists, 2.6 steals, 49.7 FG%, 44.2 3P%, 80.6 FT%
Jevin Sullivan
Jevin Sullivan 6'5" | SG North Polk | 2022 State IA , North Polk (2022)
Stats: 17.6 points, 7.7 rebounds, 1.6 assists, 1.1 steals
Duke Faley Duke Faley 6'5" | C Wahlert Catholic | 2023 State IA , Wahlert Catholic (2023)
Stats: 16.5 points, 7.3 rebounds, 1.0 assists, 60.0 FG%, 34.3 3P%, 82.6 FT%
Joseph Bockman Joseph Bockman 5'10" | PG Decorah | 2022 State IA , Decorah (2022)
Stats: 14.1 points, 3.6 rebounds, 3.8 assists, 1.8 steals
Fourth Team
Sam Wilt Sam Wilt 6'2" | SF Anamosa | 2022 State IA , Anamosa (2022)
Gibson McEwen
Gibson McEwen 6'1" | SG Central DeWitt | 2022 State IA , Central DeWitt (2022)
Ben Swails Ben Swails 6'2" | SF Clear Creek Amana | 2022 State IA , Clear Creek Amana (2022)
Michael Kascel Michael Kascel 6'5" | C Independence | 2022 State IA , Independence (2022)
Caleb Dreckman Caleb Dreckman 6'2" | SG LeMars | 2022 State IA , LeMars (2022)
Honorable mentions: Levi Gurwell Levi Gurwell 6'0" | SG Winterset | 2022 State IA , Winterset (2022); Kale Krogh Kale Krogh 6'6" | C Ballard | 2022 State IA , Ballard (2022); Kasen Bailey
Kasen Bailey 6'4" | SG Washington | 2022 State IA , Washington (2022); Noah Allen
Noah Allen 5'10" | PG Pella | 2022 State IA , Pella (2022); Ethan Patterson
Ethan Patterson 5'11" | SG Washington | 2023 State IA , Washington (2023); Jack Cooley
Jack Cooley 6'5" | PF Clarke | 2024 State IA , Clarke (2024); Max Weaton
Max Weaton 6'6" | PF Fairfield | 2023 State IA , Fairfield (2023); Keaton Flaherty
Keaton Flaherty 6'4" | SG Oskaloosa | 2022 State IA , Oskaloosa (2022); Brayden Dinkla
Brayden Dinkla 6'0" | PG Winterset | 2023 State IA , Winterset (2023); Chase Low
Chase Low 6'3" | PF Charles City | 2023 State IA , Charles City (2023); Ivan Prug, Assumption (2022); Aidan Yamilkoski
Aidan Yamilkoski 6'4" | SG Xavier | 2023 State IA , Xavier (2023); Matthew Noll
Matthew Noll 6'7" | PF Bishop Heelan | 2024 State IA , Heelan (2024); Miles Dear
Miles Dear 5'10" | PG Fort Madison | 2022 State IA , Fort Madison (2022); Treyton McCain
Treyton McCain 6'1" | PG Decorah | 2024 State IA , Decorah (2024); Ben Freed, Wahlert Catholic (2022)