NBA stars were out to see the future of high school hoops all weekend. The KT Fall Classic had top performers from every high school eligible class. We're here to talk about the standouts, including an emerging national star from…
NBA stars were out to see the future of high school hoops all weekend. The KT Fall Classic had top performers from every high school eligible class. We're here to talk about the standouts, including an emerging national star from North Carolina, America's premier high school super team, and a Dominican Republic national team member that played his first game in the US on Saturday. 
Vertical Academy
Treymane Parker
Treymane Parker 6'3" | CG OT Elite | 2023 #169 Nation GA put on an absolute showdown in Miami. He had 34 against Columbus on opening day, went toe to toe with the athletes of Calvary Christian scoring 20+ points, and knocked down 5 threes against Montverde's smothering defense. The 6-3 guard has deep range on his pull up jumper and has a great finishing package at the rim. He has a shifty handle that broke down defenders that opened up scoring opportunities for him and his teammates. As the season goes on for Vertical Academy, placing the 2023 guard at the point more often will allow him to show off his playmaking ability as he did on limited possessions. Parker earned an offer to Mississippi State after his strong 3 game stint. 
While Vertical's biggest draw didn't have the most efficient weekend, he scored in double figures every game, including 20 or more against Columbus and Christian Calvary. Williams' style of play allows him to get to the free throw line often. He made at least 8 trips in all three games. He's able to create his shot from the perimeter, has the strength to power throw contact on drives, and thanks to well-developed legs, is an explosive 6'2 athlete.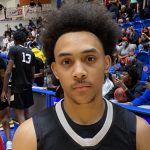 Abdul-Noor Beyah Jr. is the third guard in a talented backcourt. Standing only 5-9 he has the shot making a lead ball handler needs to keep a defense on edge. He has nice burst coming off screens and a mid range game fueled by consistent floaters and pull-ups. Beyah Jr.'s a speedy, well built senior that made opposing shooters day hard by chasing them around screens. Vertical Academy tasked him with guarding big lead guard Jalen Hood-Schfino. Though he gave up several inches in the matchup, he continued to fight over screens and forced Hood-Schfino to change directions several times.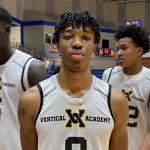 Tim Hall
Tim Hall 6'6" | PF Westminster Catawba | 2023 State SC Jr. is a long 6-6 forward with good defensive tools. One of Vertical's best lineups includes Hall at the four causing turnovers and grabbing offensive rebounds. The active, scrappy 2023 prospect is an above the rim athlete that excels as a second chance scorer.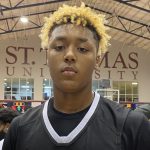 Khouri Carvey
Khouri Carvey 6'9" | C Vertical Academy | 2022 State NC continued to improve each game he played this weekend. At 6-9 with a nice frame, there was a lot to like about the 2022 prospect's game. His decision making makes him a solid high post distributor with the court vision needed to find shooters on the perimeter. He finishes well on rolls to the basket and grabs his fair share of defensive rebounds. Against Montverde, Carvey looked just as tall as 7 footer Vincent Iwuchukwu
Vincent Iwuchukwu 7'0" | C Southern California Academy | 2022 #22 Nation CA-S . Between that game and his matchup with Calvary Christian, he was dialed in on the defensive end, jamming players in the post and blocking at least two shots in each game.
Life Christian 
Angel Montas
Angel Montas 6'5" | CG Life Christian | 2022 State #205 Nation FL Jr. proved why his lists of offers and interests continue to grow. He was the only player to reach double digits against Montverde, scoring over their immense length. The senior is a tough two way contributor listed at 6'5 210 ponds with room to still fill out his frame. He rebounds well for the position, excels in transition, and can get deep in the lane as a downhill attacker. 
After speaking with Coach Micael on Sunday, Hansel Enmanuel's offer count is now up to three. A challenging game against Montverde allowed him to prove his finishing against the longest team in the country. A more than solid performance against Christian Calvary showed the highlight reel plays that fueled his summer mixtapes. He has a great handle and creates separation thanks to his quickness. His athleticism on the break was present with his game opening slam and another midway through the third. Enmanuel's jumpshot was on target on the last day of the event as he splashed two pull up threes from the wing.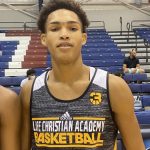 Braelon Garcia may have only been in the US 48 hours before his first game, but he caught up to speed quickly. Originally a member of the Dominican Republic National team, Garcia adds an athletic 6'6 forward to the roster. He played more of a post game with the team, but has all the tools to be a presence on the wing. The 2022 prospect is a good defender and great in transition. He plays hard and gives the Lions another stout rebounder. His half court points came from the paint on touch shots after gaining deep position.
Montverde Academy
Every prospect on Montverde's loaded super team can be considered a standout. It's one of its youngest rosters in years, but probably it's biggest.
6'9 small forward Kwame Evans
Kwame Evans 6'9" | SF Montverde | 2023 State #20 Nation FL Jr. shot really well beyond the arc, making 2 or more threes in both games he played. His size and length will draw comparisons to Kevin Durant if they haven't already started.
Duke commit Dariq Whitehead
Dariq Whitehead 6'5" | SF Montverde Academy | 2022 State #5 Nation FL shot the ball better than I've ever seen over a two game stint. Between his physicality, athleticism, and overall defensive profile, him adding a consistent outside shot will make him one of the most well rounded off guards in the class.
2024 Derik Queen
Derik Queen 6'9" | PF Montverde Academy | 2024 State #10 Nation FL has the best handle for a young big I've ever seen. His combination of size and handle make him a dangerous transition threat. He's able to bring the ball up himself, set up the offense, and get to the block to score with a jumper or hook shot.
Dillon Mitchell
Dillon Mitchell 6'7" | PF Montverde Academy | 2022 State #38 Nation FL is absolute freak athlete that dunked everything around the rim whether in transition or the half court. If you don't put on body on him, it will result in a putback poster.
Jalen Hood-Schifino Jalen Hood-Schifino 6'4" | PG Montverde Academy | 2022 State #27 Nation FL ran the show like a true floor general even though the guard stands 6'6. He uses that size to burrow into the lane and wreak havoc on the defensive end.
Malik Reneau
Malik Reneau 6'7" | PF Montverde Academy | 2022 State #33 Nation FL is the poster child for inside the arc productivity. His precise footwork makes him look like he's floating past defenders, fueling his post scoring. During the St. James bubble and Geico Nationals, most of his points came from his using his left hand on the left block. His scoring repertoire has truly expanded as he's strengthened his off-hand.