Alex Rodriguez Alex Rodriguez 6'1" | CG Dakota Ridge | 2023 State CO – Dakota Ridge – 2023 Photo: Instagram Standing right around 6′ tall, Rodriguez solidified himself as a knockdown shooter and crafty finisher this summer. The incoming senior…
Alex Rodriguez
Alex Rodriguez 6'1" | CG Dakota Ridge | 2023 State CO – Dakota Ridge – 2023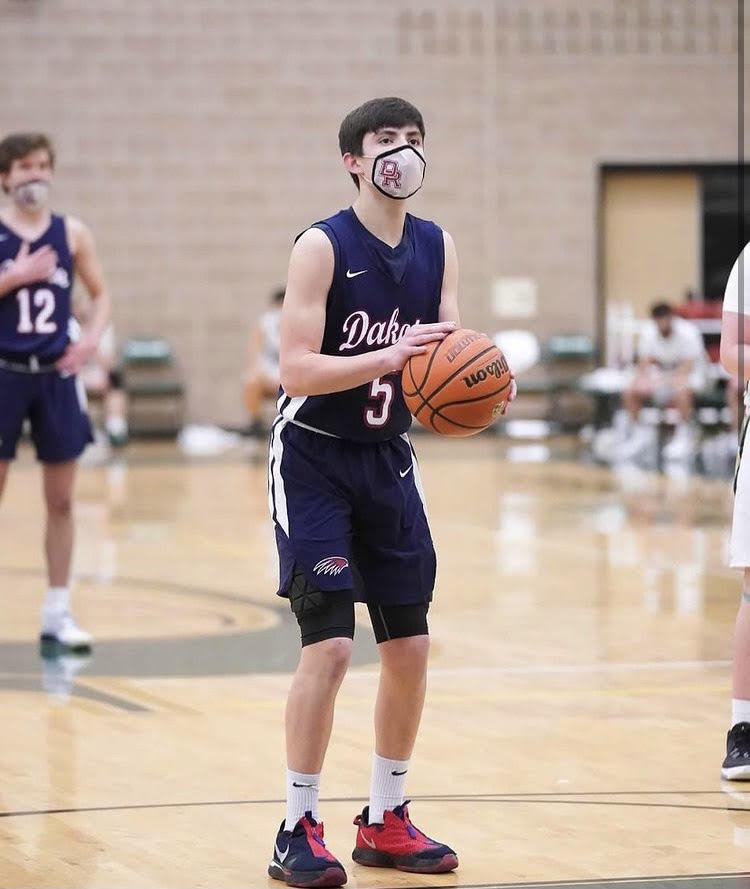 Standing right around 6′ tall, Rodriguez solidified himself as a knockdown shooter and crafty finisher this summer. The incoming senior proved to be an active off-ball mover, consistently probing along the baseline. Another key area of his offensive output stemmed from scoring around the basket. Rodriguez brings excellent touch with either hand, where he is capable double clutching on mid-air layups to finish around length. Although the combo guard is not just a driver, where he can come off flare screens and curls as a means to create space for jumpers. He is capable pulling up from the mid-range and stepping into three pointers. Although not the tallest guard out there, Rodriguez competes on every defensive possession, where his quick hands are on full display against drivers. Rodridguez sits at 108th in the class and 23rd among combo guards.
Will Perkins
Will Perkins 6'1" | SG Thomas Jefferson | 2024 State CO – Thomas Jefferson – 2024
Coming off an efficient season with Thomas Jefferson and the Miners, the incoming junior guard is knockdown as a shooter with room to grow as a three level scorer. Standing right around 6′, Perkins contributed 10.1 points while making 35% of his three point attempts, where he attempted over 6 per game. Perkins is knockdown off the catch, where his compact form allows him to get the rock off quickly. Given his shooting gravity, Perkins is getting more comfortable leveraging this attention to create driving lanes. Once attacking the hard closeout, Perkins is capable stepping into a floater, taking a tough mid-range jumper, or take it to the rim. Two areas to keep tabs on will be his progression as a mid-range threat and positioning out on the perimeter. Perkins ranks 40th in the class and 7th among shooting guards.
Andrew Schneider
Andrew Schneider 6'0" | SG MightyThreeAcademy | 2025 State CO – Homeschool – 2025
At roughly 6′ tall, Schneider brings shooting upside and defensive motor as the lone sophomore on here. Playing up for Collective's 17u team, the shooting guard was knockdown off the catch all over the floor. While Schneider is efficient off the catch, he also proved to stay confident stepping into one dribble mid-range jumpers regardless of the contest. One area of intrigue resides with what rate he can draw fouls around the rim, where he is already getting more comfortable leveraging his shooting gravity. Within the 2025 class, Schneider ranks 16th overall and 6th among shooting guards.
Levi O'Brien Levi O'Brien 6'4" | SG Columbine | 2023 State CO – Columbine – 2023
Standing right around 6'4, O'Brien brings an efficient two-way skillset where he is capable hitting shots off the catch while defending up to three positions. The senior shooting guard makes a high level impact on relatively low usage. He may be deployed as a spot-up shooter or use his gravity to attack closeouts, where he is more than capable finishing with force. One area O'Brien has steadily increased his volume came from one or two dribble mid-range pullups. Two areas worth tracking for O'Brien will be his shooting efficiency and potential as a secondary playmaker. The senior sits at 56th in the class and 14th among shooting guards.