First Team Player of the Year: Lucas Lorenzen Lucas Lorenzen 6'4" | SF Okoboji | 2022 State IA , Okoboji (2022) Stats: 31.0 points, 11.8 rebounds, 2.0 assists, 1.7 steals, 48.6 FG%, 36.7 3P%, 77.5 FT% While Okoboji had the…
First Team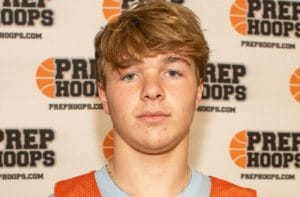 Player of the Year: Lucas Lorenzen
Lucas Lorenzen 6'4" | SF Okoboji | 2022 State IA , Okoboji (2022)
Stats: 31.0 points, 11.8 rebounds, 2.0 assists, 1.7 steals, 48.6 FG%, 36.7 3P%, 77.5 FT%
While Okoboji had the least amount of team success of any of the players on the first team, Lorenzen's eye-popping stat lines on a nightly basis were simply too much to ignore. Despite being the focal point of every opposing game plan (bullet points numbers 1, 2, 3, and 4), he still produced at a ridiculous level and did so with pretty remarkable efficiency. The 6-6 combo forward showed his ability to score inside and out, dominate on the glass, and get others involved. His 148 made free throws and 191 attempted free throws each ranked second in the state, regardless of classification. He's headed to play his college ball at Dordt.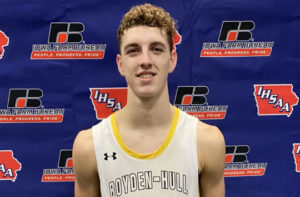 Tanner Te Slaa
Tanner Te Slaa 6'5" | SF Boyden-Hull | 2022 State IA , Boyden-Hull (2022)
Stats: 22.8 points, 9.4 rebounds, 5.2 assists, 1.3 steals, 53.8 FG%, 83.3 FT%
A South Dakota State signee, Te Slaa's Comets were upset in the postseason and didn't reach the state tournament this season, but he was absolutely dominant, nearly averaging a double-double with dishing out more than 5 assists a game and scoring at a highly efficient clip. The 6-5 wing can impact the game on both ends of the floor, plays with excellent pace, and is a high IQ winner.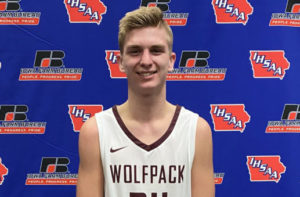 Ty Van Essen
Ty Van Essen 6'4" | PF Western Christian | 2022 State IA , Western Christian (2022)
Stats: 18.9 points, 8.0 rebounds, 2.5 assists, 2.0 steals, 59.8 FG%, 45.1 3P%, 76.8 FT%
Few players in the state can match the eye-popping efficiency and ease with which the 6-5 combo forward can score. The Wolfpack, like Boyden-Hull, were upset in the postseason before the state tournament, but they were our #1 team for a good chunk of the season and Van Essen was the biggest reason why. He's a dominant all-around scorer who can stretch the floor, score at ease on the block against smaller defenders, and get to the free-throw line.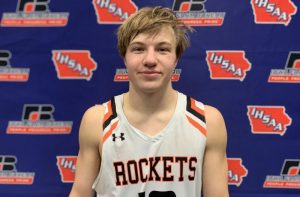 Bryson Van Grootheest
Bryson Van Grootheest 6'0" | CG Rock Valley | 2022 State IA , Rock Valley (2022)
Stats: 19.1 points, 3.0 rebounds, 2.9 assists, 1.6 steals, 53.0 FG%, 40.0 3P%
You'll notice a heavy northwest Iowa tilt to this first team, with all five players coming from about a 75-mile radius. Van Grootheest led the Rockets to the 2A state championship with an absolutely dominant week in Des Moines and is a very deserving first-team all-state player. A quick-twitch athlete who can get to the bucket at will, he's also a knockdown 3-point shooter who can get scorching hot and carry his team for stretches.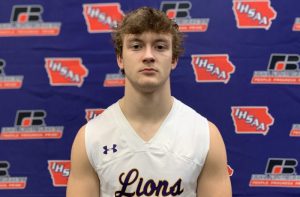 Zach Lutmer
Zach Lutmer 6'1" | PG Central Lyon | 2023 IA , Central Lyon (2023)
Stats: 19.7 points, 5.4 rebounds, 5.9 assists, 2.5 steals, 54.9 FG%, 41.2 3P%, 74.4 FT%
A standout on the gridiron as well as on the hardwood, Lutmer is the type of player who can dominate games even when he isn't scoring with his ability to penetrate the defense and find open shooters as well as his talent on the defensive end. A big, physical, and hyper-athletic guard who can play with pace, he's one of the most impactful two-way players in the class.
Second Team
Jayden Mackie
Jayden Mackie 6'2" | PG Aplington-Parkersburg | 2022 State IA , Aplington-Parkersburg (2022)
Stats: 20.2 points, 3.6 rebounds, 2.2 assists, 49.6 FG%, 36.4 3P%, 72.3 FT%
The leading scorer on one of the most potent offensive attacks in the state, Mackie put together a highly efficient scoring year from all three levels for the Falcons, showcasing his ability to break down a defense and get to the rim, stop and elevate into a jumper from the mid-range, or burn teams from behind the arc. The future Upper Iowa guard is capable of dropping 35 on any given night.
Tate Petersen
Tate Petersen 6'1" | PG Monticello | 2023 State IA , Monticello (2023)
Stats: 18.9 points, 5.1 rebounds, 5.2 assists, 1.9 steals, 45.5 FG%, 37.9 3P%
After being a really good role player during his freshman and sophomore seasons with the Panthers, Petersen stepped into the spotlight this season and delivered in a big way, contributing across the board as they qualified for the state tournament for the third consecutive year. A heady guard who can score from anywhere, he has really developed as a playmaker for others and become more confident as a lead ball-handler and decision-maker.
Eric Mulder
Eric Mulder 6'8" | PF Pella Christian | 2022 State IA , Pella Christian (2022)
Stats: 11.6 points, 9.7 rebounds, 1.2 assists, 1.6 steals, 2.0 blocks, 65.2 FG%
The future IPFW big man was absolutely dominant during the state tournament, showcasing his fluid athleticism, excellent length, and great footwork and hands. He has the unique blend of size, length, athleticism, and skill that make him one of the best big men in the Midwest, and he looks like he'll be a steal for the Mastodons. 
Owen Larson
Owen Larson 6'1" | PG Estherville Lincoln Central | 2024 State IA , Estherville Lincoln Central (2024)
Stats: 22.1 points, 5.6 rebounds, 5.1 assists, 2.5 steals, 51.1 FG%, 43.1 3P%, 81.2 FT%
The sophomore point guard was really good as a freshman then took his game to another level this season, averaging over 22 points a game and showing his ability to impact the game in a major way even when he isn't scoring. He's an efficient scorer who can break down a defense and get to the bucket, a dead-eye shooter, and an extremely talented passer. 
Carter Harmsen
Carter Harmsen 6'5" | SF Mid-Prairie | 2022 State IA , Mid-Prairie (2022)
Stats: 19.6 points, 8.2 rebounds, 2.1 assists, 1.8 steals, 52.0 FG%
The leading scorer for the only team to make it through the regular season with an undefeated record, Harmsen is a talented 6-5 wing who can score from all three levels, create plays for others, and impact the game defensively with his length. He was excellent all year long for the Golden Hawks. 
Third Team
Padraig Gallagher
Padraig Gallagher 6'5" | SF Beckman Catholic | 2023 State IA , Beckman Catholic (2023)
Stats: 20.4 points, 8.5 rebounds, 2.4 assists, 1.5 steals, 50.8 FG%, 41.8 3P%, 86.4 FT%
Adam Witty
Adam Witty 6'2" | SF Des Moines Christian | 2022 State IA , Des Moines Christian (2022)
Stats: 21.5 points, 7.8 rebounds, 2.6 assists, 60.1 FG%, 36.2 3P%, 79.3 FT%
Derek Weisskopf
Derek Weisskopf 6'3" | SG Williamsburg | 2024 State IA , Williamsburg (2024)
Stats: 15.3 points, 6.6 rebounds, 2.1 assists, 1.7 steals, 55.6 FG%, 42.4 3P%, 72.8 FT%
Carson Lienau Carson Lienau 6'4" | PF Jesup | 2022 State IA , Jesup (2022)
Stats: 20.8 points, 11.4 rebounds, 2.5 assists, 1.5 steals, 67.6 FG%
Caden Kirkman
Caden Kirkman 6'8" | PF Wilton | 2023 State IA , Wilton (2023)
Stats: 20.8 points, 10.8 rebounds, 3.9 assists, 1.4 steals, 3.9 blocks, 62.2 FG%, 71.3 FT%
Fourth Team
Jacob Hargens Jacob Hargens 6'2" | PG Sioux Central | 2023 State IA , Sioux Central (2023)
Jonovan Wilkinson
Jonovan Wilkinson 6'2" | SF Roland-Story | 2024 State IA , Roland-Story (2024)
Aaron Graves Aaron Graves 6'5" | PF Southeast Valley | 2022 State IA , Southeast Valley (2022)
Preston Ries
Preston Ries 6'1" | SF Monticello | 2024 State IA , Monticello (2024)
Caylor Hoffer Caylor Hoffer 5'11" | SG Denver | 2022 State IA , Denver (2022)
Honorable mentions: Dalton Reeves
Dalton Reeves 6'3" | SF Davis County | 2022 State IA , Davis County (2022); Mason Gerleman
Mason Gerleman 6'0" | SG Central Lyon | 2022 State IA , Central Lyon (2022); Chris Schreck Chris Schreck 5'10" | PG Van Meter | 2022 State IA , Van Meter (2022); Garrett Hempen
Garrett Hempen 6'1" | PG Aplington-Parkersburg | 2023 State IA , Aplington-Parkersburg (2023); Mason Scheve
Mason Scheve 6'1" | SG Pleasantville | 2022 State IA , Pleasantville (2022); Caleb Holmes Caleb Holmes 6'2" | SF Hinton | 2022 State IA , Hinton (2022); Isaiah Naylor
Isaiah Naylor 6'0" | SG Roland-Story | 2023 State IA , Roland-Story (2023); Vance Katzfey
Vance Katzfey 6'3" | SG Boyden-Hull | 2022 State IA , Boyden-Hull (2022); Wyatt Gulker Wyatt Gulker 6'3" | SG Western Christian | 2022 State IA , Western Christian (2022); Landyn Van Kekerix
Landyn Van Kekerix 5'11" | SG Rock Valley | 2022 State IA , Rock Valley (2022); Sam Remmerde
Sam Remmerde 6'3" | PF Rock Valley | 2022 State IA , Rock Valley (2022); Miles Kading
Miles Kading 5'10" | PG ACGC | 2022 State IA , ACGC (2022); Drew Chance Drew Chance 6'2" | PF Albia | 2023 State IA , Albia (2023); Tyler Schmitt Tyler Schmitt 6'3" | SF East Sac County | 2022 State IA , East Sac County (2022); Tyler Voss Tyler Voss 6'4" | PF Spirit Lake | 2023 State IA , Spirit Lake (2023); Ethan Davis Ethan Davis 6'7" | PF Eddyville-Blakesburg-Fremont | 2022 State IA , Eddyville-Blakesburg-Fremont (2022)