Wally Keller Classic Day 2 one-upped Day 1 with 13 games in two gyms with 25+ D1 prospects gracing Charlotte High School's courts. We have an unsigned senior that can create space on a whim, freak athletes showing growth in…
Wally Keller Classic Day 2 one-upped Day 1 with 13 games in two gyms with 25+ D1 prospects gracing Charlotte High School's courts. We have an unsigned senior that can create space on a whim, freak athletes showing growth in their game, and super freshmen receiving looks from power 5 schools. I present to you 12 players that produced in big ways in front of college coaches.
Willie Patterson
Willie
Patterson
6'5" | PF
Oldsmar Christian | 2022
State
FL
The burly 6-6 forward absolutely bullied guys with similar size on the way to the basket. Patterson has a forceful first step that allows him to create leverage on drives. He's a strong undersized post with an ability to finish through contact. Patterson showed good defensive awareness as a weak-side defender by sliding over to take a charge in the latter half of the game. He also stepped behind the line to hit a catch and shoot 3.
Braylon Jackson
Braylon
Jackson
6'5" | CG
Oldsmar Christian Academy | 2023
State
FL
Jackson has a tendency to put up big numbers when there are eyes on him. As a 6-4 guard, he scores the ball well with the jumper and uses his athletic burst to get to the rim. He attacks closeouts with a quick first step and embraces contact at the rim. The junior has improved his floor game and looked aggressive in getting to his spots during his 30 point performance.
Isaiah Campbell-Finch
Isaiah
Campbell-Finch
6'1" | PG
Tampa Catholic | 2025
State
FL
Tampa Catholic's point guard of the future is elite at creating space and his shot in 1 on1 situation. His pull-up jumper is dangerous in the mid-range and beyond the arc where he hit four threes. The muscular 5-11 guard is a bulldog of a defender that forced two steals and several stops against Riverview Sarasota's primary ball handlers. Campbell-Finch's live dribble playmaking lead to four assists. The crusaders truly have a big three when their team is fully healthy, but with Karter Know or Eddrin Bronson
Eddrin Bronson 6'4" | PG Tampa Catholic | 2023 State #266 Nation FL out of the lineup, the freshman is averaging 21 points and has a 2-1 record.
Karter Knox
Karter
Knox
6'6" | SG
Tampa Catholic | 2024
State
#

5
Nation
FL
As the kids say, Karter Knox
Karter Knox 6'6" | SG Tampa Catholic | 2024 State #5 Nation FL has ice in his veins. The nation's top 10 ranked sophomore iced a close game with a stepback mid-range jumper with 1.4 seconds to go. Knox scored on all three levels with dunks and tough finishes at the rim, mid-range jumpers, threes off the dribble, and catch. He's a quick-twitch athlete that skies for rebounds and can get above the rim in a flash.
Jason Jackson
Jason
Jackson
6'4" | CG
Sarasota Riverview | 2023
State
#

136
Nation
FL
The fast-paced play of Tampa Catholic and Riverview gave Jackson a chance to show several aspects of his game that go unnoticed. It's well documented that he's a strong uber-athletic combo guard, but his passing goes under the radar. He displayed his court vision by placing the ball in tight windows to find cutters and passing over the top of defenders. There were few that could guard the top 50 junior in space, allowing him to get downhill at will, leading to 12 trips to the free throw with 9 makes and a highly efficient night at the rim.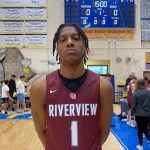 Jamier Jones
Jamier Jones 6'5" | SF Sarasota Riverview | 2025 State FL
Jones excelled at three roles during Saturday's game. It started off with him as a transition finisher where the athletic 6-6 wing can punch the rim, run the floor, and make plays with the ball in his hands. In the halfcourt, the freshman can play on or off the ball and the games look very different. He's a distributor with the ball in his hands that plays under control, has a tight handle, and uses his passing to get teammates involved. Off the ball, he's more aggressive as he looks to slash to the basket off the catch, find the right time to cut to the basket and operate out of the dunker spot. Though Jones is just a freshman, he tells me he's hearing from SEC schools.
Geoffrey Sprouse
Geoffrey
Sprouse
5'11" | CG
Pines Charter | 2022
State
FL
Sprouse combines fundamentals and quickness to create scoring opportunities. He creates space with his handle and footwork, giving him the room to torch defenses with his jumper. The unsigned senior only needs a sliver of daylight to get his shot free, but at this level, he gets so much more than that with head fakes, sidesteps, and step backs. Not enough is said about the high academic prospect's athleticism, but between his quickness and undercover bounce, he has next level burst. Sprouse will operate well in a system that allows their guards to create out of pick and roll as the 6-2 guard weaves around picks while being a threat to score off the bounce and find the roll man. He tells me Yale, Charleston, and FGCU are currently recruiting him the hardest.
Brice Sensabaugh
Brice
Sensabaugh
6'6" | PF
Lake Highland Prep | 2022
State
#

104
Nation
FL
Don't call it a comeback for most people's leader in the Florida Mr. Basketball. After a quiet day 1, Sensabaugh bounced back with a performance we're all a little more familiar with. His 26 points came from tough half court and transition finishes with both hands, turnaround jumpers out of the post, and going 3 for 5 from the three point line. He continues to show he can score in any way you can ask him to, especially off the bounce.
AJ Brown
AJ
Brown
6'4" | CG
Orlando Christian Prep | 2022
State
#

190
Nation
FL
The Ohio signee may have had the smoothest 26 point game of the weekend. He started the quarter off with 12 points, including a four point play. Brown is proving he doesn't need any space to get his jumper off as he continues to splash shots in the face of defenders. He's finishing through contact, hitting pull-up jumpers, and taking defenders off the dribble with moves mid drive. With his combination of size, athleticism, and shooting, he should have an immediate impact with the Bobcats.
Tre' Donaldson
Tre'
Donaldson
6'1" | PG
Florida State University School (FL) | 2022
State
#

146
Nation
FL
On Day 1, Auburn signee Tre Donaldson controlled the game as a floor general. On day 2 he shot the lights out against one of the state's best teams. He hit 4 three on 6 attempts and continued to show touch with a floater. The two-sport athlete still dimed guys up in the half court. Donaldson is a consistent two-way player that's willing to sacrifice his body and take a charge.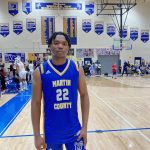 Elijah Duval
Elijah Duval 6'2" | CG Martin County | 2024 State FL
The newest explosive 2024 guard in Florida sports one of the more physically developed bodies in the class. He could double as a linebacker and, with his motor and physicality, could fit well at the position. Duval uses his athleticism to rebound, explode out of moves and put on monster finishes at the rim. He has the burst to get past his defender and the body control to avoid guys in the air. Duval used floaters to score in the mid-range and hit a three, all while getting to the free throw line 10 times.
John Gamble
John
Gamble
6'6" | CG
Charlotte | 2023
State
#

208
Nation
FL
Gamble used day 2 to show out in front of his home crowd. The ultra-athletic 6-5 wing soared above the rim, made huge blocks at the rim, and knocked down 3 threes during a 20 point performance in just three quarters. When Gamble has the space to operate, he's a great slasher that can get to the rim with one dribble. The 2023 prospect has all the tools to play high-level college basketball and with schools like Florida, Texas and FSU all showing interest; he could be there soon.