Top SIAA X-Over Performers Day 2
In this article:
Friday's games are in the book, so now we look at Saturday's slate. The last day of SIAA X-Over includes a group of big men dominating the paint, wings getting it done on both ends, and shot-making guards dialed in…
Friday's games are in the book, so now we look at Saturday's slate. The last day of SIAA X-Over includes a group of big men dominating the paint, wings getting it done on both ends, and shot-making guards dialed in from their spots. Without further ado, let's get into the day's best performances.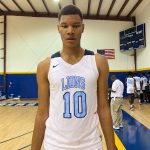 Christian Richardson
Christian Richardson 7'0" | C Potter's House Christian | 2022 State FL
It doesn't get much bigger than the 7-foot center Richardson. His size and length made him a presence in the paint lurking around the basket on both ends. He finished with dunks and putbacks on his way to a 21 point double-double. Besides his paint scoring, he has a beautiful stroke at the free throw line, knocking down his three attempts. The 2022 big grabbed 5 offensive and 7 defensive boards. Richardson uses his massive wingspan to block shots and wall up against other bigs.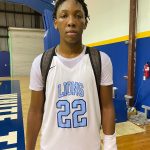 Elijah Mahi
Elijah Mahi 6'6" | SG Potter's House Christian | 2022 State FL
The big 6'6 wing out of Canada did everything for Potter's House's lone appearance in Kissimmee. Mahi's frame and handle offer two major roles on the offensive end paint scoring and secondary ball handling duties. On the day he scored 18 points, getting past his man for clean looks at the rim. He set the offense several times, directing traffic and ensuring good ball movement on his sets.
Ermil Fleurinvil
Fleurinvil was all over the place for Downey Christian on Saturday. He scored 20 points in the game hitting corner threes, slashing, and finishing plays around the rim with putbacks. As well as he played offensively, the other side of the ball is where he makes his biggest impact. He's a long, active wing that defends several positions, has the athleticism to block shots, and moves his feet well in space. The 2023 forward is definitely on to track from a young Downey Christian squad.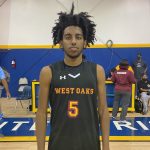 Maurice Odum
Maurice Odum 6'1" | PG West Oaks | 2022 State FL
Odum continues to do it all for West Oaks. There's not a better ball handler/ creator than Odum in the SIAA this year. He's electric with the ball in his hands, constantly a threat to shoot in off the dribble or dish it to a teammate for an assist. The up tempo style West Oaks plays allows him to attack defense early, finding holes and taking advantage of defenses before they're set. His 21 points, 7 rebounds, 4 steals, and 3 assists on Saturday earned him this spot. He averaged 22.5 points, 6.5 rebounds, 3.5 assists, and 3 steals this weekend.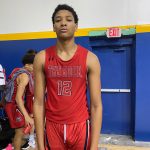 Joshua Hayes
Joshua Hayes 6'9" | PF Gainesville | 2023 State FL
Rim protection and finishing around the rim was the name of the game for Hayes. The 6-10 big man owned the space above the rim in his two games in Kissimmee, totaling 4 blocks Friday and three on Saturday. He was aggressive on both ends battling a scrappy defender then playing against similar size the next. What Hayes brings as a shot blocker and above the rim threat will definitely raise his stock in the 2023 class.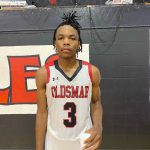 Braylon Jackson
Braylon Jackson 6'5" | CG Oldsmar Christian Academy | 2023 State FL
Bouncing back from a quiet performance on Friday, Jackson scored 27 in a shooting exhibition. He hit shots from everywhere. Connected on 6 threes from the wing and corner. Explored the mid range with pull-up jumpers at the elbow. He even flexed his athleticism with a transition dunk and layups against contact. When Jackson's dialed in, he has a claim to one of the best shot makers in the state's 2023 class. At 6'4 he's a disruptive defender with a muscular body. He can apply pressure to wings and really sit down on his assignment.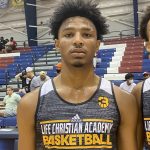 Angel Montas
Angel Montas 6'5" | CG Life Christian | 2022 State #205 Nation FL
It was difficult to choose who would represent Life Christian in this spot. Braylin Garcia had a great two-way game wreaking havoc against Central Pointe Christian's big men and scoring 21 points. Montas one out with another dominant 29 point performance. He's too big and strong for most high school guards and wings to stop him. Montas' physically mature and is a freight train once he gets going downhill. He tanks contact on his drive, leading to 10 free throw attempts in this game and 19 on the weekend. Montas continues to work on his in between game with one and two dribble pull-ups out of the triple threat.
Pape Lamine Niang Pape Lamine Niang 6'9" | PF Central Pointe Christian | 2022 State FL
I talked to a scout today who couldn't believe Lamine only had one offer under his belt. He's a legitimate big man with size and length that deters from paint touches. He erased shots at the rim with two blocks and changed several others. The senior has the potential to be a defensive anchor with his mobility. Offensively he runs the floor, catches lobs, and can finish plays around the rim. He's actively working to improve his post game that's heavily predicated on a right hand hook.
Jalen Carruth
Jalen Carruth 6'7" | SF Kingsmen Academy | 2023 FL
If you're looking for a shooter with size and defensive intangibles in the 2023 class, call Carruth before it's too late. He was dialed in beyond the arc the past two days, hitting 9 three pointers. On Saturday, he hit six of them using his quick release. He's a catch-and-shoot specialist that runs off screens well. He's a long athletic defender that can contain wings and guards.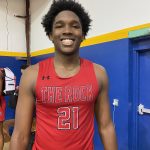 Ryan Jones
Ryan Jones 6'9" | PF The Rock | 2024 State #46 Nation FL
Jones returns for day number two with a big 20 points 15 rebounds double double. It's more of his rebounding and 2 blocks that earn him a spot on this list than his scoring. He shot a lot of free throws in this hard played game against Schoolhouse Prep. He took to the offensive boards for second chance opportunities and showed a lot as a finisher. Of course, Jones stepped out to the three point line to remind us he's one of the best young stretch fours in his class.