The Teams Kingsley-Pierson (15-8, 61.8% of scoring returning): The Panthers lost leading scorer Jackson Howe to graduation but bring back seven of their top nine, led by junior forward Beau Goodwin (9.5). Goodwin led the team in rebounding last season…
The Teams
Kingsley-Pierson (15-8, 61.8% of scoring returning): The Panthers lost leading scorer Jackson Howe to graduation but bring back seven of their top nine, led by junior forward Beau Goodwin (9.5). Goodwin led the team in rebounding last season and is an efficient finisher around the bucket. Seniors Boston Doeschot (6.5), Conner Beelner Conner Beelner 5'10" | SG Kingsley-Pierson | 2023 State IA (5.4), Derek Reinking (5.2), and Evan Neumann (4.7) have plenty of experience and should contribute in a big way. This group is going to be deep and balanced offensively and should be a strong defensive team again.
Lawton-Bronson (6-15, 90.6%):The Eagles were a very young team last season, with four freshmen among the top eight scorers. Senior Isaac Stadsvold (9.7) led the team in scoring and rebounding last season and also blocked 3.3 shots a game. He'll be the headliner, but if Lawton-Bronson is going to make an improvement in the league standings, it will be because of improvement from the aforementioned (now) sophomores – Gage Semple (8.3), Louden Grimsley (6.5), Eli Stadsvold (5.9), and Caler Garnand (2.7).
MVAOCOU (3-19, 100.0%): Everyone returns for a Rams team that improved and got more competitive as the season progressed last year. Senior forward Nick Collins (10.9) led the team in scoring and rebounding last season and will be the leader again. Anthony Newquist
Anthony Newquist 6'0" | SG MVAO-COU | 2024 IA (9.3) is a good perimeter scorer, and sophomores Harry Spicer (6.7), Peyton Gress (5.0), Jace Hendersen (4.8), and Mason Kuhlmann (1.2) all saw plenty of time last season and should make a major leap as sophomores.
OABCIG (16-6, 73.5%): In senior guard Beckett DeJean Beckett DeJean 6'2" | PG OABCIG | 2023 State IA (19.0), the Falcons have the league's best player. DeJean is an athletic lead guard who stuffed the stat sheet to the tune of 7.2 rebounds, 4.2 assists, 3.3 steals, and 1.4 blocks a game. He's at his best when he's getting to the bucket and putting pressure on opposing defenses. Senior wing Kane Ladwig (8.7) is a solid perimeter shooting threat, while Griffin Diersen (6.4) and Treyten Kolar (4.8) each gained valuable experience last year and provide some additional scoring punch.
Ridge View (12-10, 54.1%): The Raptors lost leading scorer Cade Harriman to graduation, leaving a big hole and a lot of shots open. Three key pieces return in seniors Tracin Price (9.8), Kyler Wunschel (8.1), and Cael Myrtue (5.0). Each of the three are capable perimeter shooters, and Price is a very good rebounder. Look for Ridge View to be a much more balanced team this season.
River Valley (3-19, 69.1%): Senior guard Caleb Burns Caleb Burns 5'10" | SG River Valley | 2023 State IA (15.3) returns to lead the Wolverines, a talented scorer who can fill it up from all three levels. He also led the team in assists and rebounding last season. Bryen Kohn (7.3) provides some additional perimeter scoring, while Cole Thomas (2.6) and Landon Johnson (1.9) each gained a lot of experience last season.
Siouxland Christian (6-15, 67.3%): The Eagles bring back a pair of big-time scorers in Elijah Claeys Elijah Claeys 5'11" | SG Siouxland Christian | 2023 State IA (20.1) and Nolan Porter (13.4), giving them a pair of dynamic pieces to build around. Both Claeys and Porter are high-volume shooters who can get hot and carry the team offensively. Anthony Villatoro (1.7) and Guy Petitt (1.3) are the only other returnees with significant experience.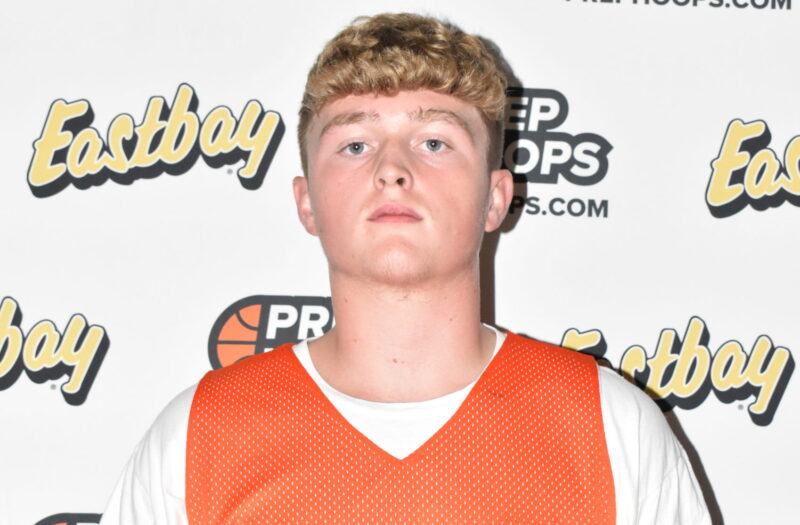 West Monona (14-9, 44.7%): Senior wing Landon Blatchford
Landon Blatchford 6'6" | SF West Monona | 2023 State IA (18.6, 11.3 rebounds) is one of the best players in the conference, a versatile two-way player who can score inside and out, control the glass, and defend multiple positions. Unfortunately for the Spartans, he's the lone returnee among the top five in scoring last season. Micah Sorensen (5.0) is the only other returnee with significant experience. Blatchford is good enough to win them some games, and if they can find some new pieces to step up alongside him, they could replicate last year's success.
Westwood (7-15, 70.4%): Four of the top five scorers return for the Rebels, led by junior guard Carson Topf (10.8), who led the team in scoring and assists last season. He's a solid playmaker who can create looks for himself and others. Brody Muenchrath (7.3) had a productive freshman season and is primed to take another step, and seniors Braiden Dietschy (5.5) and Lawson Haveman (5.1) are experienced pieces who can give them some help on both ends of the floor.
Woodbury Central (15-9, 12.8%): The Wildcats lost their top three, and six of their top seven, scorers from last year's team, leaving junior forward Drew Kluender (7.0, 8.0 rebounds) as the only returnee with any significant experience. Kluender was great on the glass on both ends of the floor last season and is going to be asked to step into a bigger scoring role this year.
Projected Order of Finish
1. OABCIG
2. Kingsley-Pierson
3. West Monona
4. Westwood
5. Ridge View
6. MVAOCOU
7. Lawton-Bronson
8. Siouxland Christian
9. Woodbury Central
10. River Valley
Analysis: OABCIG has the best player in the conference and should be considered a fairly heavy favorite in the league. Kingsley-Pierson lost their leading scorer but has a good core returning from a strong team.
Preseason Player of the Year
2023 Beckett DeJean Beckett DeJean 6'2" | PG OABCIG | 2023 State IA , OABCIG: A stat-sheet stuffing guard with great athleticism, DeJean is the headliner of an OABCIG team that we expect to be the best team in the conference this season.
Players to Watch
2023 Beckett DeJean Beckett DeJean 6'2" | PG OABCIG | 2023 State IA , OABCIG
2023 Kane Ladwig, OABCIG
2023 Landon Blatchford
Landon Blatchford 6'6" | SF West Monona | 2023 State IA , West Monona
2023 Elijah Claeys Elijah Claeys 5'11" | SG Siouxland Christian | 2023 State IA , Siouxland Christian
2023 Nolan Porter, Siouxland Christian
2023 Caleb Burns Caleb Burns 5'10" | SG River Valley | 2023 State IA , River Valley
2023 Bryen Kohn, River Valley
2023 Nick Collins, MVAOCOU
2024 Anthony Newquist
Anthony Newquist 6'0" | SG MVAO-COU | 2024 IA , MVAOCOU
2025 Harry Spicer, MVAOCOU
2024 Carson Topf, Westwood
2025 Brody Muenchrath, Westwood
2023 Tracin Price, Ridge View
2023 Kyler Wunschel, Ridge View
2023 Isaac Stadsvold, Lawton-Bronson
2025 Gage Sample, Lawton-Bronson
2024 Beau Goodwin, Kingsley-Pierson
2024 Drew Kluender, Woodbury Central