Top SIAA X-Over Performers Day 1
In this article:
The SIAA gathered some of the most talented teams in Florida for high-level matchups on Friday. The five game slate saw the #1 sophomore in the state drop 19, a junior increase his 41 points per game average, and an…
The SIAA gathered some of the most talented teams in Florida for high-level matchups on Friday. The five game slate saw the #1 sophomore in the state drop 19, a junior increase his 41 points per game average, and an unsigned senior have his way with a defense. Let's check in on Day 1's best performances.
Angel Montas
Angel Montas 6'5" | CG Life Christian | 2022 State #205 Nation FL
Montas has been on a scoring tear this preseason and doesn't look like he'll slow down after dropping 29 in his season opener. He led all scorers in the game, hitting shots on all levels. The senior scores on stepback threes, pulls up in the midrange, and looks unstoppable on the way to the basket. This flex of his scoring prowess looked similar to his 49 point outburst against Vertical Academy last month. Montas has really put everything together ahead of his senior season. His chiseled 6'5 frame is ready for the next level.
Jordan Burks
As a few scouts crowded around the scorer's table, someone mentioned that this was the game Burks 41 point average should fall. He was off as the junior went on personal scoring runs to close the gap Central Pointe Academy opened. The Alabama native sank 4 threes and hit several mid range pull ups, showing how dangerous the jump shot is. He continues to find his way to the free throw line with 14 attempts, making nine of them. His diverse scoring attack isn't complete without mentioning the number of times he finishes in the paint after getting downhill or using his length to finish over the top of defenders once he gets deep position around the rim. Remember Burks is doing all this as a long 6'8 forward.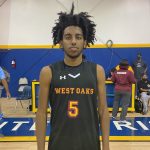 Maurice Odum
Maurice Odum 6'1" | PG West Oaks | 2022 State FL
9 of 12 guys on this reloaded West Oaks roster already holding D1 offers and Odum might be the best shooter of the bunch. The shifty guard creates a ton of space for his jumper. After seeing 5 threes go in en route to a 24 point game, he's poised to add to a list that has Fairfield, UMBC, and Seton Hall on his list. His passing and playmaking really draw this team together as he averages a team high 5 assists per game. Odum's shooting is just the icing on top. His six rebounds open up the fast-paced part of his game that puts pressure on the defense before its set.
RJ Morgan RJ Morgan 6'1" | SG Oldsmar Christian | 2022 State FL
Morgan played a great game on both ends. He locked in defensively, getting deflections and steals in the passing lanes. The senior is a good point of attack defender and mirrors movements just as well as anyone in the gym Friday. On the offensive end, he scored 17 points while making big plays down the stretch. When the team needed a bucket to stop a run, Morgan answered the call. He was aggressive driving downhill, finishing through contact and making three shots from deep on five attempts.
Marvin Brumfield
DME had several big performances, including Victor Panov Victor Panov 6'7" | PF DME | 2022 State FL 's post playmaking clinic, but it was Brumfield who stole the show. As a 6'8 forward, he scored the ball without needing to take more than three dribbles on a play. He slashed and knocked down threes on his way to a 21 point game where he may have missed only two shots. He was highly effective in this game, cutting to the basket and finishing against a group of athletic, physical wings. At his size, Brumfield checked every position, locking up quick guards affecting the shots of 6'6 wings.
Bronson Borlace
Bronson Borlace 6'7" | SF Victory Rock Prep | 2023 State FL
Borlace was a force in the post and paint area for Victory Rock. He has great footwork in the post using up and under moves to get free of his man. The offense flowed through him on the way to 20 point game where dominate the offensive boards. The junior had countless putbacks and finished with authority forcing several and1s. He doesn't force plays and kicks the ball out to teammates if he doesn't have a clear opening on the block. Borlace even stepped out to the elbow to drill a couple of shots off the dribble. He pushed the ball in transition to soften the defense before making the right pass to the open man or a guard to set up the offense. At 6'7 he was the back line of a 2-2-1 press that saw him close on passes like a free safety for steals.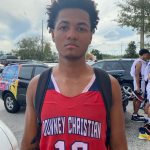 Gregory Limage
Gregory Limage 6'4" | SF Downey Christian | 2022 State FL
Limage was already having a solid game as a vocal leader and defender when he caught fire in the second half. He connected on five threes, including four straight three-pointers that would change the face of the game and help him become one of the top scorers of the day with 25 points. The U19 Dominican Republic national team member handles pressure well while remaining a smart decision maker that keeps the ball moving with his passing. His passing lead to several assists. At 6-5, Limage is a tough on ball defender who uses his body to put pressure on his man. He isn't afraid to step up and take a charge when he's off ball showing toughness, willingness to sacrifice his body, and defensive awareness. The senior also scores as a cutter, trailer, and in transition. He also rebounds well for the position.