The Teams Independence (11-11, 17.7% of scoring returning): Following the departures of Beckman Catholic and Maquoketa to the River Valley Conference, Independence shifts to the East Division from the West, so they'll be going up against some teams that they…
The Teams
Independence (11-11, 17.7% of scoring returning): Following the departures of Beckman Catholic and Maquoketa to the River Valley Conference, Independence shifts to the East Division from the West, so they'll be going up against some teams that they aren't as familiar with on a regular basis. Senior wing Wyatt Kresser (6.4) is the only returnee among the top six in scoring last season, and Isaac Wilcox (2.8) is the only other returnee with significant experience. The Mustangs will be breaking in a ton of new faces this season but they generally have some strong athletes who will compete on both ends.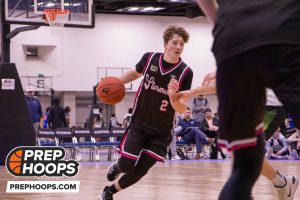 Marion (19-6, 82.6%): Senior guard Brayson Laube
Brayson Laube 6'2" | PG Marion | 2023 State IA (20.0, 41.1 3P%) is not only the best player in the division, he's one of the best players in the state period. A dynamic three-level scorer who can fill it up in a hurry, he has improved his all-around game on both ends of the floor tremendously over the last 18-24 months, turning himself from a sharpshooter who played without the ball in his hands to one of the best all-around shooters and playmakers in the state. He has committed to play his college ball at Augustana and is ready to lead the Wolves back to the 3A state tournament and a possible state championship. Alex Mota Alex Mota 6'1" | SG Marion | 2023 State IA (10.0), an Iowa football commit, joins Laube in the backcourt, giving the Wolves a ton of athleticism and quickness. He's a good defender who moves his feet on the defensive end and has the strength and athleticism to occasionally bump down and defend against bigger players as well. Junior guards Payton Hodges (5.6) and Myles Davis Myles Davis 6'1" | SG Marion | 2024 State IA (3.9), an Iowa baseball commit, provide some additional scoring and playmaking on the perimeter, while Calen Claypool (3.8) is expected to take a major leap as an interior scorer and defender. Look for junior guard Jordan Fischer (3.1), who played well in spurts last season, to step into a bigger role this season as well as a playmaking guard. The Wolves have one of the best players in the state and a slew of talented guards that can handle the ball and allow Laube to operate without the ball in his hands at times. This group is going to be quick, athletic, and experienced, and they're a heavy favorite to win the division.
Mount Vernon (10-12, 80.1%): The Mustangs averaged just 47.0 points a game last season, but that number should increase this year with a full season of junior guard Jackson Kutcher Jackson Kutcher 6'0" | SG Mount Vernon | 2024 State IA (9.8). Kutcher missed all but four games last season but returned late in the year and showed everyone what he can do, burying 12 of 20 3-point attempts. He's a knockdown shooter who moves really well without the ball in his hands, and his presence will open things up for the rest of the 'Stangs as well. Five players who averaged at least 6.7 points a game return for this group, so they have plenty of experienced players returning. Joe Rhomberg Joe Rhomberg 6'1" | SF Mount Vernon | 2024 State IA (10.8, 8.1 rebounds) is an undersized but athletic forward who can control the glass and the offense can run through him. Senior Brady Erickson (9.7) is a solid secondary ball-handler, and Evan Brase Evan Brase 6'3" | PF Mount Vernon | 2024 State IA (9.2) is a junior forward who rebounds at a high level on both ends. Jensen Meeker (6.7) provides some more scoring punch on the perimeter. Like their arch rival Solon, Mount Vernon is usually a deep, athletic team that uses physicality to control the game on both ends of the floor. And with Kutcher returning, they should be a more explosive offensive team. They'll battle it out with Solon for second place in the division and they should be a threat to make some noise in 3A postseason play.
Solon (15-10, 42.1%): The Spartans were the best defensive team in 3A last season, allowing just 42.2 points a game, and that trend should continue this year. This is a school that always has strong, physical, and athletic players both on the perimeter and in the paint, and that athleticism and physicality allows them to control games on both ends of the floor. Leading scorer Jake Benzing
Jake Benzing 6'2" | SG Solon | 2024 State IA (9.7) returns for his junior year, a long wing who can get to the rim and get in passing lanes defensively. Oaken Foster (4.6) had an up-and-down junior year but showed some flashes as a three-level scorer, and junior wing Gehrig Turner (4.0) and seniors Blake Timmons (3.6) and Sean Stahle (2.9) are ready to step into bigger roles. The Spartans averaged just 47.8 points a game last season, using their defense and physicality to grind games to a slower pace, so it will be interesting to see what happens with the shot clock going into effect this season. It could force them to play faster, which may be a benefit with how athletic they usually are.
West Delaware (11-11, 48.4%): The Hawks bring back two players who started at least 10 games last season, but neither of them are the top returning scorer. That honor goes to senior guard Hayden Lyness (8.9), who provided a real scoring spark off the bench last season for this group, finishing second on the team in scoring and leading the team in 3-point shooting, burying just under 40% of his attempts. He should have a chance to have a breakout year as a scorer for this group. The two returning starters are senior guard Tyrus Werner (7.0) and wing Bryce Smith (6.3). Werner figures to have the ball in his hands quite a bit this season after finishing second in assists last year, while Smith is an off-ball slasher. Senior Maddux Lott (4.6) and sophomore Griffin Lott (2.7) should step into bigger roles this season as well. Despite losing three starters, the Hawks should remain competitive on both ends of the floor, and Lyness could emerge as one of the better players in the division.
Projected Order of Finish
1. Marion
2. Mount Vernon
3. Solon
4. West Delaware
5. Independence
Analysis: The Wolves should be considered a fairly heavy favorite in the division with everything they have coming back. Mount Vernon and Solon are both always difficult teams to play, and West Delaware has a piece in Lyness who could surprise some teams this season. Marion is clearly the team to beat, but teams two through four will be dangerous in the postseason.
Preseason Player of the Year
2023 Brayson Laube
Brayson Laube 6'2" | PG Marion | 2023 State IA , Marion: One of the state's elite scoring threats, Laube had a huge junior year and then a big 17U summer that led to him committing to Augustana (SD). He's a tremendous ball-handler and shotmaker who averaged 20 points a game last season and will be one of the best scorers in the state as a senior.
Players to Watch
2023 Brayson Laube
Brayson Laube 6'2" | PG Marion | 2023 State IA , Marion
2023 Alex Mota Alex Mota 6'1" | SG Marion | 2023 State IA , Marion
2024 Payton Hodges, Marion
2024 Myles Davis Myles Davis 6'1" | SG Marion | 2024 State IA , Marion
2023 Calen Claypool, Marion
2024 Jackson Kutcher Jackson Kutcher 6'0" | SG Mount Vernon | 2024 State IA , Mount Vernon
2024 Joe Rhomberg Joe Rhomberg 6'1" | SF Mount Vernon | 2024 State IA , Mount Vernon
2023 Brady Erickson, Mount Vernon
2023 Jensen Meeker, Mount Vernon
2024 Evan Brase Evan Brase 6'3" | PF Mount Vernon | 2024 State IA , Mount Vernon
2024 Jake Benzing
Jake Benzing 6'2" | SG Solon | 2024 State IA , Solon
2023 Oaken Foster, Solon
2024 Gehrig Turner, Solon
2023 Blake Timmons, Solon
2023 Hayden Lyness, West Delaware
2023 Tyrus Werner, West Delaware
2023 Bryce Smith, West Delaware
2023 Maddux Lott, West Delaware
2023 Wyatt Kresser, Independence