Yesterday the inaugural Up Next Sports DMV All-Academic Showcase took place on the campus of Boys' Latin where dozens of prospects had the opportunity to showcase their abilities. This showcase was dedicated to the student athletes who thrive as much…
Yesterday the inaugural Up Next Sports DMV All-Academic Showcase took place on the campus of Boys' Latin where dozens of prospects had the opportunity to showcase their abilities. This showcase was dedicated to the student athletes who thrive as much in the classroom as they do on the hardwood, so the prospect profile in attendance catered to Division III and possibly some high academic Division I players. Let's take a look at some notes that we gathered throughout the afternoon.
2023's
The event was made up of mostly 2023 prospects who are trying to spark their recruitment prior to their senior season. While some have a few Division III programs already recruiting them, their success academically combined with their play on the floor should garner more programs getting into the fold. Here are the players that caught my eye during the game portion:
Solomon Mensah
Solomon Mensah 6'3" | SG Gaithersburg | 2023 State MD | 6'3 | Gaithersburg
Mensah left the biggest impression on me. He was dominant in his showing and started off with a throw down in transition. At 6'3, Mensah has a strong frame to go with the athleticism that he showcased, but when he wasn't flushing dunks in the open floor he was pouring in three's off the catch. He was lethal from the left wing and corner. He possesses sound form and a fluid release on his shot. As the defense reacted to his deep shot making ability with sprint close outs, Mensah mixed it up with mid-rangers off 1-to-2 dribbles.
Rex Romain
Rex Romain 6'1" | SG John Carroll | 2023 State MD | 6'1 | John Carroll
Romain built off a productive showing at the Top 250 Expo last weekend with another efficient outing yesterday. He understands how to space himself while playing off the ball and catch in the shot-ready position. Romain let it fly with confidence and the result was a bevy of three's. He also found himself streaking in transition with regularity where he did a nice job finishing even as defenders attempted chase down blocks.
Ben Bradford
Ben Bradford 6'2" | SG Gaithersburg | 2023 State MD | 6'3 | Gaithersburg
Bradford and Mensah will be quite the duo down at Gaithersburg with their size, skill set and finish abilities. Bradford looked to push the pace every chance he could and put pressure on the defense by attacking the rim in transition. He drew routine fouls thanks to his aggression an in some of those occasions, finished through the contact in the air. Bradford threw down a couple of dunks on his own and had a silky reverse lay-up to avoid a shot blocker in transition.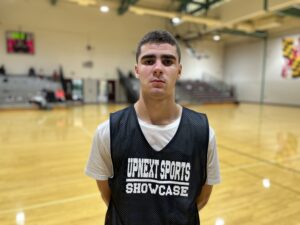 Wyatt Dunn | 6'2 | Winston Churchill
Dunn is a tough guard with solid size who showed some ability to operate off the bounce. He broke down his defenders and found himself in the paint where he made sound decisions. Dunn knocked down open looks off the catch, guarded his matchup with success and was a willing presence on the backboard.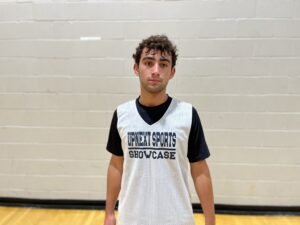 Ben Ash | 5'10 | Winston Churchill
Ash was another Churchill guard who brought a pesky presence on the defensive end. He had active hands and constantly stunts at the ball when his man is trying to operate to make him uncomfortable. With the ball, Ash has some wiggles and burst that can surprise you. He used it to his advantage yesterday where he attacked the paint and had an array of spray-out passes to open shooters. He also finished some floaters with soft touch and knocked down three's with a quick trigger.
Landon Mulford | 6'5 | Walt Whitman
Mulford kept it simple throughout the game portion of the event and it worked in his favor. The 6'5 forward did a good job of playing physical inside where he established himself in the paint, finished his looks around the basket efficiently and battled for rebounds at both ends. He showcased a solid motor by running the floor and was rewarded for his effort in semi-transition where he caught the ball from straight ahead and knocked down a mid-range jumper from 17-feet that looked fluid.
Noah Miller
Noah Miller 6'0" | SG John Carroll | 2023 MD | 6'1 | John Carroll
Miller took some time to settle in, but once he started focusing on his strengths, he had his moments. The 6'1 guard isn't afraid to let it go from three if he has slight separation and when his shot is falling it looks pretty. Like his teammate Romain, Miller ran the floor hard and had plenty of plays at the basket. He didn't finish all of his looks when defenders contested, but he did have a nice double-pump finish to avoid the outstretched arm of the shot blocker behind him.
Eric Zhang Eric Zhang 6'3" | SG Dulaney | 2023 State MD | 6'3 | Dulaney
Zhang is primed for a big season at Dulaney. He can put the ball in the basket in a variety of ways, but did a great job yesterday of using his size on drives to establish an advantage. He'd initiate contact going left, but refused to let it alter his body control or concentration with finishes. If his defender cut him off on the drive attempt, he'd pull up from inside the arc and knock down his high-releasing left-handed jumper with confidence.
Favor Okigweh
Favor Okigweh 6'6" | PF Parkville | 2023 State MD | 6'6 | Parkville '23
Okigweh still remains under the radar locally, but that'll change with time. He was the most athletic prospect in attendance and made it known with routine above the rim slams. The most impressive came when he sprinted the floor and found himself on the receiving end of a lob that he flushed securely with two hands. He set good screens, was active on the weak side as a defender and helped secure defensive rebounds to spark transition opportunities for his team.
Intriguing Non-Seniors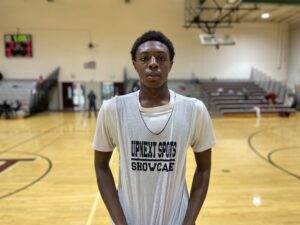 Yassine Idrissa | 6'5 | Wooten '24
Idrissa is one of those players that catch your eye in warm-up lines because of the length he presents. He's 6'5, but has potential to grow to 6'7 before he graduates high school and comes with plus length. You can tell he's still adjusting to that frame, but still has the fluidity in his movement and plays with great effort. He got his hands on shot attempts around the basket, finished his own looks in the paint and earned second-chance opportunities as a result of his effort on the offensive glass.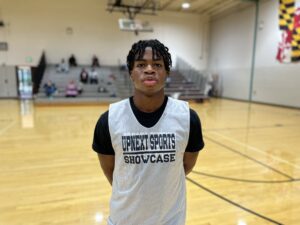 Xavier Blackmon | 5'10 | Gaithersburg
Another talented guard by way of Gaithersburg, Blackmon had a swagger that screamed confidence. It showed in his approach when he got his man in isolation scenarios. He gets good burst playing off hesitation dribbles, crossovers and created sufficient space on stepbacks to get his shot off. When he got downhill on drives he finished with craft around the rim. Blackmon was also one of the prospects that I noticed most when it came to communication whether he was on the floor or on the bench.
Cayne Woodland | 5'9 | Parkville '24
What Woodland lack in size he makes up for with his speed and quickness. He pushed the tempo in transition and made accurate finds to teammates running the floor. He operated well in ball screens where he'd snake dribble and make quick decisions as teammates reacted and cut backdoor. Woodland struggled to find his shot, but did have a couple of nice lay-ups on baseline drives.
Jaydon White | 6'5 | Edgewood '25
White was a big-body forward at 230 pounds and he wasn't afraid to use it. On catches at the block, he'd use a power dribble while putting his shoulder into the chest of his defender to bury them under the rim. From there he'd finish using the glass with soft touch. White also had a nice left-handed hook by finishing over his right shoulder, which was impressive as he looked comfortable utilizing either hand in those scenarios.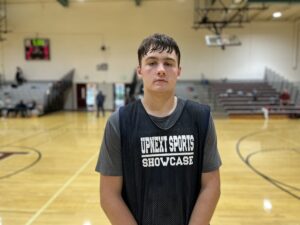 Sam Navarre | 6'4 | Loyola '25
Navarre was another young forward in attendance who played to his strengths and more importantly, provided effort throughout the event. He used his 6'4, 215-pound frame to establish position inside and on catches on the block he attacked with fundamentally sound footwork. While he wasn't the most athletic player there, he understands how to use leverage and angles in order to gain advantage. He showed soft touch on his jumpers from 10-to-15 and also sees the floor well as a passer from the top of the key. It was fun watching Navarre and White battle each other in the trenches.