The annual @PrepHoopsTN Summer Combine featured nearly 50 aspiring college prospects.  For the rest of the summer we will be featuring the campers with evaluations and measurements from the day.
Nathan Hoback
Nathan Hoback 6'0" | PG Marion County | 2023 State TN | PG/SG | Marion County | Tennessee Thunder 17u
July AAU Schedule
How did he measure against the competition?
Class of 2023
6'0″
Wingspan – 5'9″
Hand Span — 7.5″
Hand Length — 7.25″
3/4 Court Sprint — 4.0, 3.9
Lane Agility — 11.65, 11.87
Shuttle Run — 3.9, 3.6
Shoe Size — 10
G.P.A. — 3.75
ACT — 20
Camp Ranking — #39
State Ranking – #191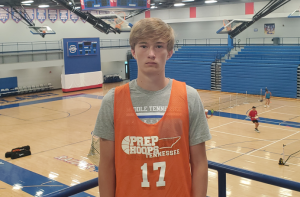 Nathan moved wonderfully away from the basketball.  His offensive awareness ranked near the top of the camp.
Typically campers improved on their shuttle times as they acclimated to the steps and movements expected.  Nathan was no different. His 3.6 shuttle time ranked midway for the event. 
Hoback showed some nice moves, for instance the 'between-the-legs into left-handed dribble sprint'. He created the needed separation, but stacked a spin move at the tail end, and came "back" to the defender, floating a marginal right-hander towards the rim.  Sure, he could have made the basket, but more profitable in that specific instance would be Nathan beating his man with that cross and burst and then riding the defender to the basket on his shoulder.  
Jr. szn highlights
12.3 ppg, 4 apg, 4 rpg
district 4AA all district @PrepHoopsTN @d3hoops @NAIAHoopsReport @McCoachPlaceres @CoachGabe10 @tlydic @Koachjacks @CoachChamp120 @HCBubbaSmith @CoachJTBurton @DIIHoops @coachjshulman @CoachJoshBrown @CoachBrody7 https://t.co/yQKnkR8Kj6

— Nathan Hoback (@hoback_nathan) February 20, 2022
Adarius Brewster
Adarius Brewster 6'1" | PG East Hamilton | 2025 State TN | 5'11" G | East Hamilton | Chattanooga Elite Gray 
How did he measure against the competition?
Class of 2025
6'0.5″
Wingspan — 6'1″
3/4 Court Sprint — 3.7, 3.6
Lane Agility — 10.58, 10.30
Shuttle Run — 3.0, 3.0
Camp Ranking — #26
State Ranking – Watch List
NBA Stylistic Comparison: 2021 Kings De'Aaron Fox
College Projection: Division II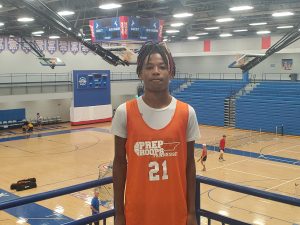 Adarius Brewster
Adarius Brewster 6'1" | PG East Hamilton | 2025 State TN was one of the youngest campers.  That does not indicate how skilled he is and will certainly be.  Brewster showed both an ability to cripple defenders with his crafty dribble and destroy a defense with his court vision.  The Class of 2025 product looks to be a high school starter as soon as this upcoming winter, though East Hamilton High School is a powerful program.
To determine potential three to four years down the line is challenging.  What Brewster does expertly is burst past his defender.  As he matures physically his first-step quickness will only improve. His speed will only separate him more from the pack. 
Nobody posted a faster shuttle time (3.0) and Brewster ran the same time twice.
Follow @AndrewForce8 and @PrepHoopsTN for the latest.