WIAA State Tournament: Day 2 Standouts
Photo: Megan Corcoran
In this article:
MADISON —  Day two of the WIAA State Tournament featured semifinal action in Division 1, 2, and 5. Here's a look at who stood out on Friday at the Kohl Center… Steven Clay Steven Clay 6'5" | SG Menomonee…
MADISON —  Day two of the WIAA State Tournament featured semifinal action in Division 1, 2, and 5. Here's a look at who stood out on Friday at the Kohl Center…
Steven Clay
Steven Clay 6'5" | SG Menomonee Falls | 2022 State #193 Nation WI – 2022 – W – Menomonee Falls
Feel for Clay, who had a fantastic game, but Falls let one slip away late. The senior wing went out with 22 points on 10-of-14 shooting. Clay was dynamic all game. He was so slithery in traffic, able to navigate around multiple defenders and finish acrobatically in the paint. A plus-length sniper with tight handles, Clay is a terrific shot maker and shot creator. He can get his own offense pretty much any time he wants. Thought Clay was engaged on both ends of the floor as well. Had some rough calls that went against him, forcing Clay to dial it down a bit after picking up his fourth foul, but he still grabbed nine rebounds and five steals.
Noah Compan
Noah Compan 6'5" | SF La Crosse Central | 2022 State WI – 2022 – SF – La Crosse Central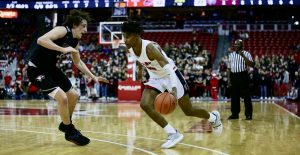 Compan was a game-changer on the offensive and defensive glass for Central.  Not sure the River Hawks are still dancing without some of the extra chances they got via Compan's hustle. The 6-foot-4 senior had two key offensive rebounds that led to buckets in the second half to go along with 17 points (8-13). Putting together a big second half, Compan had 13 points on 6-of-8 shooting after halftime. A strong, athletic slashing wing, Compan is a handful to keep away from the bucket. He also mixed in a nice mid-range, face-up game, able to find creases against the Westosha zone.
Drew Edmond
Drew Edmond 6'0" | PG Brookfield Central | 2023 State WI – 2023 – PG – Brookfield Central
Gotta give Edmond some love, because the Lancers don't win without him. Yes, Andrew Rohde
Andrew Rohde 6'6" | SG Brookfield Central | 2022 State WI had a game-high 21 points and it was Bennett Murray, who had the game-winning free throws, but Edmond kept Central in that game at various key times when they were struggling. The junior guard had nine points on 3-of-4 shooting and also dished out two assists. When it looked like Falls was going to pull away for good, Edmond hit a big 3-pointer to pull the Lancers back within three. After Rohde tripped, Edmond then set up Murray's game-winning free throws with a drive and dish. His team was out-gunned in terms of talent on paper, but Edmond's steady playmaking ability was a huge x-factor for Central, who advanced to the state title game.
Devon Fielding
Devon Fielding 6'1" | PG La Crosse Central | 2022 State WI – 2022 – PG – La Crosse Central
This kid is as steady as it gets at the point guard position. He might not be the highest ranked floor general, but there are few you want with their hands on the wheel in a clutch situation. Fielding buried a corner triple with 24 seconds left to knock off Westosha Central on Friday. He also had a key jumper to bring La Crosse Central back and calm them down after the Falcons took their largest lead of the game at 48-40. Fielding had 20 points, seven rebounds, and two assists in Friday's win. A high-IQ, shot making, patient guard, Fielding picks his spots very well. He didn't get to show it on Friday, but Fielding also has some smooth, but explosive athletic ability from the guard spot.
Sam Grieger
Sam Grieger 6'4" | SG Randolph | 2022 State WI –  2022 – G – Randolph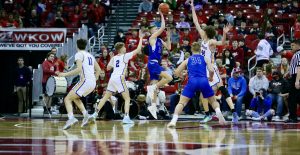 Grieger dominated  Friday's semifinal win over Gibraltar. The senior guard only played 29 minutes, but led Randolph to a blowout win, posting a D5 state tournament record 41 points on 16-of-23 shooting. Grieger also grabbed seven rebounds, dished out three assists,  blocked three shots, and had two steals. A lanky, versatile guard, Grieger can play a variety of positions and handles a lot of the point duties for the Rockets. Grieger left no doubt about the outcome early, scoring 23 of his points in the first half. He put the game away after halftime, scoring nine-straight points before exiting the contest. At 6-foot-4, Grieger can produce in different ways — breaking down defenders off the dribble, cutting and getting into high percentage areas, and stretching the floor from distance, where he was a perfect 2-of-2. Randolph was an incredible +40 with Grieger on the floor in their 33-point point.
Kenny Garth
Kenny Garth 6'2" | CG Westosha Central | 2022 State WI – 2022 – G – Westosha Central
Garth had a big second half, going for 10 points after the break. The senior guard finished with  18 points and three assists. He struggled with turnover a bit, but Garth's playmaking and vision were on full display. At 6-foot-3, Garth is a pretty unique prospect. Still looking for a home, Garth can play anywhere on the perimeter, including point guard. He's got hand-down, man-down shooting ability, can size up and attack in isolation, and is one of the best pull-up jump shooters in the state.  Garth is also a two-way prospect. He's going to defend the other team's best player a lot of the time and give up nothing easy. Really like the way Garth runs with and without the ball in transition.  Off the miss, he takes off like a rocket and works for easy buckets.
Devin Griffin
Devin Griffin 5'11" | PG Westosha Central | 2022 State WI – 2022 – PG – Westosha Central
Griffin only took two shots in Friday's loss to La Crosse Central, but you definitely feel his impact on the floor. The senior guard is always encouraging and lifting up his teammates.  Griffin really controlled the game well for the most part, dishing out a game-high eight assists.  Griffin can manipulate defenses with his eyes and you never quite know where the ball is going. Also a quality defender that plays the game with passion, Griffin accepts the challenge in front of him and wants to own it. In his final game for the Falcons, Griffin also had two steals, two rebounds, and two points.
Matt Imig
Matt Imig 6'0" | CG Ashwaubenon | 2022 State WI – 2022 – G – Ashwaubenon
Imig had 15 points and four assists in Friday's loss to Pewaukee. The UW-Oshkosh commit just wouldn't let his team die easily. Every time it looked like  Pewaukee was going to run away, it felt like Imig made a big shot to keep Ashwaubenon within striking distance. Imig went 3-of-5 from downtown and hit some tough stuff off the bounce. A smaller combo guard, Imig has the speed and handles to break down defenses. He's got the ball on a string , able to shake and bake his way into the paint. A shifty prospect, Imig facilitated the ball at a high level, dishing out four assists  during Friday's loss.
Tanner Jones – 2023 – PG – Bangor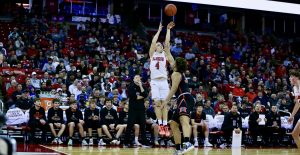 Down the stretch, Jones was the guy Bangor looked to in order to make a play. The junior guard had the go-ahead bucket with  2:30 left. He also switched to Hurley's best player in closing time,  putting the opposition in disarray with his ball denial. Jones scored a game-high 18 points on 6-of-11 shooting. He scored 15 of those in the second half, including 13 in the final 12 minutes.  A strong,  skilled guard, Jones showed great vision throughout the day as well. Able to thread the needle as a passer, Jones dished out five assists to go along with five rebounds in the win over Hurley. Bangor ended up being +24 with Jones on the floor in an eight-point win.
J.J. Paider
J.J. Paider 6'7" | PF Neenah | 2022 State WI – 2022 – F – Neenah
We keep saying, Paider just gets better and better. Going up against a Division 1 prospect, Paider owned the matchup.  The senior forward and late bloomer dropped 17 points, 14 rebounds, and four assists in a win over Racine Case.  Paider went to work early on the block and scored with his back to the basket. That started to draw the double teams, which suits the 6-foot-7 forward just fine as Paider is an excellent passer out of the post and seemingly has eyes in the back of his head. The Rockets were +12 with Paider on the floor, a team-best. Defensively, he also neutralized Case's front line, recording two blocks and keeping their star guards away from the rim for most of the game.
Eli Talsma – 2023 – SG –  Hurley
Like the way Talsma can shoot the ball. Thought he helped keep Hurley in the game early against Bangor as the Cardinals were the team more settled in over the opening 10 minutes. Once Talsma had the ball go through the net a few times, you saw his teammates start to gain confidence from that. After his first 16 points, Talsma forced Bangor into a zone with roughly 12 minutes remaining. A sharpshooter on the move, Talsma does a great job of squaring his feet  and using a clean, effortless motion. Talsma is also very cognizant of where a defender's hands are on the catch.  He seems to know early whether or not there's going to be a good contest or if he's going to get a clean catch-and-shoot opportunity. He was slowed in the second half, but Talsma still finished with 18 points on 6-of-11 shooting. He also grabbed four rebounds and fished out two assists.
Josh Terrian
Josh Terrian 6'3" | SF Pewaukee | 2022 State WI – 2022 – SF – Pewaukee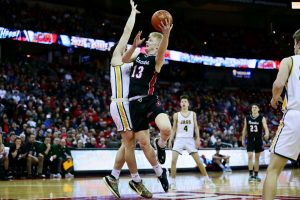 Terrian got his team off to a great start at the Kohl Center. With  Ashwaubenon focused on the leading scorers, Terrian came out and score eight of the first 12 points for the Pirates. It was another day at the office for Terrian, who turned in a complete effort, tallying 13 points (4-6), six rebounds, three assists, and a block. With the Jaguars playing a lot of zone, Terrian was excellent in the high post. The 6-foot-5 forward made really good decisions, which often resulted in a 1-on-1 drive to the rim or a kick out for an open 3-pointer. A guy that would be averaging around 18+ plus points per game at a lot of different programs, Terrian is one of the best teammates you can find with his unselfishness, leadership, and willing to do anything it takes to win.
RESULTS
Division 5 Semifinals
Randolph 61 Gibraltar 28
Bangor 62 Hurley 54
Division 2 Semifinals
Pewaukee 60 Ashwaubenon 49
La Crosse Central 52 Westosha Central 51
Division 1 Semifinals
Neenah 60 Racine Case 52
Brookfield Central 51 Menomonee Falls 50