Check out my scouting reports on the players voted to the PrepHoops 5A State Championship First Team. Beaumont United beat Mansfield Timberview in the 5A Championship game with a final score of 62-57. Beaumount United knocked off (Dallas) Kimball in the Semi-Finals 66-64. Mansfield Timberview knocked off Boerne – Champion in the Semi-Finals 55-43. 
Terrance Arceneaux
Terrance Arceneaux 6'7" | SF Beaumont United | 2022 State #46 Nation TX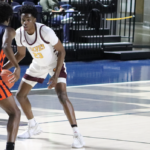 6'7 2022 Beaumont United High School
Terrance is a lanky and athletic wing with all of the tools to dominate the next level, and looks to be a perfect fit for Coach Kelvin Sampson and his staff at the University of Houston. Arceneaux truly affects the game on both ends of the floor and his presence alone makes his opponents uncomfortable. Every time smaller guards drive in to attack the rim, they seem to be looking over their shoulder waiting for Terrance to smack their shot into the bleachers. He is a willing rim protector, who loves to jump on the fast break after he causes a turnover.
Even when he does not affect the game with his scoring and ability to get downhill, he does all of the little things to help his team win. Whether he is getting on the floor after loose balls, poking the ball free from ball handlers or getting into the paint and creating looks for his shooters. His ability and willingness to put the team on his back is incredibly impressive and it is not hard to figure out why he is widely considered one of the best wings in Texas. It will be fun to see him join the University of Houston and their best recruiting class they have had! 
Chendall Weaver
Chendall Weaver 6'1" | PG Mansfield Timberview | 2022 State TX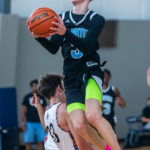 6'3 2022 Mansfield Timberview High School
Chendall is a super athletic combo guard who can finish with the best of them at the rim. His ability to explode at the rim and finish some emphatic dunks really stood out and threw down some highlight reel dunks during his state title run. I was very impressed with not just his big time dunks, but his smooth finishes at the rim, even through contact. He showed off a reliable ability to finish at the rim over any level of defender. In the open court, he is a beast with his aggressiveness and willingness to take on any defender in the air. If he sees a bit of space he is exploding over you! 
However he is not just a slasher or finisher at the rim, he can easily space the floor and knock down shots beyond the arc. Weaver is a very reliable set shooter, especially in the corners and along the wings. His willingness to attack the basket and put consistent pressure on the defense in the paint really opens up the floor for his teammates.
What is the most impressive about Weaver to me is his ability to play big. He is the biggest player on his Mansfield Timberview team and is asked to play small ball center. He is able to keep pace with 6'7 forwards through his ability to leap and meet them at the rim. He came up with some jaw dropping blocks on a few big dunk attempts. His ability to play on both ends of the floor, especially in the paint for his size, is so impressive and should be highly coveted at the next level. Weaver just received a D1 offer from the University of Texas at Arlington after his dominant run towards the state title, ultimately falling short to an incredibly talented Beaumont United team in the title game. 
Trealyn Porchia
Trealyn Porchia 6'6" | SF Beaumont United | 2023 State TX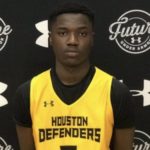 6'5 2023 Beaumont United High School
Trealyn was the glue that held Beaumont United together on the way to their 5A title, with his willingness to hustle and do all of the dirty work on both sides of the floor. His long arms and lanky frame affect the game in a plethora of ways, whether he is finishing at the rim or protecting his own. He is a very crafty finisher, with an ability to change his shot angle in the air and finish with a different hand or at a different angle. His consistency at the rim was very impressive, even against bigger competition in their semi final matchup with Kimball and their 6'7 forward. 
Porchia is an elite defender with an ability to move his feet and guard the perimeter, reject shots at the rim, poke the ball free and clean up the glass. He loves fighting on the glass and works hard to box out his opponents and seal them underneath the basket to a point where they cannot contest him for a rebound. Porchia and Arceneaux made an elite forward pairing this year, however Porchia has all of the tools to step right into Arceneaux's role next year…
Donovan O'Day 6'3 2022 Mansfield Timberview High School
Donovan is an aggressive combo guard who fights hard on both ends of the floor, but is a true difference maker on the defensive side of the ball. He and Weaver are not close the biggest players that stepped on the court in San Antonio, but their play and ferocity on the defensive end of the floor shut down some high level forwards at the rim. Donovan was great at coming over at the weak side and providing timely rim protection, coming up with some emphatic blocks at the rim. He fights hard on the glass, and has the ability to box out opponents much bigger than him.
He is great at turning his defensive plays into easy looks at the rim as well, allowing his team to run on the fast break with his ability to provide an accurate outlet pass. He is also great at using his end to end speed to run the floor and finish at the rim. His ability to get downhill with a live dribble stood out as well, allowing him to cut through the teeth of the defense and either create a look for his teammate or finish at the rim. He has a real connection with Weaver as the two of them connected on multiple lobs throughout their semi final and championship games.
Wesley Yates
Wesley Yates 6'4" | SG Beaumont United | 2023 State #36 Nation TX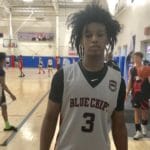 III 2023 6'4 Beaumont United High School
Wesley is a dynamic scoring option from all three levels of the floor and thrives at getting his shot off of the dribble. He plays with confidence and swagger, and that translates in his ability to dominate his opponent with a live dribble. Whether he is getting to his shot off the dribble or getting downhill and attacking the rim, Yates always makes an impact on the offensive end. His ability to shoot the ball is a real weapon for his team, as he is able to stretch the floor out to the fourth level. I was incredibly impressed by his ability to shoot the ball off the dribble. He has a real nose for the ball, and is a willing rebounder on both ends of the floor, but routinely comes up with extra shot opportunities on the offensive end. Coach Green has all of these high level athletes playing at a very high level, willing to do all of the little things and he has unlocked a bit of a beast in all of his players.