Preseason is over and the games are real.  This Thanksgiving week plenty of games will alter this bunch of 10, but these are the deserving 10 entering the wild week to come.
Top Teams in Tennessee
#1 Bartlett
The star Amarr Knox
Amarr Knox 6'3" | PG Bartlett | 2022 State #212 Nation TN is not alone. Christian Alston
Christian Alston 6'5" | SF Bartlett | 2024 State TN , the sophomore, belongs in the conversation for likely breakout stars.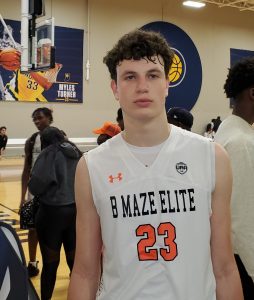 #2 Memphis East
Deeply talented, Memphis East needs to prove they are #1, and they can do that with a strong weekend…unless Bartlett keeps impressing.  Both are deep and highly skilled at multiple positions with size. Preview of Memphis East season.
#3 Cane Ridge
The Ridge was better than we expected the opening week.  Joining Brandon Miller
Brandon Miller 6'8" | SF Cane Ridge | 2022 State #18 Nation TN in pummeling an admittedly shorthanded Lebanon team were Da'Ron Hall
Da'Ron Hall 6'7" | PF Cane Ridge | 2024 State TN (2024) and Ja'Lynn Lawrence. Da'Ron took a gigantic step in the last six months.  Nobody is burying him in the 2024 class rankings, save Somto Cyril.  Hall's handle and agility are elite now and the ceiling is freakishly high.  You already know plenty about Brandon Miller
Brandon Miller 6'8" | SF Cane Ridge | 2022 State #18 Nation TN , who did nothing to suggest he is outside the Top 30 nationally.    Watch a few short clips from Cane Ridge's 2021 State Tournament. Clips. Clip #2. Clip #3.
#4 Beech
This Beech team is arguably the best Head Coach Kip Brown ever had.  Read about them at length.
#5 Overton
Deep, deep, deep. Their preview reveals keys and key players.
#6 Whitehaven
#7 Morristown East
Morristown has the greatest list of wins: Fulton, Alcoa, Daniel Boone.
#8 LaVergne
LaVergne features several lifelong friends.  Damon Fann
Damon Fann 6'2" | SG Riverdale | 2022 State TN has college potential.
#9 Dobyns-Bennett
Dobyns-Bennett owns two wins already (Grainger, Cloudland). Grainger won 19 wins last season though Greeneville owned them 3-0.  Greeneville owned a lot of teams last season.  Cloudland was a breeze for DB and Moravian Prep (NC) proved insurmountable.  It is possible every team in Tennessee would have lost to Moravian Prep, and largely because they are an outsider to Tennessee, DB was not dinged for that in this ranking release.
#10 Farragut
FHS is maybe the surprise team, or maybe not.  The roster is quietly strong and the team's balance is noteworthy.
Honorable Mention
Science Hill – Senior and coach's kid Keynan Cutlip Keynan Cutlip 6'3" | PG Science Hill | 2022 State TN is wildly underrated by fans and peers, perhaps because his school is located in the northeastern portion of the wide state.
West Ridge – The brand new school, built and opened as a result of three high school consolidating, won their first three games.
Karns
Scott – Trey Morrow Trey Morrow 6'4" | SG Scott County | 2022 State TN .  He is good.
Warren County
Ravenwood
Howard
Brainerd