In a guard world, let's not forget about the "bangers and mash" guys from the A-Town Showdown who may not fill the stat sheet with glitter, but they do all the things coaches love and win games in ways that…
In a guard world, let's not forget about the "bangers and mash" guys from the A-Town Showdown who may not fill the stat sheet with glitter, but they do all the things coaches love and win games in ways that often exist in the under-layers of this game we all love.
Some forwards and posts who stood out:
Airious Bailey (We Get Buckets (TN) 15U) – At 6-5 with the feet of James Brown, Bailey has a ton of upside coming out of the 15's, he moved as well as any frontcourt player I saw all weekend, got up and down the floor with an ease and polish and finished in and around the basket, also showed a solid handle taking off and going coast to coast early in the game with the Ducks, with his physical gifts he's sure to garner a ton of attention by Southeastern coaches really soon. 
Alex Perry (Tampa BayHawks (FL) 16U) – Our Florida Prep Hoops crew tipped me off to how good the BayHawks program was, and Perry exemplified that as much as anyone, like his many talented teammates Perry did a lot of things well – another 6-5 gazelle who also played up with the 17s, he was a A+ defender at the rim and drawing charges, he ran the floor and was a high percentage finisher, he put the ball on the floor with real flair and skill and finished with explosion, his exceptional hands make him a lethal post presence right around the basket but also make him a deft wing hybrid who can face you up and knock down the J, another big-time prospect from FL.
Tony Carpio Tony Carpio 6'8" | PF Providence Christian | 2022 State GA (Atlanta All-Stars 16U, Providence Christian) – Like his backcourt and future Providence teammate Chance Thacker
Chance Thacker 6'4" | SG Providence Christian | 2022 State GA , the 6-7 Carpio has really been making some tremendous improvement this summer, you see the offensive game developing each time out along with the confidence that comes with that, he's a good athlete, instinctive defender and already an exceptional rebounder so combining that with a more polished and rounded offensive approach will mean big things as he moves along, baby hooks, short turnarounds, facing up from 10-12 feet, they've all been on display and like all of this All-Stars group he is hitting a stride worth noting.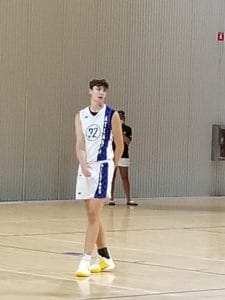 Jared Russo Jared Russo 6'9" | PF River Ridge | 2022 State GA (Atlanta All-Stars 16U, River Ridge) – Speaking of hitting a stride, it was evident that Russo is beginning to find his after coming back from injury when workouts resumed in early June, and some of what we all heard about from last winter was on display this weekend, loved seeing him get more assertive closer to the basket because we know he already has a deft touch from the mid-range, he also put the ball on the floor and got into the teeth of the defense looking for his own offense, with the return of his timing and legs you could see also see a confidence running the floor and catching off the break, with the kind of size and movement at 6-9 Russo's arsenal is deep, we often forget with young big men that at this stage of their lives they are clay still being molded, and we saw some of the talents that can take him from "statue to monument" before long.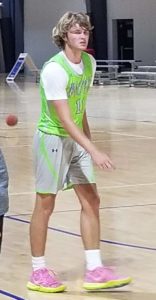 Max Hrdlicka
Max Hrdlicka 6'6" | SF Glynn Academy | 2021 State GA (Atlanta T-Wolves 17U, Glynn Academy) – It's approaching broken record territory when talking about virtually all the T-Wolves, and the 6-6 Hrdlicka leads the pack, against Team Speights he faced what was likely the best frontcourt talent he's seen yet this summer, and it did little to deter him from showing the talents we've seen for weeks now – an incredibly quick release on a deadeye jumper than runs all the way past the arc, a fast first step off the bounce and plenty of strength to finish in close, a smart defender both down in the block and out on the perimeter, and a better than average rebounder for a player more comfortable on the wing than the low post, anyone with a pulse above 50 has to have been impressed either in person or on the live stream from the weekend with the variety of skills he can bring to a D-1 level program.
Tony Green Jr (Team Speights (FL) 17U) – It was great having the Speights groups at A-Town seeing as some of ATL's marquee teams were not on hand, they brought with them a slew of talent, and Green did it from all over the floor, his movement is next level, his ability to use the bounce to explode, his lift off the floor was eye-opening, he showed deep range out to 22+, and he was a terror on the offensive glass following his own miss or someone else's, truly the full package, no discussion of the top 3 or 4 players from the weekend could reasonably exclude this high-major talent.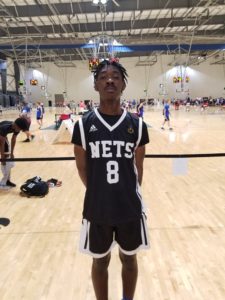 Zaylan Chaney
Zaylan Chaney 6'7" | SF Legacy Early College | 2022 State SC (Atlanta Nets 16U, Cass) – Chaney had one of the more thoroughly dominating frontcourt performances I saw all weekend, he was unstoppable in close but also showed his handle getting to the basket from well away, he was as good a rebounder as any big man I saw as he really understands position and how the ball comes off the rim, he's a terrificly instinctive shot-blocker too which is just innate, has a really good motor and when in a zone can be a monster handful at both ends, love the upside and high ceiling for this 6-7 junior to be.
Kai Simmons
Kai Simmons 6'8" | C St. Francis | 2021 State GA & Nate Gordon
Nate Gordon 6'7" | C Mt. Pisgah | 2021 State GA (HYPE Hawks 2021) – Simmons of St Francis and Gordon of Mt Pisgah both had excellent showings in the final nightcap Saturday against Star Ready (FL), Simmons is a highly active rebounder with great hands and polished post defender who can really run the floor, at 6-8 he's a lot to handle at the rim, Gordon too runs the floor really well at the same 6-8 and is an explosive finisher at the tin while he also showed off his defensive chops as a shot-blocker, both of these big men will see increased roles for their senior years and play on teams with the kind of exceptional guard play which will surely get them looks in great spots.