The Teams Atlantic (8-14, 58.8%): The Trojans had some really good moments last season, posting late-season wins over Denison-Schleswig and Harlan, but it was an up-and-down season for this group. A pair of double-figure scorers return in junior Colton Rasmussen…
The Teams
Atlantic (8-14, 58.8%): The Trojans had some really good moments last season, posting late-season wins over Denison-Schleswig and Harlan, but it was an up-and-down season for this group. A pair of double-figure scorers return in junior Colton Rasmussen Colton Rasmussen 6'3" | SF Atlantic | 2024 State IA (14.0, 38.1 3P%) and senior Carter Pellett (10.5). Rasmussen could lead the conference in scoring this season. He's a versatile three-level scorer who can get hot and carry this team offensively for stretches. Pellett is another solid shooting threat who can help stretch the floor, and senior role players Jackson McLaren (5.8), Caden Andersen (3.3), and Jayden Proehl (2.1) appear ready to step into bigger roles this season. Consistency will be key for this group this year. They had long losing streaks last season, but those flashes against D-S and Harlan are hard to ignore, especially with a pair of big scorers returning.
Clarinda (14-10, 45.6%): Both double-figure scorers from last year's team graduated, but the next three return in seniors Wyatt Schmitt (8.1), Tadyn Brown (6.8), and Isaac Jones (5.9), giving them some experienced pieces coming back. Brown is the team's best ball-handler and distributor, leading the team in assists last season, while Schmitt is a strong rebounder who can score inside and out. This team didn't shoot it well last season (25.4 3P%), but they were good on the offensive glass, pulling down 12.3 offensive boards a game, which gains some valuable extra possessions. They will need to rely on their defense to keep them in games this season, especially early on.
Creston (7-15, 72.3%): If you're looking for a team to make an unexpected leap up the league standings this season, take a look at the Panthers. Ten of their losses came by single digits last season, including seven by three or fewer points, and they bring back the top four scorers from that group. Senior wing Kyle Strider (9.9) led the team in scoring last season while juniors Cael Turner (8.6) and Tony Davidson
Tony Davidson 6'2" Des Moines Lincoln | 2024 IA (8.1), and senior Patrick Varner (7.0), are the other top returnees. Like Clarinda, Creston didn't shoot it well from the arc (27.5% as a team), but they found ways to step in games by taking care of the ball and playing solid defense. With the experience they have back, they should be able to turn some of those narrow losses into wins this season.
Denison-Schleswig (15-10, 75.1%): The top three scorers return from last year's 15-win team that reached the substate championship game. With senior guard Carson Seuntjens Carson Seuntjens 6'1" | PG Denison-Schleswig | 2023 State IA (14.2) and junior Luke Wiebers Luke Wiebers 6'1" | SG Denison-Schleswig | 2024 State IA (10.1) back, they'll have one of the best backcourts in the conference. Both Seuntjens and Wiebers are reliable ball-handlers and decision-makers who can play with or without the ball in their hands and score from all three levels. Junior big Lance Arkfeld (8.5) led the team in rebounding last season, and senior Jaxon Wessel (6.0) is a solid role player. This is a group that played a ton of close games last season with 13 of their 25 games decided by single digits. The experienced backcourt that they have will help them through those tight games and battling it out with Harlan at the top of the conference throughout the year.
Glenwood (10-11, 81.9%): The Rams lost 11 games last season, but eight of those losses were by single digits, so they were close to putting together a really good year. The top four scorers from that group return, led by the senior backcourt of Caden Johnson Caden Johnson 5'10" | PG Glenwood | 2023 State IA (18.7) and Zac Kelsey (9.2). Johnson, a quick 5-11 guard, led the team in scoring, assists, and steals last season. He thrives playing downhill and putting pressure on the defense, while Kelsey is the team's top shooting threat (36.8 3P%). Senior forward Logyn Eckheart (8.1, 8.0 rebounds) is a physical interior presence, and Kayden Anderson (6.8) provides some additional scoring on the wing. The Rams bring a lot back from a team that was really close last season, and if a few things break their way, they could push Harlan and Denison-Schleswig at the top of the league.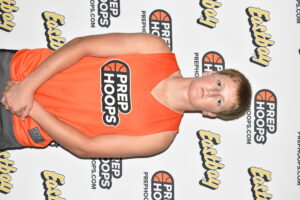 Harlan (16-7, 80.6%): Three double-figure scorers return to a team that was upset by Denison-Schleswig in the substate semifinals last season in seniors Jacob Birch Jacob Birch 6'1" | SF Harlan | 2023 State IA (15.5), Bradley Curren
Bradley Curren 5'11" | PG Harlan | 2023 State IA (13.6), and Aidan Hall Aidan Hall 6'2" | SF Harlan | 2023 State IA (11.5). That trio will be the best in the conference and should lead the Cyclones back to the top of the league. Hall is an athletic freak who will play college football at Iowa. He provides toughness, athleticism, and rebounding, while Curren and Birch are both strong perimeter scoring threats. Birch knocked down 41% of his 3-point attempts last season and Curren is a good enough shooter that it needs to be respected, but he's at his best playing downhill. The Cyclones got off to a strong 11-0 start last season then stumbled a bit down the stretch, but with 80% of their scoring back and Mitch Osborn at the helm, they're the team to beat in the conference.
Kuemper Catholic (12-11, 73.0%): Three double-figure scorers return for a Knights team that was very young last year but got better as the year progressed. Before the holiday break, they posted a -2.7 point differential, and that number was +5.0 after the break, after they had some additional practice time and time to get acclimated to major varsity minutes. Senior wing Dawson Gifford
Dawson Gifford 6'0" | SG Kuemper Catholic | 2023 State IA (11.2) and juniors Michael Kasperbauer
Michael Kasperbauer 5'11" | PG Kuemper Catholic | 2024 State IA (10.7) and DJ Vonnahme (10.2) are the three major returning scorers for this group. Kasperbauer is the team's best shooter, Gifford is a slashing wing who gets to the rim, and Vonnahme is an undersized but physical interior presence who finishes well around the rim and rebounds. The Knights also bring back four other pieces who averaged at least 3.3 points a game last year, giving them some solid depth. Sophomore guard Carson Kanne (5.6, 2.6 assists) was good as a freshman and could be the X-factor for the Knights this year.
Lewis Central (13-8, 22.4%): The Titans were already slated to lose four of their top six scorers from last year's team, then was dealt another blow when leading scorer Cole Arnold Cole Arnold 6'2" | SF Council Bluffs Lincoln | 2024 State IA transferred to Abraham Lincoln. That leaves senior forward Colby Souther (8.4) as the top returnee, while junior guard Curtis Witte (3.1) is the only other returnee with any significant varsity experience. They're going to have a lot of production to replace, but this is generally a pretty strong athletic program that should remain competitive in the middle of the league.
Red Oak (18-8, 53.9%): Red Oak was a somewhat surprising 2A state tournament team last year with the junior tandem of Max DeVries Max DeVries 6'2" | SG Red Oak | 2024 State IA (15.6) and Hunter Gilleland (11.6) leading them to Des Moines. DeVries is a three-level scorer on the wing who can get to the bucket for finishes, while Gilleland is the team's top ball-handler and decision-maker, dishing out a team-high 3.5 assists a game last season. They'll pair to give the Tigers a strong backcourt, which will be key for this group, especially early on as they will need to replace the other four pieces from their rotation. With DeVries and Gilleland back, they should be competitive.
Shenandoah (3-19, 52.7%): The Mustangs lose their lone double-figure scorer from last season but bring back the next three options in Nolan Mount (8.0), Blake Herold (7.7, 7.6 rebounds), and Camden Lorimor (3.7). This is a group that struggled to score consistently last season, averaging just 37.3 points a game, and they'll need to rely on the defense if they are going to be competitive.
St. Albert (12-12, 31.7%): Four of the top five scorers from last year's trip graduated, leaving senior guard Colin Lillie (13.5) as the lone returnee who averaged more than 3.8 points a game. He is a good place to start, however, a solid shooting threat and reliable ball-handler who should have the ball in his hands a lot. Junior Jaxson Lehnen (3.8) is the only other returnee who saw significant playing time last season. It will likely be a tough season for the Falcons in league play, but they'll be heard of come 1A postseason play after competing against larger schools all season.
Projected Order of Finish
1. Harlan
2. Denison-Schleswig
3. Kuemper Catholic
4. Glenwood
5. Red Oak
6. Atlantic
7. Creston
8. Clarinda
9. Lewis Central
10. St. Albert
11. Shenandoah
Analysis: Harlan should be considered the team to beat in the league this season, but they aren't invincible. D-S, Kuemper, and Glenwood are all quality teams that can push the Cyclones at the top, and Red Oak, Atlantic, and Creston will each upset a few teams along the way this year.
Preseason Player of the Year
2023 Jacob Birch Jacob Birch 6'1" | SF Harlan | 2023 State IA , Harlan: Birch led the Cyclones in scoring last season and Harlan was pretty much in control of the league from start-to-finish. An efficient wing scorer who posted 50-41 shooting splits last season, he gets to the rim routinely and has turned himself into a really good shooter.
Players to Watch
2023 Jacob Birch Jacob Birch 6'1" | SF Harlan | 2023 State IA , Harlan
2023 Bradley Curren
Bradley Curren 5'11" | PG Harlan | 2023 State IA , Harlan
2023 Aidan Hall Aidan Hall 6'2" | SF Harlan | 2023 State IA , Harlan
2023 Caden Johnson Caden Johnson 5'10" | PG Glenwood | 2023 State IA , Glenwood
2023 Zac Kelsey, Glenwood
2024 Max DeVries Max DeVries 6'2" | SG Red Oak | 2024 State IA , Red Oak
2024 Hunter Gilleland, Red Oak
2023 Carson Seuntjens Carson Seuntjens 6'1" | PG Denison-Schleswig | 2023 State IA , Denison-Schleswig
2024 Luke Wiebers Luke Wiebers 6'1" | SG Denison-Schleswig | 2024 State IA , Denison-Schleswig
2024 Lance Arkfeld, Denison-Schleswig
2024 Colton Rasmussen Colton Rasmussen 6'3" | SF Atlantic | 2024 State IA , Atlantic
2023 Carter Pellett, Atlantic
2023 Colin Lillie, St. Albert
2023 Dawson Gifford
Dawson Gifford 6'0" | SG Kuemper Catholic | 2023 State IA , Kuemper Catholic
2024 Michael Kasperbauer
Michael Kasperbauer 5'11" | PG Kuemper Catholic | 2024 State IA , Kuemper Catholic
2024 DJ Vonnahme, Kuemper Catholic
2023 Kyle Strider, Creston
2023 Colby Souther, Lewis Central
2023 Wyatt Schmitt, Clarinda