The #PHCircuit did another outstanding job gathering teams in Tampa, FL, for #PHProvingGrounds. Teams and players came from across the southeast to prove themselves. We had Top Performers proving themselves throughout the weekend, and here is a look at a…
The #PHCircuit did another outstanding job gathering teams in Tampa, FL, for #PHProvingGrounds. Teams and players came from across the southeast to prove themselves. We had Top Performers proving themselves throughout the weekend, and here is a look at a few…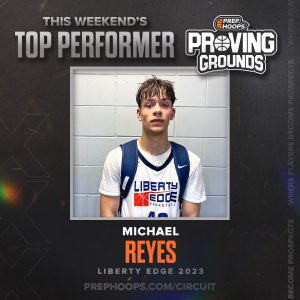 Michael Reyes (6'4/CG/2023)
Team: Liberty Edge
Instagram: mikeyreyes_
Twitter: @MikeyReyesss
Michael was one of the most impressive and complete guards I saw throughout the entire weekend at #PHProvingGrounds. He served it up to defenses however they wanted it. If they wanted it from behind the arc, he was dishing it out by draining the trey ball. If they wanted the mid-range pull-up, he was dishing it out by pulling it up with ease. If they wanted it at the cup, he dished it out by getting to the cup and finishing thru contact.
Michael is an offensive juggernaut as he put on an offensive show against G1 Sports by dropping, according to the scoresheet 28pts.
He has a lot of talent, and he put it on full display, all while being very efficient. He produced at a high level, and his stock definitely increased this weekend.
Offers: Michael doesn't have any offers right now, but he has a lot of interest coming in from many directions. Don't pass on this talent.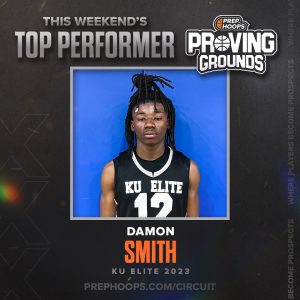 Damon Maurice Smith (5'10/SG/2022)
Team: Karolina Underrated
Instagram: damon_dash9
Twitter: N/A
Damon was one of the few 2022 kids that were out this weekend trying to expand the reach of their games in hopes of getting to the next level. D showed the maturity in his game and his PG IQ. He handles the rock well and is blistering fast with the rock in the open court. He showed that he could get to the rim whenever he set his mind to it.
He has good court vision and made several needle passes throughout the weekend, leaving those watching in amazement.
He is quick off his feet, which caught rim protectors by surprise and disrupted their shot-blocking attempt. At this point with Damon, it is all about getting seen by the right program needing a floor general that understands the game and is unselfish in his approach.
Offers: D has interest coming his way but nothing solid, but this could change within the months.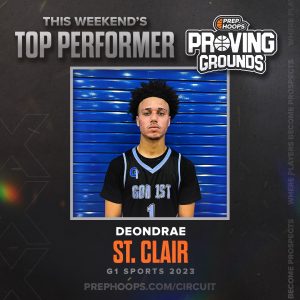 Deondrae St. Clair (6'2/CG/2022)
Team: G1 Sports
Instagram: populah.dre
Twitter: @Deondraest
Deondrae was one of the 2022 players looking to increase his stock this weekend. He was efficient and consistent throughout the weekend, and you can possibly contribute that to his senior status. He was clearly the first option for his squad, and he balanced the load between scoring and facilitating.
He is a playmaker that makes the game easy for those around him.
With so many eyes having to stay on D, he uses that to set up teammates for easy scoring opportunities. A program looking for a combo guard with a lot of firepower needs to take a look at Deondrae.
Offers: D has been shown some interest from several programs but currently has no offers.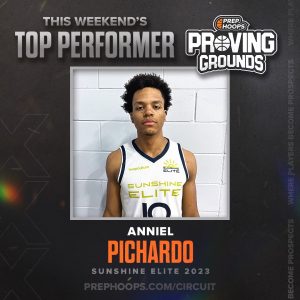 Anniel Pichardo (6'2/CG/2023)
Team: Sunshine Elite
Instagram: bucketz_brownie
Twitter: @BucketzBrownie
AP got it done at all levels. He took advantage of the stage and helped a re-tooled Sunshine team continue on their trajectory of becoming one of the up-and-coming programs in the southeast.
He has a good overall game as he does a lot on both ends of the court to impact the game.
He is a skilled scoring guard, but one thing that separates AP is his poise and pace. He plays under control, and even though he is a gifted scorer, his ability to run the show may at times be his most vital attribute.
Offers: He currently holds no offers.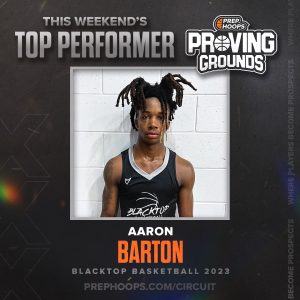 Aaron Barton (6'2/PG/2023)
Team: Blacktop Basketball 2023
Instagram: aaronbarton.1
Twitter: @aaronbarton370
AB's end-to-end speed was probably the fastest of all the guards at #ProvingGround. He could get from one end of the court to the cup in a blink of the eye. He is listed as a PG but make no mistake about it; he is a score-first PG. He was one of the best iso scorers I saw, and he is hard to stop with just one defender. I absolutely loved Aaron's game because he never let defenses off the hook by just settling.
He put defenders in uncomfortable situations time and time again.
Defenders had to respect every aspect of AB's game which left them at times looking clueless about how to stop him. He dropped 22pts in a match-up against Palm Beach All-Star Flames. He has positional size and is a PG worth considering after some film study on him.
Offers: He did not list any offers on the questionnaire.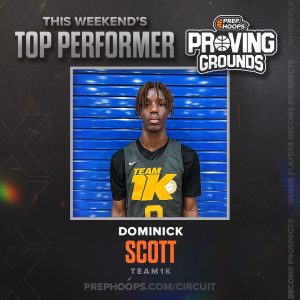 Dominick Scott (6'5/SF/2023)
Team: Team1k
Instagram: Coleworlddomo
Twitter: @Domoscott5
Dominick was one of the most athletic, versatile, and physical players on both ends of the court. Whether he was posting smaller guards or slashing through the gaps and finishing above the rim, he let his complete arsenal be on display.
He has good positional size and can stretch the floor off the dribble.
As much of a threat as Dominick is on the offensive end of the court, he is a joy to watch on defense as he communicates, has good weakside and help-side defense, contests shots without fouling, and even showed his ability to sit down on the perimeter and guard in space. Dominick is not a mystery, but he is a puzzle when looking at his position at the next level. When you see his game, even though you may spend time thinking about his position at the next level, don't let it get in the way of knowing that he can be a key piece to a program's puzzle.
Offers: He currently holds no offers.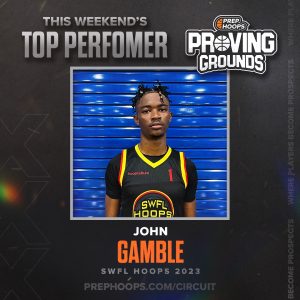 John Gamble (6'6/SG/2023)
Team: Swfl Hoops
Instagram:_jaygamble_
Twitter: @_jaygamble_
John was electrifying throughout the weekend, scoring the rock. He was one of the best when it came to knocking down the trey ball. Against Pro Holmes Elite Navy, he finished with 20pts (18 coming from behind the arc). Against Pro Holmes Elite Red, he finished with 19pts. When John is not raining threes as he was against Pro Holmes Elite Navy, he penetrates off the bounce and uses his length to elevate in the paint and finish. He took some difficult shots and made some difficult shots. Would have loved to see some easier, cleaner, and higher value looks, but he showed his ability to make buckets.
There was no place on the offensive end that was safe from John being able to score the rock in the area.
His 6'6 size and length helps John to be a versatile defender as he guarded at some point every position throughout the weekend. I often ask myself three questions before answering college coaches about a kid, and those questions are 1. Can this player help their team become good? 2. Can this player help their team become great? 3. How does this player affect winning? John definitely can help a team become good. His versatility on both ends of the court and his ability to knock down the trey ball definitely effects winning.
Offers: He did not list any offers on the questionnaire.
Stay tuned as more is coming from #PHProvingGrounds