INDIANAPOLIS —  Breaking down the top performances from Friday's action at Nike EYBL Session 2. Elijah Gertrude – 2023 – SG – City Rocks Gertrude made a huge impact for City Rocks, particularly in the first half, during Friday's…
INDIANAPOLIS —  Breaking down the top performances from Friday's action at Nike EYBL Session 2.
Elijah Gertrude – 2023 – SG – City Rocks
Gertrude made a huge impact for City Rocks, particularly in the first half, during Friday's win over  Mokan. The 6-foot-3 guard brought big time energy to the floor and made a ton of things happen. Finishing with 10 points, seven rebounds, two assists,  and a block, Gertrude ignited his team. There was just never an off switch for Gertrude who often turned defense into offense by just being a pest and getting after people. A plus athlete who can also fly in the open floor, Gertrude got coast-to-coast with the basketball and  scored easily at the rim. Not a ton of mid-major heat on Gertrude, which is surprising. He currently holds offers from St. Peter's and Siena.
Chris Johnson
Chris Johnson 6'6" | CG Montverde Academy | 2023 State #27 Nation FL – 2023 – CG  – JL3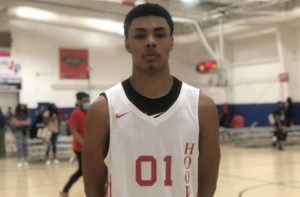 This kid is the real deal.  At 6-foot-5, Johnson jumps out right away with outstanding positional size for a lead guard. Then you see his explosive offensive arsenal combined with plus floor vision and feel for the game, and it's obvious Johnson has a chance to play the game of basketball for a long time. A consensus top 50 prospect nationally, could see Johnson being closer to the top 25 range. A skilled athlete, Johnson can get any shot he wants for the most part and has a deadly face-up game from 3-point range, able to rise and fire while hitting shots with a hand in his face. When he puts the ball on the deck, love how he can anticipate how a defense is going to react and always seems one step ahead. At times, it looks like Johnson is in trouble, but can make some incredible crosscourt passes at full speed and off-balance. Love the finishing package here too, especially his low-to-high scoop with supreme touch over the shot blockers.
John Kinziger
John Kinziger 6'0" | CG De Pere | 2023 State #257 Nation WI   – 2023 – G – Team Herro
Kinziger looked  really good in a loss to Team Thad. The De Pere standout had 14 points on 5-of-10 shooting.  Love his ability to get lost in screens. Kinziger is a sniper that just doesn't stop moving. He plays a lot on the ball as well  with Team Herro and is quite shifty, utilizing change of pace to free himself for triples. There's just a noticeable suddenness with Kinziger who can stop and start on a dime. Kinziger did it all on Friday as well, dishing out six assists and grabbing eight rebounds. A couple mid-major programs have offered thus far. Kinziger (5-11) has slowly proved he can play at that level and be a force as well.
Sonny Wilson Sonny Wilson 6'0" | PG UD Jesuit | 2023 State #189 Nation MI – 2023 – PG – The Family
Wilson took over the fourth quarter during an overtime loss to JL3. Putting The Family on his back, it looked like for a while that Wilson would lead his team to a come from behind victory. Wilson has some incredible body control. He can blow by defenders and then subtly suspend his momentum, which leads to outstanding touch on his floater.  When defenders stick to his hip, Wilson hit them with a start and stop fade away that was also very effective. The 6-foot guard is a two-way player. Using his length and lateral quickness, Wilson has the tools and instincts to be a plus defender at the next level as well. There's more than a handful of mid-major programs that have already offered, but wouldn't be shocked to see some high major schools jump into the mix. Wilson finished with 19 points, 11 rebounds, and two assists in the loss.
Gus Yalden – 2023 – F/C – City Rocks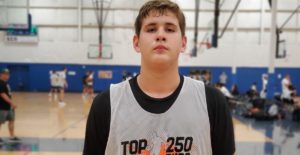 Yalden posted 18 points and seven rebounds in a win over  Mokan. Just love the all-around game. There's a reason they call him the "Big Fundamental." He does just about everything right whether it's establishing post position, setting good screens, hitting the offensive glass, making the right passes, etc.  The 6-foot-9 forward help the floor spacing so well with his pick n' pop and 3-point shooting ability. Opponents need to pick their poison in terms of whether or not to help off cutters or stick to Yalden and take away the flare. A big frame that's mobile, Yalden has elite post footwork. 1-on-1 on the block is the most difficult thing to defend in the game of basketball. With the way Yalden uses his size and can score in an array of different ways, I think he's going to be a damn good college player, even though he's kind of an old school prospect.