[player_tooltip player_id="1379478" first="Jaden" last="Jauregui"] from Strath Haven. Photo: James Quinn (BQPictures.com) On Wednesday we published our updated Class of 2023 prospect rankings and by now you are familiar with the names who have remained at the top list for a…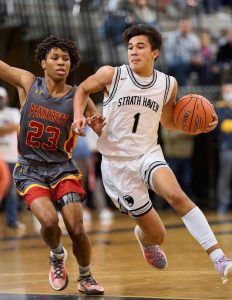 On Wednesday we published our updated Class of 2023 prospect rankings and by now you are familiar with the names who have remained at the top list for a year or more. Names like five-star recruits Justin Edwards
Justin Edwards 6'6" | PF Imhotep Charter | 2023 State #3 Nation PA , Rahmir Barno
Rahmir Barno 5'10" | CG Imhotep Charter | 2023 State #223 Nation PA and Rodney Gallagher
Rodney Gallagher 6'0" | CG Laurel Highlands | 2023 State #176 Nation PA .
So today we will review the Pennsylvania Class of 2023 rankings and reveal six players who used the 2021 "fall ball" events as well as the 2021-22 high school season to break into our ranking for the first time.
Below is a review of six southeastern Pennsylvania 2023 prospects who made their rankings debut in our latest update. 
117… Jaden Jauregui
Jaden Jauregui 6'2" | SG Strath Haven | 2023 State PA – 6'2'' / Strath Haven / Philly Pride Gold / Combo Guard: Jauregui is a lefty who can get buckets in multiple ways and from all over the court. On the perimeter, he can splash home threes of all varieties or attack the rim for a crafty finish. Additionally, Jauregui (16.7 ppg. & 7 6.3 rpg.) can use his quickness and dribbles to get his mid-range spots. Because he is taller and more physical than most guards, Jauregui is also a decent interior threat. He will dive to the blocks, establish position, and score off a post-up. In transition Jauregui is a downhill style of guard who can go coast-to-coast. Jauregui's 2021-22 season was highlighted by a 27-point effort (3 threes) vs. Marple Newtown, along with a 22 & 10 double-double against Interboro.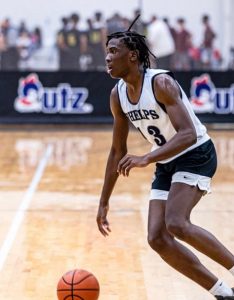 177… Malcolm Wrisby-Jefferson Malcolm Wrisby-Jefferson 6'4" | CG Phelps School | 2023 State PA – 6'4" / Phelps School / Boys2Men / Combo Guard: Wrisby-Jefferson (7 ppg. & 3 rpg.) is a prospect with tremendous potential. His size, length and athleticism allow him to play a Swiss army knife type of role for Phelps. He can score at all three levels. Plus, he can handle the ball well enough to initiate a half-court offense or assist in breaking a full court press. Finally, his high IQ, unselfish mind set, and court vision make Wrisby-Jefferson a reliable distributor. Defensively Wrisby-Jefferson is extremely versatile as he can guard 1-5. He can also provide weak side shot blocking. In short, Wrisby-Jefferson a plus player on both ends of the floor.
199… Nadir Myers
Nadir Myers 6'2" | PG Upper Darby | 2023 State PA – 6'2" / Upper Darby / Point Guard: This wiry lefty is a score first point guard whose main weapon is the three-ball. Myers's jump shot features deep range as well as a quick trigger so defenders need to pick him up at half court. He notched multiple games of 5 or more treys this season. Myers possesses solid basketball instincts and court vision as well. So, when double teamed, he will move the ball to an open teammate. This season Myers lit up the scoreboard for 28 points (6 threes) vs. Garnet Valley; 26 points (5 triples) against Haverford and 25 points against Kennett.
220… Josh Cameron Josh Cameron 6'7" | SF Hill School | 2023 State PA – 6'7'' / Hill School / Riverside Hawks / Wing: Hill's frontcourt rotation features a number of DI prospects, and during the 2021-22 season Cameron added his name on that list. Cameron's size (6'7" & 215 lbs.) quickness and agility enables him to be an effective rebounder at both ends. Offensively, Cameron catches opponents by surprise because he frequently plays like a guard, handling the ball and shooting threes. When he is out on the perimeter, Cameron will use a nice head & ball fake, followed by a slide dribble to create space for a triple. Cameron scored 11pts (2 threes) vs. national power Westtown School and recorded 7 points, 9 rebounds and 5 assists vs. Lawrenceville School (NJ). He holds an offer from Bryant.
265… Connor Shanahan Connor Shanahan 5'11" | SG Downingtown East | 2023 State PA – 5'11" / Downingtown East / Gibbs Elite / Shooting Guard: Shanahan made headlines back in January when he dropped a school record 40-points (Only 2 threes!!) on Oxford. But hoops heads know this prospect was an off the dribble scoring phenom long before that impressive performance. Shanahan (21 ppg. on 44% shooting from the field) excels at beating pressure with his handles, then attacking the rim, and finishing in creative ways. He can also use the bounce to generate opportunities for his teammates. Shanahan will sprinkle in the occasional three ball to keep defenses honest. Other jaw dropping performances by Shanahan this season include games of 28 points vs. Conestoga as well as 21 points (Plus the game winning, overtime three-ball.) against Avon Grove.
304… Cam Chilson
Cam Chilson 6'0" | SG Methacton | 2023 State PA – 6'0" / Methacton / East Coast Power / Shooting Guard: Chilson is a speedy, extremely athletic, two-way prospect who will become the No. 1 option at Methacton next year. From what we have witnessed this junior has the scoring potential to fill that role. This season Chilson (7 ppg.) knocked down threes and operated in pick and roll action as the ball handler. His non-stop, fast paced off ball movement makes Chilson difficult to guard. He possesses excellent offensive instincts, and his season high scoring output was 18 points vs. Norristown (eventual District 1-6A finalist). On defense, his quick hands and anticipation skills produce numerous steals or deflections.