2022 Eric Mulder Eric Mulder 6'8" | PF Pella Christian | 2022 State IA (Pella Christian) It's easy to see why IPFW extended an offer to Mulder, and quite frankly, they may end up getting a major steal in the…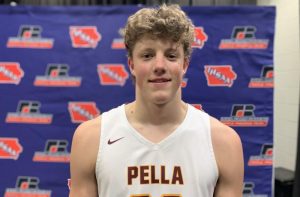 2022 Eric Mulder
Eric Mulder 6'8" | PF Pella Christian | 2022 State IA (Pella Christian)
It's easy to see why IPFW extended an offer to Mulder, and quite frankly, they may end up getting a major steal in the 6-9 big man. He's an incredibly fluid athlete for a young man his size, running the floor really well, and he has good hands and body control around the rim. His mobility and length make him a versatile defender and while he struggled at times to finish in their loss to Central Lyon, he displayed excellent footwork and a number of his shots were just an inch off. He finished with 14 points, 14 rebounds, 4 blocks, and 2 steals. 
2022 Copper Spiess (Central Lyon)
With Pella Christian looking to take Gerleman and Lutmer out of the game, the Lions needed someone to step up, and Spiess was one of the players who stepped up in a major way, finishing with 15 points on 6-8 shooting along with 3 assists. The 6-0 forward is a role player but he played really well in their semifinal win, taking advantage of the opportunities that came, finishing hard around the rim. 
2023 Andrew Austin
Andrew Austin 6'6" | PF Central Lyon | 2023 State IA (Central Lyon)
Another player who played really well while Lutmer and Gerleman were being taken away, Austin had 8 points and 9 rebounds in the Lions win, going 3-5 from the floor and 2-2 from the line. He also played really well defensively, getting a few shots at Mulder and contributing to his poor shooting night.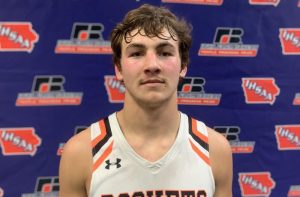 2022 Landyn Van Kekerix
Landyn Van Kekerix 5'11" | SG Rock Valley | 2022 State IA (Rock Valley)
The Iowa football commit battled foul trouble in the Rockets quarterfinal win, but was able to stay on the floor in the semifinals, finishing with 11 points, 9 rebounds, 2 steals, and a block. He's a fantastic athlete who played really well operating out of the mid-post/elbow area, keeping the ball moving, racking up some hockey assists, and showing his ability to attack the rim. He's a fantastic athlete who finishes with authority in transition.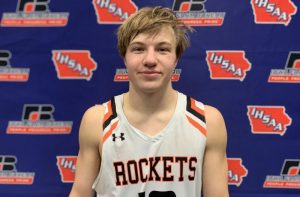 2022 Bryson Van Grootheest
Bryson Van Grootheest 6'0" | CG Rock Valley | 2022 State IA (Rock Valley)
Van Grootheest continued his stellar week at the state tournament by scoring a game-high 17 points on efficient 7-11 shooting in the Rockets win over Monticello. He's a quick-twitch athlete with a burst that makes him difficult to defend at this level. He also dished out 5 assists and had 4 steals, making his presence known on both ends of the floor.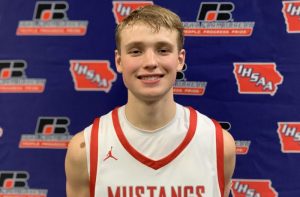 2022 Cole Glasgow
Cole Glasgow 6'3" | SG Dallas Center-Grimes | 2022 State IA (Dallas Center-Grimes)
The future Kansas City Kangaroo suffered an ankle injury in the Mustangs quarterfinal win but showed no ill effects of it in their semifinal win over Winterset. A bouncy 6-2 guard, he was excellent operating out of the mid-post, catching and making good decisions throughout the game. He can put it on the floor from there and get to the bucket, where he's a great finisher, and he showed excellent court vision, dishing out 5 assists to go with 13 points and 8 rebounds.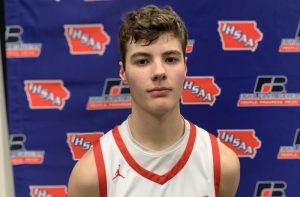 2022 Jackson Jones
Jackson Jones 6'3" | SG Dallas Center Grimes | 2022 IA (Dallas Center-Grimes)
Jones has been one of the most consistent performers this week, provided some much needed shooting for the Mustangs in both of their games so far. He had a game-high 19 points on 6-10 shooting, knocking down four more 3-pointers after burying four of them in the quarterfinals as well. A lanky 6-2 wing, he has a picturesque shooting stroke with a tight elbow, quick release, and pretty follow through.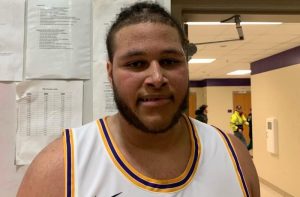 2022 Shawn Gilbert
Shawn Gilbert 6'7" | PF Central DeWitt | 2022 State IA (Central DeWitt)
Another player who sustained an injury in the quarterfinals but bounced back in a big way was Gilbert. The 6-9 big man suffered an apparent knee injury against Decorah and his status was very much in question heading into their semifinal against Assumption, but he played, and he was dominant. Assumption had no answer for him as he finished with 32 points on 11-14 shooting (1-2 3P, 9-11 FT), 5 rebounds, 4 assists, and 2 blocks. He has soft hands, excellent footwork and touch, and he even showed a bit of a face-up game, knocking down a smooth 3-pointer and a nice mid-range jumper. He sees the floor really well and is a very willing passer when the defense collapses on him.
2022 Gibson McEwen
Gibson McEwen 6'1" | SG Central DeWitt | 2022 State IA (Central DeWitt)
The other standout for the Sabers this week has been McEwen, who had 16 points on 6-7 shooting (2-3 3P, 4-4 FT) in their blowout win over Assumption. He's a quick guard who can get to the paint off the dribble, and he moves well when he's playing off the ball.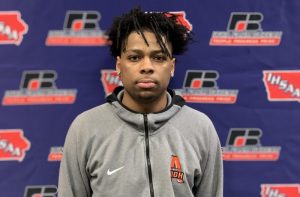 2022 Trevion Labeaux
Trevion Labeaux 6'3" | SF Ames | 2022 State IA (Ames)
A bouncy 6-4 forward, LaBeaux was dominant scoring inside the paint for the Little Cyclones in their win over Kennedy, finishing with 18 points on 9-11 shooting to go with 7 rebounds. He runs the floor extremely well and has good hands and touch around the bucket, and he's also armed with one of the fastest second jumps in the state, getting up a second time before anyone else to grab rebounds. In the second half, he showed the ability to catch the ball in the high post or on the elbow, put the ball on the floor and get to the rim for finishes. 
2022 Gabe Burkle Gabe Burkle 6'7" | PF Prairie | 2022 State IA (Prairie)
The future Iowa State tight end was really good in his final game as a Hawk, scoring 14 points on 5-10 shooting (4-5 FT) to go with 4 rebounds, 2 assists, and a steal. He's a really good athlete who is a decisive decision-maker when he catches the ball on the block, quickly deciding which direction he is going with his post move and catching the defense off guard.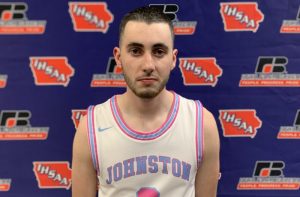 2022 Masen Ryan
Masen Ryan 6'3" | SF Johnston | 2022 State IA (Johnston)
Ryan is a 6-0 sharpshooting guard who was stellar for the Dragons, going 5-6 from behind the arc en route to 18 points. He moves really well off the ball, doing a good job of utilizing off-ball screens to find space in the defense to get his shot off, and he has a lightning-quick release off the catch. His 3-pointer late in regulation to send the game to overtime is the reason that Johnston is playing on Friday night.