Most outstanding player: 2022 Shawn Gilbert Shawn Gilbert 6'7" | PF Central DeWitt | 2022 State IA (Central DeWitt) Stats: 23.7 points, 7.3 rebounds, 3.3 assists, 1.0 blocks, 61.9 FG%, 57.1 3P%, 78.9 FT% The young man affectionately known as…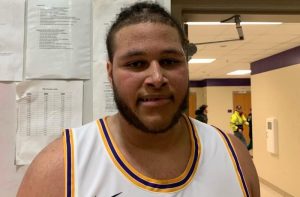 Most outstanding player: 2022 Shawn Gilbert
Shawn Gilbert 6'7" | PF Central DeWitt | 2022 State IA (Central DeWitt)
Stats: 23.7 points, 7.3 rebounds, 3.3 assists, 1.0 blocks, 61.9 FG%, 57.1 3P%, 78.9 FT%
The young man affectionately known as "Big Shawn" in northeast Iowa showed everyone around the state just how dominant a presence he can be, nearly leading the Sabers to the 3A state title. He shook off a scary looking knee injury in the quarterfinals to absolutely dominate Assumption in the semifinals, and then took over late in the championship game to nearly bring Central DeWitt all the way back from a 12-point deficit. He scores from everywhere, is a gifted passer, and good rebounder.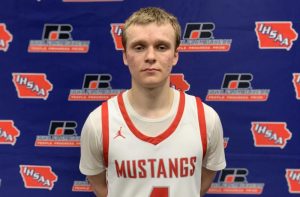 2022 Jacob Runyan
Jacob Runyan 5'9" | PG Dallas Center-Grimes | 2022 State IA (Dallas Center-Grimes)
Stats: 14.0 points, 1.0 rebounds, 5.3 assists, 61.5 FG%, 54.5 3P%, 66.7 FT%
If it hadn't been for Runyan's Herculean effort in the championship game, it would've been Central DeWitt taking home the 3A title. Runyan was exceptional in that game, scoring 31 points on 12-16 shooting, and his ball-handling and quickness was too much for the Sabers to handle, as he was able to routinely slice through the defense and get to the bucket, and he also showed off incredible range. His ability to get others involved was on full display in their quarterfinal win, finishing with a 10-point, 10-assist double-double.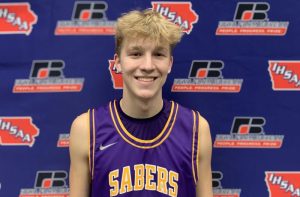 2022 Gibson McEwen
Gibson McEwen 6'1" | SG Central DeWitt | 2022 State IA (Central DeWitt)
Stats: 14.7 points, 2.7 rebounds, 1.0 assists, 2.0 steals, 59.1 FG%, 50.0 3P%, 93.8 FT%
The other big piece for the Sabers all week was McEwen, who showed his ability to get to the bucket routinely, which is a major reason he was so efficient throughout the week. He was able to get to the free-throw line a ton and shot nearly 94% on his attempts from the charity stripe. He and Gilbert play extremely well together and nearly brought home a state title.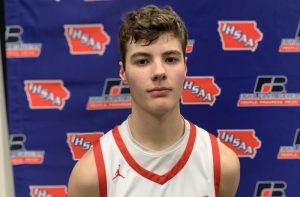 2022 Jackson Jones
Jackson Jones 6'3" | SG Dallas Center Grimes | 2022 IA (Dallas Center-Grimes)
Stats: 13.0 points, 2.0 rebounds, 2.0 assists, 51.9 FG%, 42.1 3P%
Jones was excellent in the first two rounds for the Mustangs, helping lead them to the 3A state title. A 6-3 sharpshooting wing, he moves really well off the ball and has a quick, fluid release on his jumper. He was nearly automatic from behind the arc and played strong team defense throughout the week.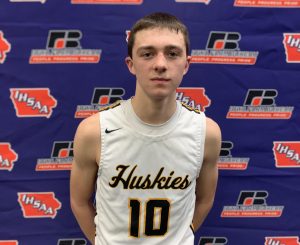 2023 Brayden Dinkla
Brayden Dinkla 6'0" | PG Winterset | 2023 State IA (Winterset)
Stats: 17.5 points, 5.5 rebounds, 4.5 assists, 3.5 steals, 46.4 FG%, 69.2 FT%
Dinkla has stuffed the stat sheet all year, and did so again in the Huskies' two games at the state tournament, but he was especially great in their overtime quarterfinal win over Marion, when he had 26 points, 6 rebounds, 5 assists, and 4 steals. He nearly single-handedly willed them to that win, routinely attacking the bucket and making big shot after big shot. 
Second Team
2022 Cole Glasgow
Cole Glasgow 6'3" | SG Dallas Center-Grimes | 2022 State IA (Dallas Center-Grimes)
2022 Bo Huston
Bo Huston 5'10" | SG Dallas Center-Grimes | 2022 State IA (Dallas Center-Grimes)
2025 Ryan Watters (Central DeWitt)
2022 Levi Gurwell Levi Gurwell 6'0" | SG Winterset | 2022 State IA (Winterset)
2023 Brayson Laube
Brayson Laube 6'2" | PG Marion | 2023 State IA (Marion)
Honorable mentions: 2023 Alex Mota Alex Mota 6'1" | SG Marion | 2023 State IA (Marion); 2022 Nathan Avery
Nathan Avery 6'3" | SF Winterset | 2022 State IA (Winterset); 2024 Treyton McCain
Treyton McCain 6'1" | PG Decorah | 2024 State IA (Decorah); 2022 Noah Mack
Noah Mack 6'0" | SG Assumption | 2022 State IA (Assumption); 2023 Luke Klostermann (Assumption); 2022 Ben Kuehnast (Humboldt); 2023 Charlie McDonald Charlie McDonald 6'2" | SF Winterset | 2023 State IA (Winterset)