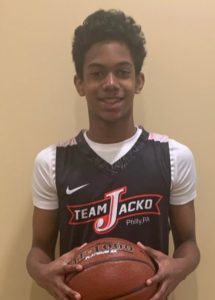 Prep Hoops Pennsylvania recently released our rankings for the Top 100 players in the class of 2025. As with every year, we are excited to welcome all the freshman to the world of high school basketball. This has the potential to be a special group to watch over the next four years.
Earlier this week we analyzed the skill sets of players in the Top 10 of the 2025 prospect rankings.
Today we'll give you six southeastern Pennsylvania rising freshman, from the outside the Top 10 of our 2025 rankings, whose names you need to know.
Zane Conlan – 6'4'' / Devon Prep / Wing: A long and muscular (180 lbs.) 2025 prospect, Conlan is extremely tough and is not afraid to mix it up on the interior with older, bigger, more accomplished players. Conlan has displayed range on his jumper. Additionally, he has great hands which allow him to smoothly execute catch and shoot jumpers or receive the the ball in traffic and then finish strong. Word out of Devon Prep is that Conlan could crack the starting lineup at some point in the 2021-22 season.
Taig McErlane Taig McErlane 6'0" | CG Malvern Prep | 2025 State PA – 5'11″ / St. Joe's Prep / Combo Guard: A physical style guard, McErlain is also blessed with excellent speed, which makes him a dual threat and difficult to defend. In the half court he can muscle past a defender on his way to the mid-range or the rim. In transition he can simply beat defenders down the floor and lay the ball in for two points. On the grassroots scene McErlain suits up for Prep Select.
Jaron McKie
Jaron McKie 6'1" | CG St. Joseph's Prep | 2025 State PA – 6'3″ / St. Joe's Prep / Combo Guard: McKie is a high level scorer who can run as a point man or shooting guard. A long and fluid athlete, he excels on the fast break and can finish through contact. McKie has already had an impact with the SJP varsity squad as he scored 13 points in a win over Chester (PA) at the Philly HS Live (Session I) event. In the spring/summer you can find McKie running with Team Jacko.
Jacob Meachem
Jacob Meachem 5'8" | PG Hill School | 2025 State PA – 5'8'' / Hill School / Point Guard: If you have seen Meachem's highlights all over the world wide web, then you know he is a slick lead guard who uses his deep bag of handling tricks to create scoring opportunities for himself and others. He is constantly in attack mode, but rarely out of control. Meachem can also shoot the jumper from multiple spots on the floor. Meachem plays for K-Low Elite on the grassroots circuit.
Micah Waters Micah Waters 5'8" | PG West Catholic | 2025 State PA – 5'8″ / West Catholic / Point Guard: Waters is a bit undersize at the moment, but he is extremely skilled and there is no limit to what this 2025 prospect can achieve. He can score off the bounce and is very difficult to stop in one on one dribble drives. Waters is a very good passer and will not hesitate to move the rock to an open teammate. He owns a developing jump shot, but has shown signs that he can knock down midrange Js and the occasional 3-ball. Waters is a member of Team Final EYBL's 14U spring / summer squad.
Keni' Williams duplicate Keni' Williams duplicate 5'9" | PG Springside Chestnut Hill Academy | 2025 State PA – 5'9″ / Springside Chestnut Hill Academy / Point Guard: Williams is a lefty guard who is a solid two way player. On offense he can knock down jump shots out to the three point line and finish tough drives around the rim. He also facilitates well for his teammates. On defense he forces turnovers and takes pride in getting stops. In this spring / summer, Williams laces 'em up for K-Low Elite.