The Teams Boyden-Hull (21-2, 2.5% of scoring returning): New coach Isaac Heyer, who has served as an assistant for the retired Bill Francis, will have some rebuilding to do. The Tanner Te Slaa era ended in upset fashion last season,…
The Teams
Boyden-Hull (21-2, 2.5% of scoring returning): New coach Isaac Heyer, who has served as an assistant for the retired Bill Francis, will have some rebuilding to do. The Tanner Te Slaa era ended in upset fashion last season, with the Comets going 95-9 over the last four years. It will be an entirely new team this season in Hull, with just 44 points coming back from last year's team. Brock Fisher (1.3), Blake Bomgaars (0.8), and Kason Woelber (0.2) are the only players who scored last season. While they will certainly take a step back this year, there are always talented basketball players in Hull, and this team should remain competitive and start building toward the future.
Central Lyon (24-3, 51.2%): The Lions were outstanding last season, finishing runner-up to Rock Valley in Class 2A. Zach Lutmer
Zach Lutmer 6'1" | PG Central Lyon | 2023 IA (19.7, 5.9 assists) returns to lead what should be another potent offensive attack. Lutmer is a strong, physical, athletic guard who can dominate games even when he isn't scoring with his ability to break down a defense and get others involved, as well as the work he does on the defensive end. He has committed to play football at Iowa but is one heck of a basketball player as well. Senior forward Andrew Austin
Andrew Austin 6'6" | PF Central Lyon | 2023 State IA (13.2) was excellent last season as a third scoring option, finishing efficiently inside the paint, and he has the ability to occasionally step out and knock down jumpers. Look for increased production out of junior guard Reece Vander Zee (4.6), preferably for them as a floor-stretching option, as well as sophomores Matt Elbert (1.6) and Ephraim Hoefert
Ephraim Hoefert 6'6" | SF Central Lyon | 2025 State IA (1.0). Hoefert is a big body that can control the glass, run the floor, and contest shots, while Elbert is a perimeter-oriented player who can provide some shooting. The Lions' best shooter graduated, so if there is one weakness on the team heading into the year, it would be that. But with Lutmer leading the charge and a number of quality scoring threats alongside him, Central Lyon should be considered the team to beat in the league, and once again one of the primary contenders in 2A.
George-Little Rock (2-21, 87.4%): The Mustangs have applied to join the War Eagle Conference, so this may be their last go-round in the Siouxland. This was an extremely young team last season, with their top five scorers comprised of four sophomores and a junior. They gained a ton of valuable experience and should be much more competitive this season as they bring back a ton and a lot of the heavy hitters in the league lost huge chunks of production. Junior forward Drew Denekas Drew Denekas 6'2" | PF George-Little Rock | 2024 State IA (15.3, 11.0 rebounds) is a walking double-double, a mobile big with great hands and a non-stop motor. Isaiah Johnson (7.3) led the team in assists and will pair with Micah Jumbeck (4.8) to give them a reliable backcourt, while Matt Helkenn (7.0) and Tyler Greve (5.6) provide some additional scoring on the perimeter. This young team was overmatched last year in a loaded conference, but they should have a better showing this season in what could be their final trip through the league.
MOC-Floyd Valley (10-12, 78.%): Three double-figure scorers return for MOC-FV, led by junior guard Jesse Van Kalsbeek Jesse Van Kalsbeek 6'0" | SG MOC-Floyd Valley | 2024 State IA (16.2). A highly efficient guard who can score from all three levels as well as create looks for his teammates, Van Kalsbeek led a potent attack while posting 57-38-80 shooting splits. Luke Korver Luke Korver 6'1" | SG MOC-Floyd Valley | 2023 State IA (16.0, 50.8 3P%) is an elite shooter, and guard Ayden Klein
Ayden Klein 5'11" | SG MOC-Floyd Valley | 2023 State IA (12.1) is a talented secondary ball-handler who can also create plays for others. The Dutchmen might end up being the most prolific 3-point shooting team in the state this season. Returnees shot a combined 43.5% from behind the arc last year,
Okoboji (13-11, 17.6%): The Pioneers have the heavy burden of needing to replace Lucas Lorenzen, who averaged 31 points and 12 rebounds a game last season. Their only other double-figure scorer from last year's team also graduated, leaving senior forward Aidan Dahms (6.6) as the top returnee. Dahms was strong on the offensive glass last season, pulling down more than two offensive rebounds a game. Caden Jostand (1.8), Josh Leman (1.8), and Drew Behrens (1.2) are the only other returnees with any relevant playing experience on a varsity level.
Rock Valley (22-5, 13.0%): The defending 2A state champion Rockets will need to replace their top five scorers from last year's team. Seniors Bryson Zomer (3.4), Ryan Strait (2.6), and Brayan Gonzalez (2.1) saw some playing time last season but will need to step into much bigger roles this year. Like Boyden-Hull, Rock Valley is always going to have athletes ready to step in and compete, so despite the heavy personnel losses from last year's wildly successful unit, the Rockets should still remain competitive as they build up a new group of weapons.
Sheldon (6-17, 53.5%): Two starters return for the Orabs, and three of the top four scorers are back. Senior guard Blake Radke Blake Radke 5'8" | SG Sheldon | 2023 State IA (11.6) led the team with 53 made 3-pointers last season, and fellow senior Anthony Provost (7.1) was second with 44. That duo will hold down the backcourt while junior wing Ryan Vollink (6.8) provides some additional scoring punch on the perimeter. They'll need to get some production out of junior big bodies Dreu Kolbeck and Parker Thomas if they want to hang around on the glass because this is going to be a fairly small lineup without those two contributing.
Sibley-Ocheyedan (4-18, 9.0%): The Generals won just four games last season and senior Sam Chambers (3.1) is the only returnee who attempted more than 12 shots last year. It figures to be a long winter for S-O in the always-tough Siouxland.
Sioux Center (10-12, 75.7%): Six of the Warriors' 12 losses last season came by single digits, and while they lose leading scorer Christian Vietor, they bring back the next seven scorers from last year's team so they should make a jump up the league standings this season. Kylar Fritz Kylar Fritz 6'0" | SG Sioux Center | 2023 State IA (13.3) is the team's top returning scorer and was second on the team in assists. He's a talented guard who can score from all three levels and get others involved. Junior forward Carson Bruhn
Carson Bruhn 6'6" | PF Sioux Center | 2024 State IA (10.2) looks primed to have a breakout year. He's a 6-6 combo forward who can score inside and out at a high clip, and his ability to stretch the floor will be huge for this group. The X-factor will be junior wing Cael Van Beek
Cael Van Beek 6'5" | SF Sioux Center | 2024 State IA (9.6), a talented 6-5 wing who can defend multiple positions, get others involved, and score from anywhere. He's a mobile, switchable defender with a ton of talent. Seniors Tyler Roseberry (6.4) and Miles Schuiteman (4.2) and junior Briggs Friedmann (4.2) are the other key returnees for this group. Sioux Center may not have the high-end talent that Central Lyon does, but they'll be deep and experienced and should factor into the league race.
West Lyon (10-12, 26.8%): The top three scorers from last year's team graduated, leaving senior forward Darren Meyer (7.0) as the top returnee. Meyer shot over 63% from the floor last season and is a very efficient finisher around the bucket. Junior Trevor Ciesielski (4.0) led the team in assists last year, dishing out 6.1 helpers a game and will pair with sophomore Carson Hoogeveen (3.2) to man the backcourt. Hoogeveen dished out 2.4 assists last season and showed that he can be a solid perimeter shooting threat. The Wildcats lost a lot of experience, but they're always tough, physical, and athletic, and they should compete on both ends of the floor.
Projected Order of Finish
1. Central Lyon
2. MOC-Floyd Valley
3. Sioux Center
4. West Lyon
5. Rock Valley
6. Boyden-Hull
7. George-Little Rock
8. Sheldon
9. Okoboji
10. Sibley-Ocheyedan
Analysis: Central Lyon went 16-2 in league play last season and brings back the most of the top contenders. Lutmer should lead them to a conference title this season. MOC-FV and Sioux Center bring back quite a bit from talented teams and should battle for the runner-up slot, while Rock Valley and Boyden-Hull enter into rebuilds.
Preseason Player of the Year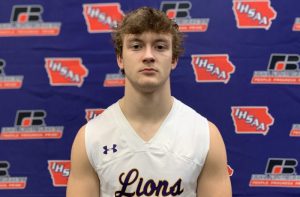 2023 Zach Lutmer
Zach Lutmer 6'1" | PG Central Lyon | 2023 IA , Central Lyon: Lutmer is headed to Iowa to play football next year, but he's coming off a year in which he led the Lions to their most successful season on the hardwood as well, finishing runner-up to Rock Valley. He's a dynamic, playmaking guard who can control the game even when he isn't scoring.
Players to Watch
2023 Zach Lutmer
Zach Lutmer 6'1" | PG Central Lyon | 2023 IA , Central Lyon
2023 Andrew Austin
Andrew Austin 6'6" | PF Central Lyon | 2023 State IA , Central Lyon
2025 Ephraim Hoefert
Ephraim Hoefert 6'6" | SF Central Lyon | 2025 State IA , Central Lyon
2024 Reece Vander Zee, Central Lyon
2024 Jesse Van Kalsbeek Jesse Van Kalsbeek 6'0" | SG MOC-Floyd Valley | 2024 State IA , MOC-Floyd Valley
2023 Luke Korver Luke Korver 6'1" | SG MOC-Floyd Valley | 2023 State IA , MOC-Floyd Valley
2023 Ayden Klein
Ayden Klein 5'11" | SG MOC-Floyd Valley | 2023 State IA , MOC-Floyd Valley
2024 Drew Denekas Drew Denekas 6'2" | PF George-Little Rock | 2024 State IA , George-Little Rock
2024 Isaiah Johnson, George-Little Rock
2024 Matt Helkenn, George-Little Rock
2023 Kylar Fritz Kylar Fritz 6'0" | SG Sioux Center | 2023 State IA , Sioux Center
2024 Carson Bruhn
Carson Bruhn 6'6" | PF Sioux Center | 2024 State IA , Sioux Center
2024 Cael Van Beek
Cael Van Beek 6'5" | SF Sioux Center | 2024 State IA , Sioux Center
2023 Blake Radke Blake Radke 5'8" | SG Sheldon | 2023 State IA , Sheldon
2023 Anthony Provost, Sheldon
2024 Ryan Volink, Sheldon
2023 Darren Meyer, West Lyon