Preseason Player of the Year: 2023 Brayson Laube Brayson Laube 6'2" | PG Marion | 2023 State IA (Marion) One of the most dynamic scorers in the state, Laube averaged nearly twice as many points as any other returnee in…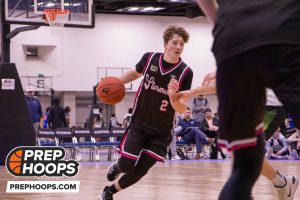 Preseason Player of the Year: 2023 Brayson Laube
Brayson Laube 6'2" | PG Marion | 2023 State IA (Marion)
One of the most dynamic scorers in the state, Laube averaged nearly twice as many points as any other returnee in the division for a Marion team that is far and away the favorite to take home the division title this season. A high-level scorer with the ability to get scorching hot and drop 35+ on any given night, he's an easy pick for POY honors in the East.
First Team
2023 Brayson Laube
Brayson Laube 6'2" | PG Marion | 2023 State IA (Marion): 20.0 points, 3.1 rebounds, 2.8 assists, 1.9 steals, 50.9 FG%, 41.1 3P%, 77.5 FT%
The future Augustana (SD) guard firmly established himself as one of the state's elite guards last year, putting up 20 a game and leading the Wolves to the 3A state tournament. He's a dynamic three-level scorer who is armed with one of the quickest releases and deepest ranges of any guard in the state.
2023 Alex Mota Alex Mota 6'1" | SG Marion | 2023 State IA (Marion): 10.0 points, 5.6 rebounds, 2.7 assists, 1.5 steals, 46.8 FG%
A future Iowa football player, Mota is an athletic, slashing guard who is a strong complement to Laube on the Wolves perimeter. He can create for others and is a versatile defender with the quickness, length, and toughness to defend guards or forwards.
2024 Jackson Kutcher Jackson Kutcher 6'0" | SG Mount Vernon | 2024 State IA (Mount Vernon): 9.8 points, 52.0 FG%, 60.0 3P%
Kutcher missed a large majority of last season but showed everyone what he's capable of when he came back late in the season, draining 12-20 3-pointers in his limited action. Having him back on the floor will be a welcome addition to a Mustangs team that could use some perimeter scoring punch.
2024 Joe Rhomberg Joe Rhomberg 6'1" | SF Mount Vernon | 2024 State IA (Mount Vernon): 10.8 points, 8.1 rebounds, 1.9 steals
Rhomberg is an undersized forward with a non-stop motor that he uses to dominate on the glass on both ends of the floor. He has good hands and is a tough player who doesn't shy away from contact.
2024 Jake Benzing
Jake Benzing 6'2" | SG Solon | 2024 State IA (Solon): 9.7 points, 3.1 rebounds, 1.3 assists, 82.8 FT%
An athletic, slashing wing who led the Spartans in scoring as a sophomore, Benzing looks primed to have a big scoring year as a junior for Solon following a number of losses to graduation.
Second Team
2023 Brady Erickson (Mount Vernon)
2024 Evan Brase Evan Brase 6'3" | PF Mount Vernon | 2024 State IA (Mount Vernon)
2023 Hayden Lyness (West Delaware)
2023 Tyrus Werner (West Delaware)
2024 Payton Hodges (Marion)
Honorable Mentions
2023 Jensen Meeker (Mount Vernon)
2023 Wyatt Kresser (Independence)
2023 Bryce Smith (West Delaware)
2023 Maddux Lott (West Delaware)
2023 Oaken Foster (Solon)
2024 Gehrig Turner (Solon)
2024 Myles Davis Myles Davis 6'1" | SG Marion | 2024 State IA (Marion)
2023 Calen Claypool (Marion)
2023 Blake Timmons (Solon)