Preseason Player of the Year: 2023 Zach Lutmer Zach Lutmer 6'1" | PG Central Lyon | 2023 IA (Central Lyon) The future Iowa Hawkeye football player led the Lions to their most successful season in school history on the hardwood…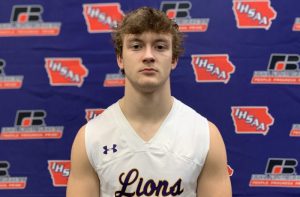 Preseason Player of the Year: 2023 Zach Lutmer
Zach Lutmer 6'1" | PG Central Lyon | 2023 IA (Central Lyon)
The future Iowa Hawkeye football player led the Lions to their most successful season in school history on the hardwood last year, finishing runner-up to Rock Valley. A dynamic playmaking guard who can control the game without scoring, Lutmer is the clear pick for this honor in the always loaded Siouxland.
First Team
2023 Zach Lutmer
Zach Lutmer 6'1" | PG Central Lyon | 2023 IA (Central Lyon): 19.7 points, 5.4 rebounds, 5.9 assists, 2.5 steals, 54.9 FG%, 41.2 3P%, 74.4 FT%
An athletic, physical lead guard, Lutmer put together a stellar junior season and would probably be on the radar of a ton of Division II programs right now if he wasn't a Division I football player. He uses his athleticism and physicality to his advantage on both ends of the floor and has a chance to lead the Lions to their first ever state title this year.
2024 Jesse Van Kalsbeek Jesse Van Kalsbeek 6'0" | SG MOC-Floyd Valley | 2024 State IA (MOC-Floyd Valley): 16.2 points, 5.6 rebounds, 2.4 assists, 1.5 steals, 56.5 FG%, 38.1 3P%, 79.5 FT%
A hyper-efficient scoring forward, Van Kalsbeek can get the job done from anywhere on the court. He's a marksman from deep and has really good footwork and touch when he's operating in the painted area. MOC is probably the most likely team to challenge Central Lyon for Siouxland supremacy this season, and Van Kalsbeek is a major reason why.
2023 Luke Korver Luke Korver 6'1" | SG MOC-Floyd Valley | 2023 State IA (MOC-Floyd Valley): 16.0 points, 5.5 rebounds, 1.5 assists, 50.2 FG%, 50.8 3P%, 93.9 FT%
Shocking, a Korver who can shoot the lights out. Korver shot it better from behind the arc than he did from 2-point range as a junior and his ability to stretch the floor is huge for the Dutchmen. He's also an elite free-throw shooter, which will come in handy as MOC should be protecting a lot of leads late in games this season.
2024 Drew Denekas Drew Denekas 6'2" | PF George-Little Rock | 2024 State IA (George-Little Rock): 15.3 points, 11.0 rebounds, 1.3 assists, 1.0 steals
Denekas was one of just three players in the league to average a double-double last season. He led a very young Mustangs team in scoring and rebounding. G-LR won just two games last season but with their top five scorers returning, they should be much improved behind the strength of Denekas inside.
2023 Andrew Austin
Andrew Austin 6'6" | PF Central Lyon | 2023 State IA (Central Lyon): 13.2 points, 5.4 rebounds, 2.0 assists, 54.9 FG%
Austin was a strong tertiary option last year for the Lions and will be asked to step into the secondary scoring role alongside Lutmer this season. A mobile big man who can defend inside or out, he's an efficient finisher around the bucket and a solid all-around contributor.
Second Team
2023 Kylar Fritz Kylar Fritz 6'0" | SG Sioux Center | 2023 State IA (Sioux Center)
2023 Ayden Klein
Ayden Klein 5'11" | SG MOC-Floyd Valley | 2023 State IA (MOC-Floyd Valley)
2023 Blake Radke Blake Radke 5'8" | SG Sheldon | 2023 State IA (Sheldon)
2024 Carson Bruhn
Carson Bruhn 6'6" | PF Sioux Center | 2024 State IA (Sioux Center)
2024 Cael Van Beek
Cael Van Beek 6'4" | SF Sioux Center | 2024 State IA (Sioux Center)
Honorable Mentions
2025 Ephraim Hoefert
Ephraim Hoefert 6'6" | SF Central Lyon | 2025 State IA (Central Lyon)
2024 Isaiah Johnson (George-Little Rock)
2023 Anthony Provost (Sheldon)
2024 Matt Helkenn (George-Little Rock)
2023 Darren Meyer (West Lyon)
2024 Ryan Volink (Sheldon)
2024 Reece Vander Zee (Central Lyon)