Preseason Player of the Year: 2023 Drew Kingery Drew Kingery 6'4" | SF Indianola | 2023 State IA (Indianola) The top returning scorer and rebounder in the conference, Kingery is a versatile wing who can dominate games on both ends…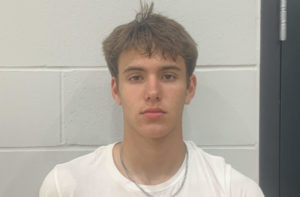 Preseason Player of the Year: 2023 Drew Kingery
Drew Kingery 6'4" | SF Indianola | 2023 State IA (Indianola)
The top returning scorer and rebounder in the conference, Kingery is a versatile wing who can dominate games on both ends of the floor. He's the best player on the best team in the conference, and the top uncommitted player remaining in the 2023 class.
First Team
2023 Drew Kingery
Drew Kingery 6'4" | SF Indianola | 2023 State IA (Indianola): 18.7 points, 7.4 rebounds, 2.9 assists, 1.6 steals, 51.8 FG%
A dominant three-level scorer who can fill it up efficiently and in a hurry, Kingery is a 6-5 wing with a silky smooth all-around game. He can take defenders off the bounce, pull up and drain 3s in their faces, or get good looks with off-ball movement. Also a solid defender with great length, he can control games on both ends.
2024 Redek Born
Redek Born 6'3" | PG Norwalk | 2024 State IA (Norwalk): 13.2 points, 2.2 rebounds, 3.9 assists, 1.0 steals, 84.8 FT%
A high IQ player with a great feel for the game, Born is a three-level scoring threat who also led the Warriors in assists last season as a sophomore. He has good size and uses that size to his advantage, taking smaller defenders down onto the block for buckets in addition to his ability to take bigger defenders off the bounce.
2023 Brayden Drea
Brayden Drea 5'10" | PG Indianola | 2023 State IA (Indianola): 11.9 points, 2.8 rebounds, 2.8 assists, 1.6 steals, 43.0 3P%, 85.4 FT%
Drea transferred from Ankeny before the start of last season and enjoyed a really strong junior year with the Indians. A knockdown shooter who can play both with and without the ball in his hands, look for his assist totals to go up this year following the graduation of Cooper Nailor.
2023 Brody Bauer
Brody Bauer 6'2" | SG Newton | 2023 State IA (Newton): 9.4 points, 4.1 rebounds, 1.9 assists
Newton had a very balanced attack last season, so Bauer's scoring numbers aren't going to blow you away, but he's a good perimeter shooter who can get scorching hot from deep and carry the Cardinals for stretches offensively. His ability to move without the ball in his hands and find spaces in the defense is huge for a Newton team that has a number of quality shooting options.
2023 Braeden Carlson Braeden Carlson 6'4" | SF Norwalk | 2023 State IA (Norwalk): 12.9 points, 7.3 rebounds, 1.1 assists, 1.8 steals, 62.9 FG%
Carlson had a breakout junior year, finishing second on the Warriors in scoring while leading the team in assists. An efficient scorer who does most of his damage inside the paint, he does a great job crashing the glass on both ends of the floor. He's a good athlete with excellent hands.
Second Team
2023 Cole Plowman (Newton)
2023 Charlie Willmott
Charlie Willmott 6'4" | PF Indianola | 2023 State IA (Indianola)
2023 Jake Ingle Jake Ingle 5'7" | PG Newton | 2023 State IA (Newton)
2023 Casey Glascock
Casey Glascock 6'0" | PG Indianola | 2023 State IA (Indianola)
2024 Tysen DeVries
Tysen DeVries 5'7" | PG Pella Christian | 2024 State IA (Pella Christian)
Honorable Mentions
2024 Calix Cahill Calix Cahill 6'5" | PF Dallas Center-Grimes | 2024 State IA (Dallas Center-Grimes)
2023 Waylon Bolibaugh (Oskaloosa)
2024 Aidan Harder
Aidan Harder 6'3" | SG Norwalk | 2024 State IA (Norwalk)
2023 Aiden Stoltz Aiden Stoltz 6'0" | SG Pella Christian | 2023 State IA (Pella Christian)
2023 Brady Blake (Indianola)
2023 Dakota Heimbaugh
Dakota Heimbaugh 5'9" | SG Indianola | 2023 State IA (Indianola)
2024 Luke Hardman Luke Hardman 6'0" | SF Pella | 2024 State IA (Pella)
2023 Trevor Hamil (Dallas Center-Grimes)
2024 Aidan Scholes
Aidan Scholes 6'2" | CG Oskaloosa | 2024 State IA (Oskaloosa)
2024 Caleb Mattes
Caleb Mattes 6'0" | SG Newton | 2024 State IA (Newton)