The Will Barton Elite Camp took place this weekend at The SEED School of Maryland. In the 10th anniversary of the event there was no shortage of talent that came as far as Canada to compete. For this article, we…
The Will Barton Elite Camp took place this weekend at The SEED School of Maryland. In the 10th anniversary of the event there was no shortage of talent that came as far as Canada to compete. For this article, we look at the names from the 2024 class who stood out.
Daquan Davis
Daquan Davis 6'2" | CG St. John's | 2024 State #111 Nation MD | St. John's DC/Team Takeover
Among the talented 2024 prospect in attendance, Davis gets my nod for the best performance and it wasn't necessarily all that close. I've long documented my feelings on Davis' approach to give 110 percent effort no matter what stage he plays on, and this weekend was no different. However, it was his long-range shooting that took center stage. Over the course of the two days in game action, Davis converted on over a dozen triples and seems to have really honed in on becoming someone the defense has to account for on any catch around the arc. This is all while he still has a fearless mentality of attacking the basket and embracing contact on his way for the finish. Davis brought his hardhat to the defensive end as usual where he took pride in his individual match-up, battled for rebounds and refused to lose any 50/50s in his area.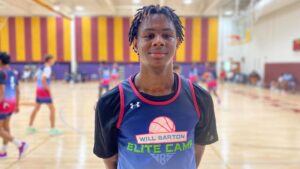 AJ Swinton
AJ Swinton 6'6" | SF Sierra Canyon | 2024 State #93 Nation CA-S | Oak Hill/Team Takeover
Swinton was in attendance for Saturday only but left a lasting impression on me with his smooth playmaking ability off the bounce. He's been known for his outside shooting off the catch but has clearly made significant strides in his game since helping Davis and Team Takeover to the 16U Peach Jam title by using his dribbles for profit, getting to his spot and creating shots for himself. He finishes above the rim in transition and brought energy that helped his team in gameplay.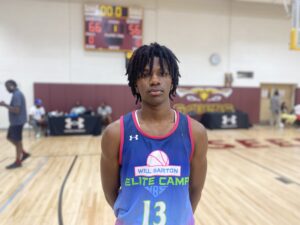 TJ Robinson
TJ Robinson 6'3" | PG Immaculate Conception | 2024 State #113 Nation NJ | Bishop Walsh/NJ Scholars
This sort of event favors Robinson's style of play, which is operating in slew of isolations or ball-screens where he can hunt for his own shots. The 6'2 southpaw was successful in doing so and didn't settle for three's despite getting his defender off balance with regularity. He successfully finished with craft around the basket as rotating bigs tried to swat his attempts, invited physicality in the air and showed good toughness in his response. He also converted on his share of triples along the way.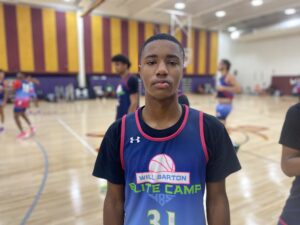 Tyrin Bizzelle
Tyrin Bizzelle 6'1" | PG Calvert Hall College | 2024 State MD | Calvert Hall/Team Melo
Bizzelle is a name that folks in the Baltimore area will be familiar with this high school season. He put forth a strong showing throughout EBA Summer League and proved himself this weekend competing against a plethora of nationally ranked players in various classes. The 6'1 lefty is well-balanced in his approach as a lead guard, meaning just as much as he can create his own looks, he's understanding of how to create for others. Bizzelle made good reads as a passer in pick-and-rolls, buried three's when the big was late to show and finished well with his strong hand on drives despite contact.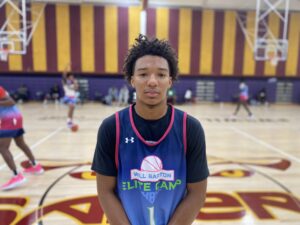 Tyler Boston
Tyler Boston 5'10" | PG Bullis | 2024 State MD | Bullis/Team Thrill
Boston and Davis are some of my favorite guards to watch over the last calendar year because I know no matter what, they're going to play as hard as they can. Boston split his time on the ball in game play and I was glad to see him remain an impact as he was sound in locating himself around the perimeter as the defense responded to other guard's penetration. He was efficient on catch-and-shoot opportunities from three, used screens to get into the paint where he used soft touch on floaters and always seems to cause a deflection defensively with active hands.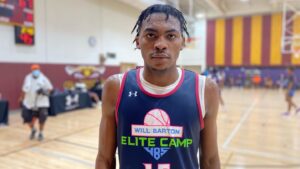 Rob Dockery
Rob Dockery 6'6" | SF Jackson-Reed | 2024 State #96 Nation MD | Jackson-Reed/Team Loaded
Dockery was another prospect who attended just on Saturday's session but didn't waste time in making his presence felt. The 6'6 wing/forward showcased an improved off the dribble game on catches from the perimeter where he was comfortable in taking his defender off 2-to-3 bounces with counter moves included before finding himself under the rim. He finished a couple of thunderous dunks in transition because of running the floor with purpose, was a presence on the glass and moved well without the ball along the baseline where he was the beneficiary of several dump-off passes.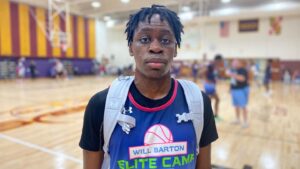 Baraka Okojie | DME/Canada Elite
Okojie lived at the rim all weekend and there wasn't a player in camp that could stop his relentless approach in doing so. The 6'2 guard is extremely shifty and has immense burst off his back foot that helps him gain an edge on his defender during drives. In instances where he gathered defensive rebounds, Okojie was a blur with end-to-end speed. He went coast-to-coast on several occasions where he'd finish with either hand at the rim. Okojie is one of those guys who bring nonstop energy and as others start to wear down, he's still in attack mode. He also netted triples from the corner with decent form.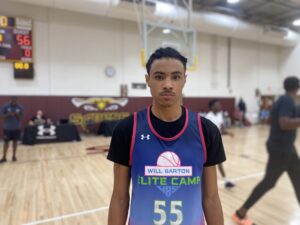 Jaiden Glover
Jaiden Glover 6'6" | SG Patrick School | 2024 State #273 Nation NJ | Roselle Catholic/Riverside Hawks
Glover is one of those guys who you could watch shoot the basketball all day long. The 6'5 wing didn't do much attacking off the dribble, but he really didn't have to given his ability to connect from deep. It's his pre-catch preparation, smooth shot mechanics and a beautifully rotating ball in the air that cemented his worth. Glover was especially effective in transition where he'd fill the lanes wide and flare elbow extended or the corner to force the defender to make a decision as the ball handler pushed the tempo.