Plymouth, MN – It was Championship Sunday at the Prep Hoops Hard Work Region Finals. Who looked good on Sunday morning? Look no further, we have the answers below. Best from Sunday AM Gavin Muirhead Gavin Muirhead 6'7" | PF O'Gorman…
Plymouth, MN – It was Championship Sunday at the Prep Hoops Hard Work Region Finals. Who looked good on Sunday morning? Look no further, we have the answers below.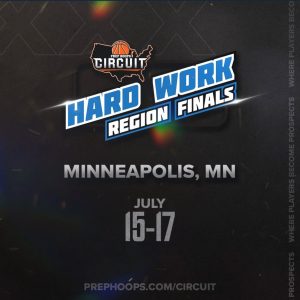 Best from Sunday AM
Gavin Muirhead
Gavin Muirhead 6'7" | PF O'Gorman | 2023 State SD |6'7 PF| Pentagon Schoolers 2023 Walker
21 points and two triples. His squad did not win today but Muirhead was still fantastic. This was the best I have seen Gavin shoot from 3-point range. Gavin finished the game with 3 lob alley-oop finishes. On one of those, Gavin left the floor from outside the lane, flew to the rim, caught, and whammed the rock. Muirhead also had a FANTASTIC windmill dunk. It looked like his head was even with the rim and he hammered home the dunk. Gavin also had multiple blocked shots. I love how he goes up to contest/block and he rarely picks up a foul. It was another great weekend of hoops for Mr. Muirhead. 
Raoul Vaidya
Raoul Vaidya 6'0" | PG Maple Grove | 2023 State MN |6'0 PG| Northstar Titans 2023 Stone
He had a solid overall performance in the Elite 8 game. Every time I looked over at his court Vaidya was attacking and putting pressure on the Fury defense. Raoul was hitting cutters or kicking out to shooters spotting up. He is also excellent in the pick-n-roll game. Vaidya showed a slick inside-hand finish vs. a long defender. This kid is crafty. Raoul finished with 11 points, 3 assists, and was 3/5 from beyond the arc. Vaidya initiated and created nearly everything on offense for the Titans. His squad did not get the W but Raoul showed that he can compete and produce against top talent.
Wyatt Hawks
Wyatt Hawks 6'7" | C White Bear Lake | 2023 State MN |6'8 PF| Northstar Titans 2023 Stone
The BIG man was slightly banged up but still played like a beast. In the Elite 8 game, Hawks had 17 points and 9 rebounds. He was going against top-notch competition and Wyatt performed well in front of a large crowd of college coaches. He was a monster on the offensive glass. He gobbled up five O-boards and he quickly turned them into points. Hawks was 4/5 from the charity stripe and he demanded multiple defenders in the pick-and-roll game. It was a nice game from a tough kid.
Emmett Lawton
Emmett Lawton 6'2" | SG Notre Dame Academy | 2023 State WI |6'2 G| Team 1848 17U
He finished with 23 points and four 3-pointers in the Elite 8 game. Lawton stood out as a shooter and a pure scorer. He was always ready to fire and his shooting mechanics looked flawless. Emmett stood out as a great shooter but he also scored in transition. The effort was there on both ends of the court. I liked how he spaced the floor, reacted to the defense, and moved to spots on the floor where teammates could find him. He was always in the right spot at the right time. Emmett was a DUDE in the game I watched and he was a big reason 1848 won the Finals. 
AJ Lieuwen
AJ Lieuwen 6'0" | CG Bay Port | 2023 WI |6'0 G| Team 1848 17U
14 points with two 3-pointers. He scored well but he stuck out to me as a creator, facilitator, and playmaker. AJ's court vision was amazing and he delivered dimes directly into the hands of the hot shooter. Lieuwen is a skilled player that can make any pass that you need. He is a guard but he also posted up. Early in the game, AJ scored with a spin-move from the block. He executed on a BLOB that led to a made 3-pointer. AJ also showcased a perfect pull-up jumper. He and Team 1848 went on to win the Hard Work Region Finals later on in the day.
Ethan Wall-Atim
Ethan Wall-Atim 6'4" | PF Notre Dame De La Baie Academy | 2023 State WI |6'5 PF| Team 1848 17U
10 points in the game I watched. He is a big strong/muscled-up player and he is a fluid athlete. Ethan did all of his work inside the arc. He scored his points around the basket. Contact does not bother this BIG man and he finishes well with both hands. Ethan was a force on the glass and he scored with O-board putbacks. He played stout defense and he erased a shot. Ethan was great in the morning and his squad went on to win the entire tournament. 
Lucas Weiner
Lucas Weiner 6'8" | PF Clinton | 2023 State IA |6'8 C| Iowa Barnstormers 2023 Black
He is a lanky and long left-handed player. Lucas did work on the boards and he scored with putbacks. When posting up, Lucas showed a nice turnaround jumper that he kissed off the glass. He shoots it with a soft touch. Weiner also nailed a 15-foot jumper. When scoring around the rim, Lucas showed good footwork. When shooting near the rim, I loved how he lept his shoulder perpendicular to the rim so the defender could not block his shot without fouling him. One of Weiner's best plays was when he had the ball on the block, he spun baseline, and instead of forcing a contested shot, he kicked the ball out to a shooter for an open 3-pointer. There are not many post players that could have made that pass. On defense, he proved to be a rim protector. Lucas is certainly an intriguing prospect. 
Sean Murphy
Sean Murphy 6'0" | PG Waukon | 2023 IA |6'1 PG| Iowa Barnstormers 2023 Black
He shined on Saturday and he did it again on Sunday. He is a gifted offensive player, but he also slides and moves his feet well on defense. Murphy is a floor general that directs traffic. He hit multiple catch-and-shoot 3-pointers throughout the game. Sean shoots it with excellent rhythm and timing. Murphy showed another slick step-back jumper today. When attacking in the second half, Murhpy would not be denied when he wanted to score. On one occasion he was on an isolation and he used 3 different counter moves, the D finally bit on the last fake and Sean went in for the easy score. I was really impressed with the zip that he puts on his passes. Sean can thread the needle and fit the ball in tight spaces with accuracy. He is skilled, tough, aggressive, creative, and a stud PG. 
Gage Kampman
Gage Kampman 6'7" | PF Iowa City Liberty | 2024 State IA |6'7 F| Iowa Barnstormers 2024 Gold
He looks like an intriguing prospect with his length, skill, and mobility. Gage has the skills and shot to play on the wing. His jump shot looks nice and his follow-through is soft. He moves well around the rim and he finishes smoothly. Gage is an unselfish player. He passed out of the post to spot-up shooters. On defense, Gage blocked multiple shots with his length and excellent timing. 
Asher Wade Asher Wade 6'7" | C Bettendorf | 2024 State IA |6'7 C| Iowa Barnstormers 2024 Gold
He looked like an old-school post player. Wade is a blue-collar player with grit and toughness. He is strong, wide, and thick. He was a DUDE on the O-glass and scored many points off stick-backs. He creates a ton of space in the paint. Asher is not all-power all the time. He showed his creativeness with a crafty reverse layup. I like this player, he is a workhorse. 
Tate Petersen
Tate Petersen 6'1" | PG Monticello | 2023 State IA |6'0 PG| Iowa Mavs 2023 Purple
17 points with three 3-pointers. He was the star of the 8:00 AM game. Petersen tried taking two charges and he took one late. What player attempts to 3 charges in the 8:00 game on a Sunday? Peterson! That effort and sacrifice was impressive. He was a hustler that was flying around all over the place and he created multiple TO's. After he stole the ball, Tate turned it into instant offense going the other way. His jumper from beyond the arc and from 15-ft looked true and to-the-point. Petersen was beyond impressive on Sunday AM. He is a PLAYER for sure!
Kanyon Brite |6'5 PF| Iowa Prep 2024 Red
He is a long-armed post that was active and moved well. In the game I watched, Brite helped his team win in the Elite 8 vs. the Barnstormers. Kanyon got to the line often because of all the contact he drew around the rim. I really liked how he finished off two feet. He showed a clever head fake that fooled the D. Brite also showed great feet and patience. I loved his step-through move and lefty scoop shot. Kanyon looks to have great hands and he never backed down on defense against bigger players.
Max Rain |6'0 G| Minnesota Heat 2023 Southwest
He was easily one of the top shooters that I saw this morning. Max was making it rain 3-balls from beyond the arc. It was a tightly contested game and Max filled his duties in the scoring column. He is a calm player that does not seem to rush his shot, yet he gets it off quickly. Rain is a real deal shooter.